Published: July 29, 2019
The most important thing to review in a morning skincare routine is: are you seeing results from your products? Do you look and feel energized when finished? If not, there are some changes that need to be made. This article will help, and your morning routine will never be the same.
Bionyx has a mission to promote strength, quality, and beauty by infusing the elite mineral – platinum – in skin care products. Recent research has shown that the antioxidants in platinum are supreme at fighting premature aging, especially that caused by environmental factors and dehydration.
Bionyx builds on recent research that suggests platinum is the answer to restore the electrolyte balance within our skin cells and ultimately prevent aging symptoms. Incorporating products from Bionyx in your morning routine will help to boost and recharge your skin.
Enhance Your Morning Cleanse
A good facial cleansing is necessary every day, and this is ideally achieved in the morning or evening. You can quickly and efficiently remove all debris and dirt from your face with Bionyx's Platinum 2-Step Cleansing Set.
Platinum 2- Step Cleansing Set
The Platinum 2-Step Cleansing Set includes the Milk Cleanser and Skin Toner. These products are a dynamic duo that ensure your face will get the proper restart it needs in the morning.
Step One: The Milk Cleanser is used for the first step. This cleanser should be applied on wet skin and it will lather as it cleanses. Glycerin is a major ingredient in the Milk Cleanser. Here are all the benefits glycerin provides to your skin while cleansing: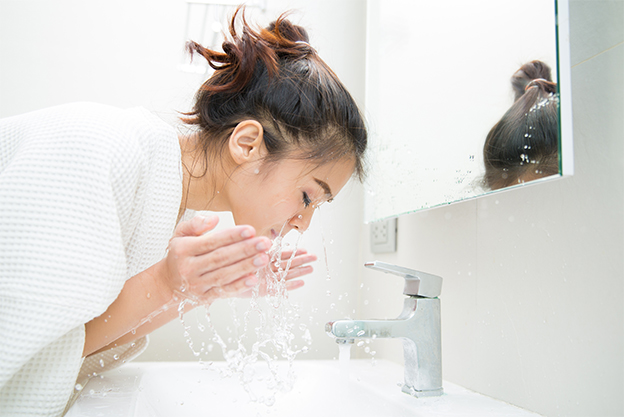 What is Glycerin?
Natural Humectant: Glycerin being a humectant means it has the capability to pull water from the second layer of skin and place it in the top layer of skin to provide moisture and hydrate.
Glycerin contributes to shedding dead skin cells, which helps creates a smoother skin surface.
Non-Comedogenic: Glycerin is non-comedogenic which means this ingredient does not clog pores.
Glycerin has antifungal properties and protects the skin from bacteria.
Glycerin forms a layer of oil on the surface of the skin that seals in moisture and prevents dryness.
Step Two: After the milk cleanser, it is time for your skin toner. A skin toner should always be used in your morning skin routine, especially if you're struggling with oily skin. Skin toner will unclog pores from unwanted oil and dirt. Using skin toner as the second step will make certain your face is clean and rejuvenated. Using a skin toner before applying makeup will show better results as well. Niacinamide (Vitamin B3) is a key ingredient in this Bionyx skin toner. Are you familiar with the benefits of Vitamin B3?
The benefits of Niacinamide (Vitamin B3):
Vitamin B3 increases the supply of keratin in the skin. Keratin is a protein that keeps our skin's presence youthful and firm.
Vitamin B3 helps clear skin discoloration and evens out skin tone.
Vitamin B3 will defend skin from UV rays and possible damage.
If you're trying to get rid of large pores, niacinamide will shrink pores with continuous use. This pore shrinkage ability is also linked to wrinkle reduction.
Niacinamide improves pigmentation disorders.
Vitamin B3 is a great treatment for acne due to its anti-inflammatory properties. Research has shown that when using topical niacinamide on acne outbreaks and acne scarring, the acne will reduce.
Vitamin B3 controls oil production from the sebaceous glands that produce the oil in our skin. Niacinamide ensures that these glands don't overproduce and leave your skin oily.
This cleansing set will leave your face completely refreshed.
Get Your Glow On
Now it's time for a moisturizer. Your skin needs to glow too.
The Platinum Essential Day Cream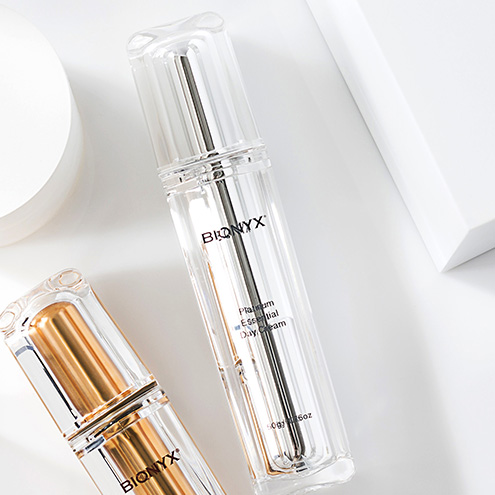 It's all in the name. This day cream is essential for a nourishing morning routine. Massage this cream in every morning and dry patches will become a thing of the past. This day cream is not only a moisturizer, but it is also formulated to reduce wrinkles and fine lines. Helianthus Annuus (sunflower) seed oil is a key ingredient in the Platinum Essential Day Cream.
Wondering how sunflower seed oil benefits your skin?
Sunflower seed oil has been used for generations as a topical form of medication to improve hydration in the skin.
Sunflower seed oil contains a large amount of linoleic acid. Linoleic acid is an essential fatty acid with anti-inflammatory and soothing properties.
Therefore, sunflower seed oil is great for acne treatment and repairing damaged skin from cuts and burns.
The presence of linoleic acid found in sunflower seed oil is also crucial for building and maintaining healthy skin cells. Healthy skin cells slow aging.
There was a study conducted between olive oil and sunflower seed oil. For four weeks both oils were used as a topical method to improve hydration and most participants were in favor of sunflower seed oil rather than the olive oil. Who knew these beautiful sunflowers growing in our gardens have the ability to share their beauty with all of us too.
Awaken Your Eyes
Sometimes a good facial cleanse and moisturizer are not enough. Most times a morning routine needs another product to truly give you the energized look and feel you desire. It's time to focus on those weary eyes. Here are a few tired eye symptoms that Bionyx can undoubtedly heal:
Puffiness surrounding the eye
Dark discoloration under and around the eye
Drooping eyes
Wrinkles and creases on the side of eyes
Do these symptoms sound way too familiar? Bionyx has facial products that specifically target these symptoms. Let's dive into eye creams and serums from Bionyx that will complete your morning routine and elevate your appearance.
Platinum Advance Eye Cream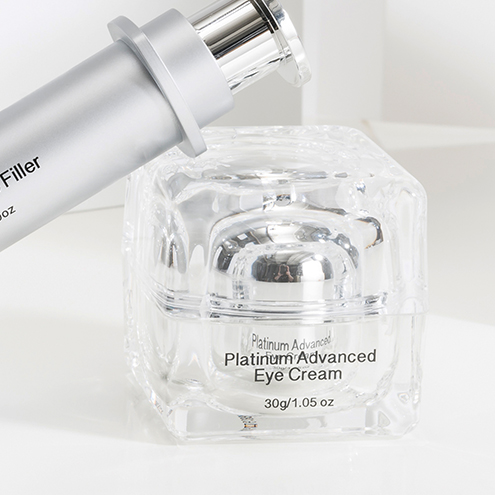 Puffiness and discoloration surrounding our eyes can be extremely difficult to heal, especially because the longer they stay around, the more stubborn they become. Therefore, the day you start to notice tired eye symptoms, you should start trying to stop their appearance.
Are you familiar with Camelian Sinensis Leaf Extract? It's also known as Green Tea Extract, which has amazing benefits for the skin, including protecting the skin from harmful UV radiation and reducing puffiness around the eyes.
In fact, it has even more benefits for the skin:
Green tea extract supports the circulation in the skin and the production of sebum in our glands.
Skin conditions such as eczema, acne, psoriasis, and rosacea have all shown signs of improvement from the application of green tea extract as well. Green tea extract assists with irritation and dryness in these conditions.
Green tea extract is a great preventative ingredient for acne and blackheads.
Green tea extract evens out skin tones and heals discoloration as well.
With the combination of ingredients like green tea extract, glycerin and olea europaea fruit oil (also known as olive oil,) the Platinum Advanced Eye Cream will surely correct the weariness surrounding your eyes. These ingredients repair natural qualities in your skin that have been damaged throughout the years.
Eye contact is always first. Sometimes words aren't even spoken between individuals. Just eye contact and hopefully a smile. Therefore, eye appearance is very important and Bionyx has more than one product for the eye care.
Let's talk about the The Platinum Intense Eye Serum.
Platinum Intense Eye Serum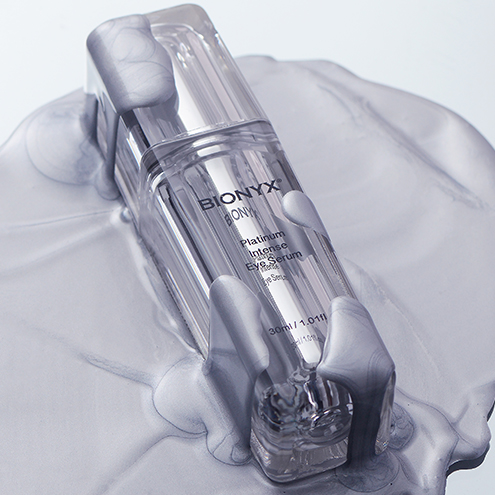 This eye serum carries a majority of the same benefits as the Advanced Eye Cream. For example, green tea extract is an ingredient in the Platinum Intense Eye Serum and contributes to the serum's capabilities to even discoloration, soothe dry skin, and reduce wrinkles and fine lines.
However, The Platinum Intense Eye Serum also has additional ingredients that focus strictly on anti-aging. There are two ingredients that I would like to highlight:
Beta Glucan: This ingredient has been said to be stealing the spotlight from hyaluronic acid. Beta Glucan is acquired from oats. This ingredient is a fiber, and when it's used in skincare it has been proven to successfully remove wrinkles. Aging won't stand a chance against beta glucan in your morning routine.
Trehalose: This ingredient is used commonly in the cosmetic industry as a protector. Collagen is what keeps our skin firm and youthful. As we get older the collagen production in our skin decreases. This is due to inevitable aging, and outside factors such as sun damage. That's where trehalose comes to the rescue. Trelahose builds a protective layer over cell membranes to protect them from damaging environmental factors. Trehalose also regulates damage done by free radicals, which in turn limits the visible signs of aging that show up on the skin.
Again, your morning routine is the most important part of your day. Start taking it more seriously and allow Bionyx to invade your mornings with energizing and luxurious anti-aging skin care products.