Frequently Asked Questions
Your Questions, Answered.
Frequently Asked Questions
Bionyx understands just how important skin care is for you. We also understand that you're bound to have all sorts of questions and things to consider when it comes to choosing products that are perfect for your skin. This FAQ section lets you find answers to some of the most common questions we receive. If you don't find the answer to your question here, you can always contact our customer service department here.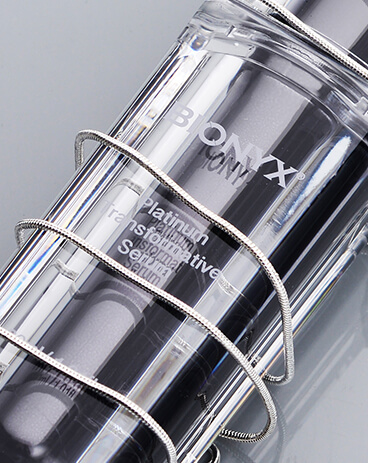 How can I track my order's status?
Bionyx orders are shipped via Fedex. When your order has been sent out, you will receive an email directly from Fedex with your tracking number. If you do not receive an email or would like to request an update, please contact us.
Do you offer refunds or exchanges?
Regrettably, Bionyx is unable to offer refunds at this time. Products may be exchanged with 30 days of purchase (applies to website purchases only). For more information, please visit our refund policy page.
Do you ship internationally?
We do. Orders shipped to international destinations are charged a flat rate of $45 USD. Please visit our shipping policy page for complete details.
How can I cancel or change my order?
Please contact our customer service department as soon as possible if you would like to make a change to your order.
Telephone: +1 (877) 366-7956
Office Hours: Monday - Thursday 9AM - 4:30 PM PST
Friday 9AM - 2:30PM
Where can I see a full ingredient listing for each product?
Complete ingredient listings can be found on each product shop page. Look for the tab called "Ingredients". Simply click on the tab to see the listing.
Are your products tested on animals?
Bionyx products are never tested on animals. We are against animal cruelty of any kind.
How long does it take to start seeing noticeable improvements in my skin?
In most cases, you should start feeling a major difference right away. However, Bionyx recommends you to stay loyal to a product for 6 – 8 weeks, before judging the kind of benefits it offers your skin. You may feel a difference within the first few weeks, but most any types of skin products will take several months to bring about a marked improvement in the skin.
Why does the eye area need specific products? What products do you suggest?
The skin around our eyes is the thinnest on our body. This area tends to start showing the signs of aging earlier than other areas due to repeated facial expressions and environmental stressors. Some people are also genetically predisposed to issues like dark circles, which require products with specific ingredients. This is why you need specially formulated products for your eye area. Bionyx recommends you to take a look at the Platinum Advance Eye Cream, the Platinum Intense Eye Serum and the Platinum Facial & Eye Mask Routine for your eye care regimen.
Why do I need a day moisturizer as well as a night cream? Why not choose the same product for morning and night?
During the day, skin needs products that are lightweight and provide protection and defense from irritants and stressors of the day. This means that day moisturizers formulas primarily concentrate on preventing free radical damage and UV damage. They contain ingredients which protect the skin from these issues and are also known to be lightweight and non-greasy. On the other hand, your skin needs products that help with rejuvenation at night. Since sun damage is not an issue at night, it is all about rectifying the damage caused throughout the day. Moreover, skin naturally rejuvenates and renews itself at night. This is why night creams are usually heavier and contain ingredients which work towards repairing and restoring the skin while you sleep. Many night products also contain certain ingredients which can make your skin sensitive to the sun's rays. For this reason, these products are better suited for use at night.
What products would you recommend for skin exfoliation?
Bionyx has a unique product for exfoliation. The Platinum Complex Facial Peeling has been designed to offer the ultimate cleanse through a powerful, yet extremely gentle, peel which removes the dirt build-up from your skin and leaves it feeling clean and radiant.