Published: July 30, 2022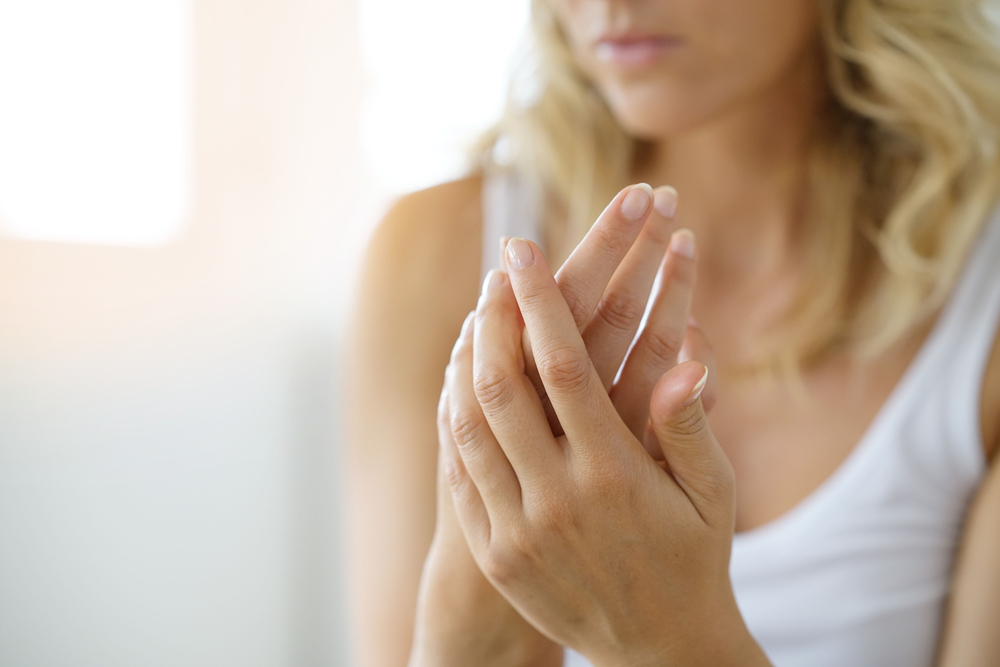 Are wrinkles on your hands making you look older than your years?
Fear not – Bionyx is here to help! Below, you'll find some helpful tips and tricks on how to deal with wrinkles hands. We'll also share some must-have Bionyx products for keeping your hands looking smooth, firm, and youthful.
Get Serious About Moisturizing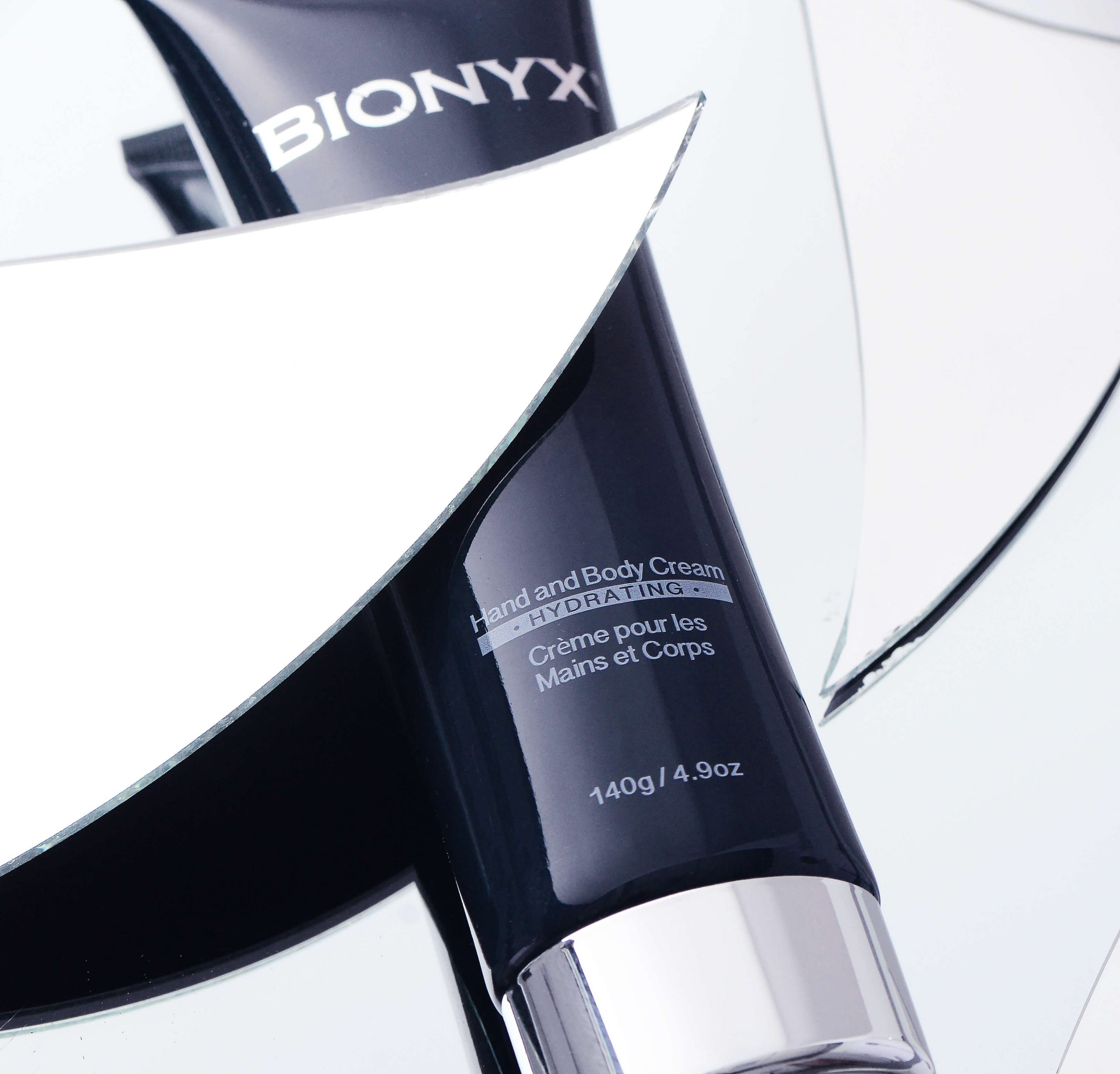 When it comes to facial wrinkles, one of the tips that we always share is to up your moisturizing game. Well, the same applies to your wrinkles hands too.
Since the skin on the hands is quite thin, it doesn't take long for wrinkles to form. This can happen long before they appear anywhere else on your body or face.
Moisturizing helps by plumping and thickening the look and feel of your skin. By boosting your skin's moisture content, your skin cells will feel stronger and more capable of acting like their younger selves. Regular moisturizing diminishes the appearance of wrinkles while also giving the skin a much smoother and softer feel.
What Should You Use to Moisturize Your Hands?
Just like with your facial skincare, we'd recommend using one product for the day and another for the night when it comes to wrinkles hands.
Our favorite daytime hand cream is the Bionyx Hand and Body Cream. It's lightweight and doesn't feel greasy, making it great for quickly massaging onto your wrinkles hands before heading out the door.
Infused with shea butter and colloidal platinum, our signature ingredient here at Bionyx, apply this silky blend before bed and you'll wake up with hands that feel velvety soft.
Indulge in a Weekly Mask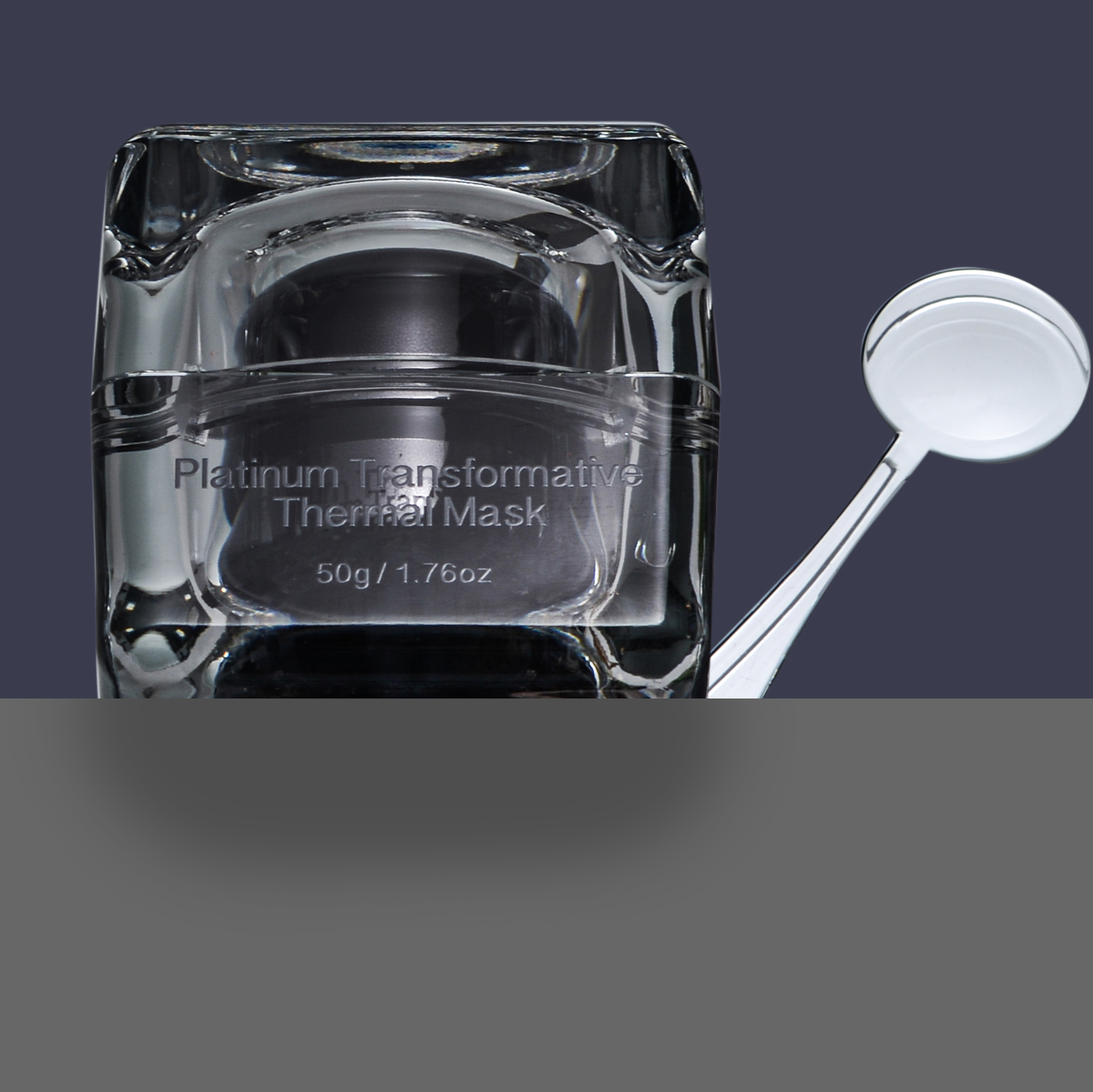 While moisturizing twice a day will go a long way in reducing the look of wrinkles hands, your skin would really benefit from an extra-special treatment once a week.
Masks are ideal for providing this, and the Platinum Transformative Thermal Mask would be our top choice. This mask is unique because of how it heats up when it's massaged into the skin. This relaxes the feel of your pores, leaving them feeling much more open and receptive to the other ingredients in the mask. It's inspired by the thermal treatments that can be found at some of the world's top spas.
However, that's not the only reason we love this mask…
Take a look at its ingredient list and you'll see why so many people are obsessed with this formula. Vitamins A, C, and E come together with aloe, coffee, arnica Montana, sweet almond, and lemon to provide a rejuvenating sensation for your skin.
All you need to do to make the most of this mask is apply a thin layer of the product over your hands. You might as well go ahead and treat your face and neck to some of the mask at the same time too!
Then, sit back and relax for 10-15 minutes before rinsing the mask off.
Exfoliate Your Hands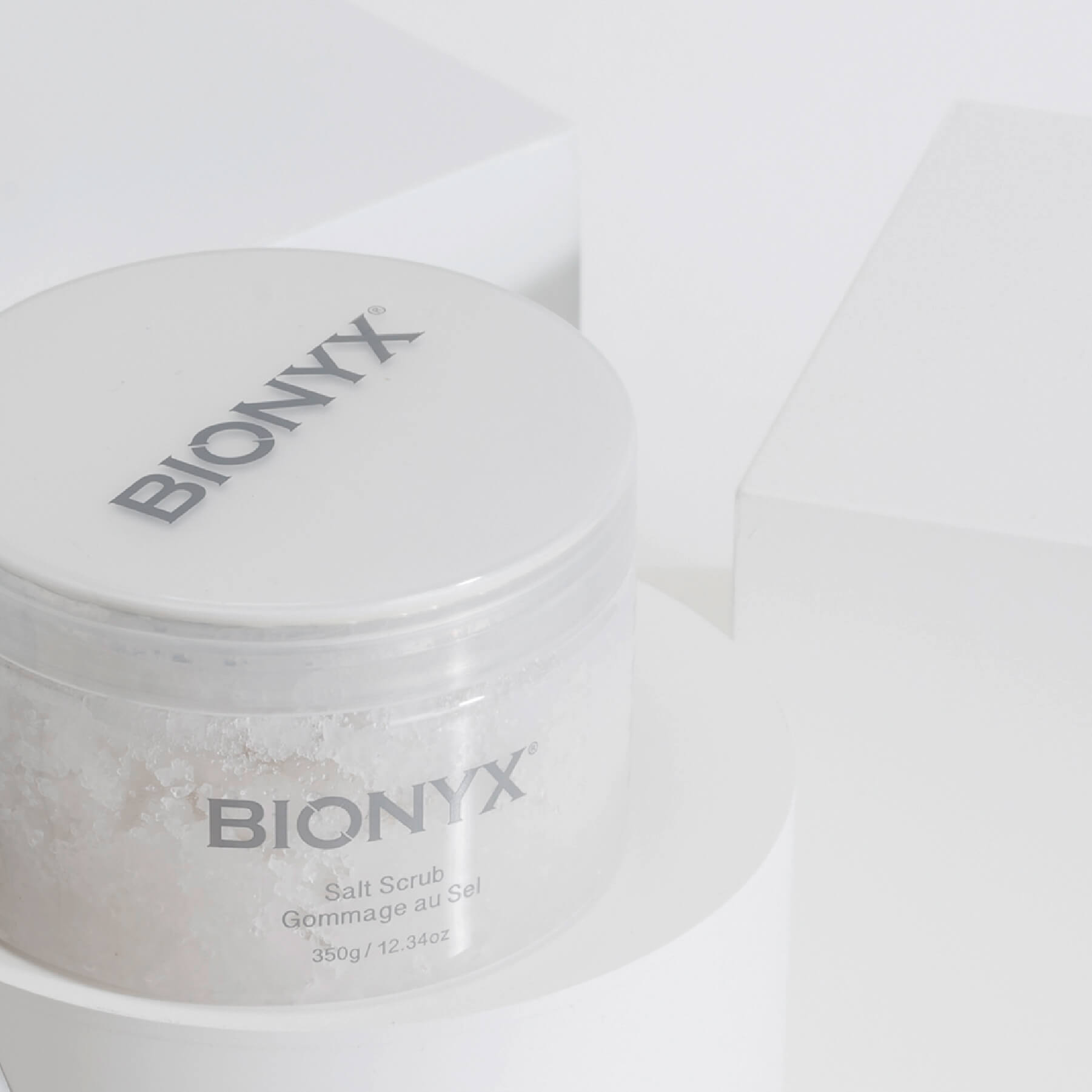 Exfoliation is key when it comes to keeping your skin looking smooth and young. However, although many regularly exfoliate their face and body, they often neglect the hands.
So, if you want to tackle your wrinkle hands from as many angles as possible, it's time to add a top-notch exfoliant into your skincare routine.
For this, we'd recommend the Bionyx Salt Scrub. It's a simple formula consisting of just a handful of ingredients, with sea salt as its base. This humble ingredient is jam-packed with skin-loving minerals, making it a must for wrinkles hands.
How often should you exfoliate your hands?
This depends on the exfoliant that you're using. Ideally, if you want to smooth away the visibility of those wrinkles as quickly as possible, you need an exfoliant that's safe for daily use (again, our Salt Scrub meets the mark!).
While you can exfoliate at any time of the day, try saving your exfoliation sessions for the evening. Exfoliation can make the skin feel a little more sensitive to the sun. Therefore, exfoliating before you head to bed will give your skin some time to recover before it has to face the sun again.
Protect Your Hands With SPF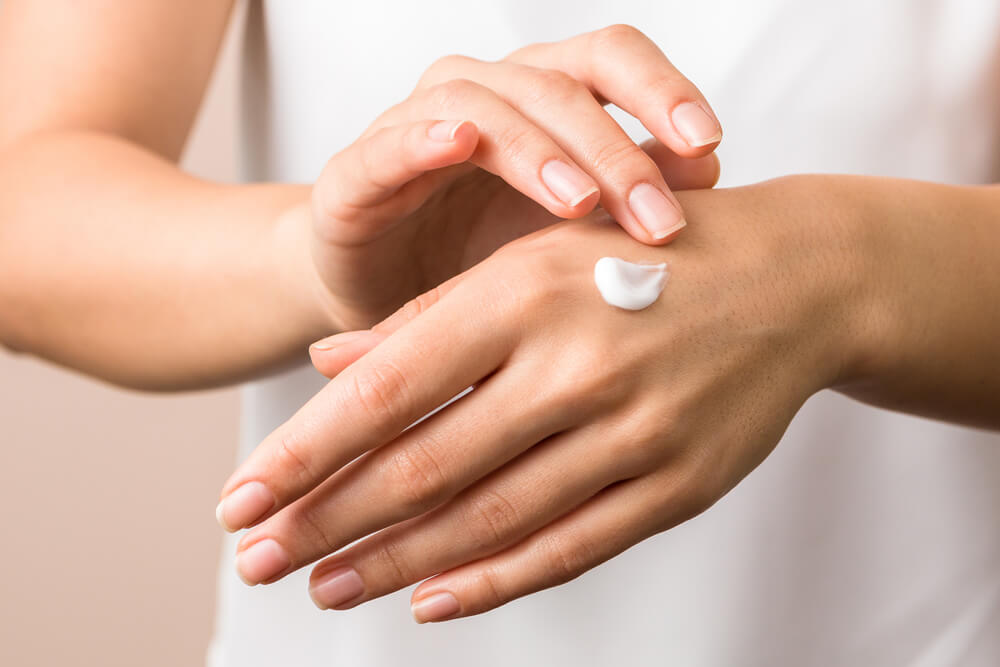 Speaking of the sun…
None of the tips that we've shared so far will be able to make much of a difference to your wrinkles hands unless you're also religiously using SPF.
The sun is responsible for the majority of your wrinkles, so you won't be able to make them less visible if the sun is continuing to wreak havoc on your skin at the same time.
What should you look for when shopping for a sunscreen for your hands?
In all honesty, you don't need a separate hand sunscreen. The product that you use on your face can also be used on your hands, so long as it's a broad-spectrum formula with an SPF of at least 30.
Simply slather this on to your hands (and face, and anywhere else that's exposed) before leaving the house in the morning. Keep it with you through the day, as you'll need to regularly reapply it every few hours.
Treat Your Hands to Some Vitamin A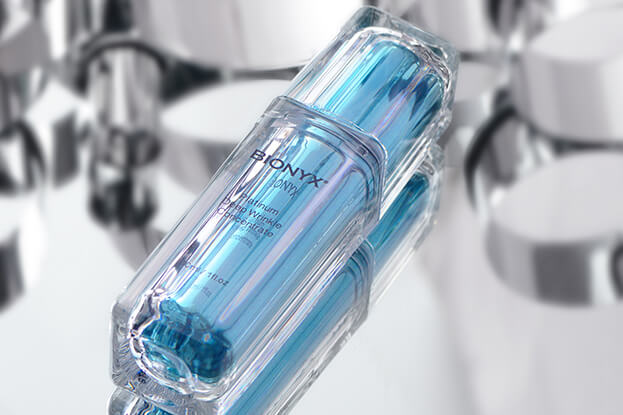 Ask any dermatologist to list the best ingredients for reducing the appearance of wrinkles, and chances are that some form of vitamin A will be on that list.
When it comes to smoothing away fine lines and wrinkles while tightening the look of the skin, vitamin A is considered to be the holy grail. It's easy to see why – this ingredient really is capable of transforming the appearance, whether used on the hands, face, neck, or anywhere else.
There are several different forms of vitamin A available, and some are known for causing more irritation than others. If you're new to the ingredient, we'd recommend starting with retinyl palmitate. Although it takes a while to work, it won't leave your skin looking red or feeling sensitive.
For this, you can turn to the Biolift Platinum Deep Wrinkle Concentrate from Bionyx. Although designed to diminish the visibility of wrinkles on the face, it works just as well on wrinkles hands too.
In addition to retinyl palmitate, this silky formula also contains glycerin and sodium hyaluronate. Both are humectants with moisture-binding properties. This means that they leave the skin feeling hydrated and looking plump and fresh.
Also in this serum are vitamins C and E. Again, both of these vitamins are must-have when it comes to reducing the appearance of wrinkles – hands or face!
Protect Your Hands From Harm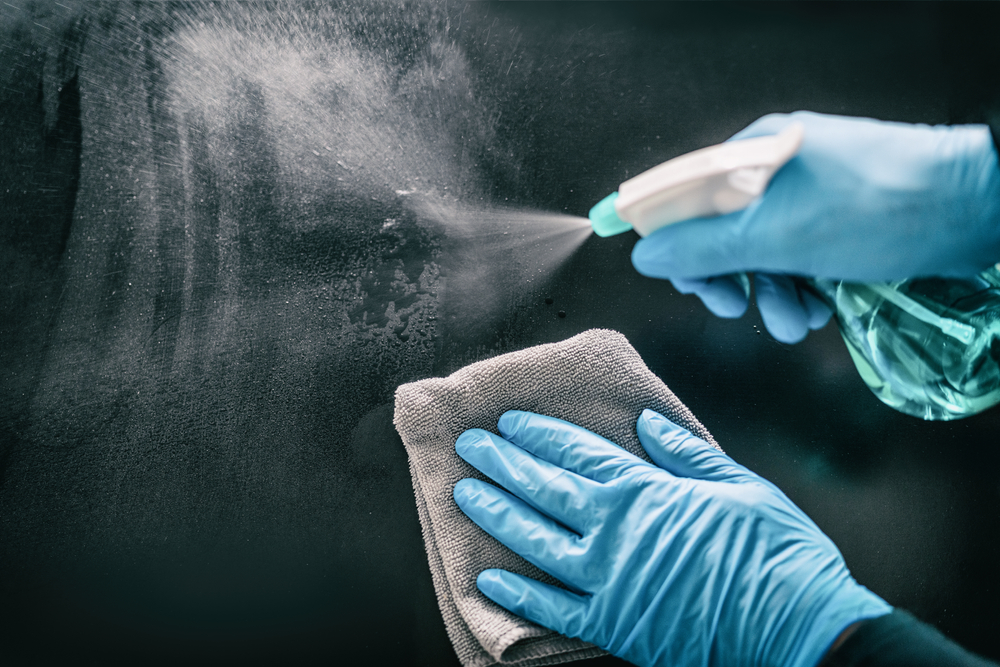 We've already talked about using a sunscreen to protect your hands from UV rays. However, what about all of the other damage that it deals with on a daily basis?
Whether you're pruning the roses in your garden or scrubbing your floors, you're damaging your hands in the process. Chemicals, daily wear and tear, friction – all of these things lead to wrinkles hands.
What can you do about it?
Physically protect your hands. We're talking gloves, but not rough and scratchy ones. Instead, whether you're using thick gloves for gardening or thin gloves for household chores, go with designs that are lined with silk or cotton. Silk would be best, as this causes the least amount of friction when it rubs against the skin.
It's also worth shopping for mild versions of cleaning products. You'll find many products out there that have been designed for sensitive skin. This will keep the amount of chemical exposure that your hands experience to a minimum.
Eat a Balanced Diet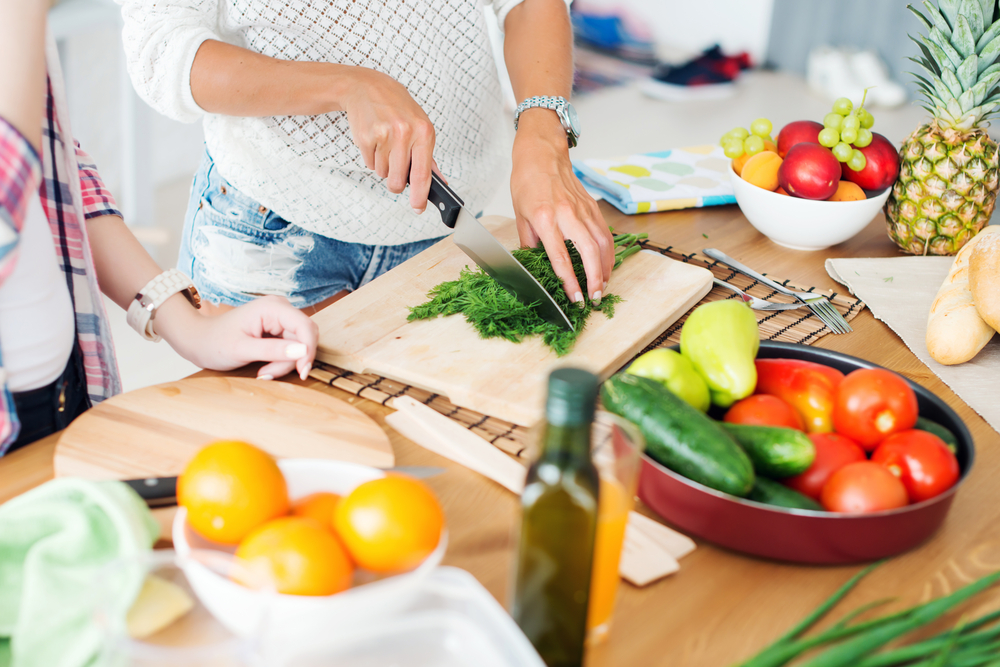 While this isn't going to have an instant effect on your wrinkles hands, eating a balanced diet can really transform the look of your skin in the long run.
If you regularly chow down on fast foods, packaged items, and sugary drinks, it's time to make a change. These foods all cause so much damage to the skin. They destroy protein fibers, resulting in wrinkles hands.
Switching over to a healthier diet containing skin-loving ingredients can help to reverse the visibility of the damage that has already been wrought.
Fill your plate with fresh fruits and vegetables of varying colors. Each color represents a unique range of antioxidants, so the more the merrier!
Healthy proteins are important too – fatty fish, such as salmon, provides this well. Nuts and beans are good plant-based alternatives.
Making sure that your diet contains all of the right vitamins and fatty acids will help to give you hands that look smoother and healthier.
Deal With Those Dark Spots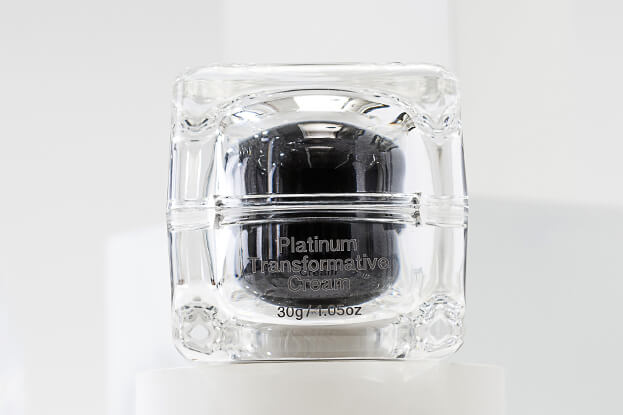 It's not just wrinkles that appear on the hands with age – dark spots make an appearance too. Also known as age spots, sun spots, or liver spots, they're caused by sun exposure. Just like wrinkles, they can make a person look so much older than they really are.
While wearing SPF now will help to prevent new dark spots from forming, it won't help to reduce the visibility of those that are already peppering your hands.
What will?
There are certain ingredients out there that are known superstars when it comes to reducing the look of dark spots.
Licorice root extract is one, as are lactic acid, vitamin E, and peptides. They all work in their own unique way, making them a great combination to lighten and brighten the look of the skin.
Where can you find all of these ingredients in one product?
Take a look at the Bionyx Platinum Transformative Cream. In addition to all of the above, which will help to fade the appearance of dark spots, it also contains seaweed extract to hydrate your skin, sodium hyaluronate to give it a plumper look, and green tea to tackle the appearance of fine lines and wrinkles.
Can you use a facial cream on wrinkles hands?
For sure! While it does mean that you'll end up running through the product a lot faster, smooth-looking hands make this well worth it!
It's Time to Smooth Away the Appearance of Those Wrinkles!
As you can see, there's plenty that you can do to reduce the appearance of wrinkles hands. Some will help to give you firmer-looking skin pretty much straight away, such as with moisturizing or using a mask, while others take longer to work.
However, the secret to obtaining those tight-looking hands of your youth is to implement all of the above tips and to be consistent. Do this and it won't be long before you'll be saying goodbye to those wrinkles hands, and it'll be decades before you see them again.
To browse more of our platinum-infused skincare formulas, click here.