Published: July 15, 2021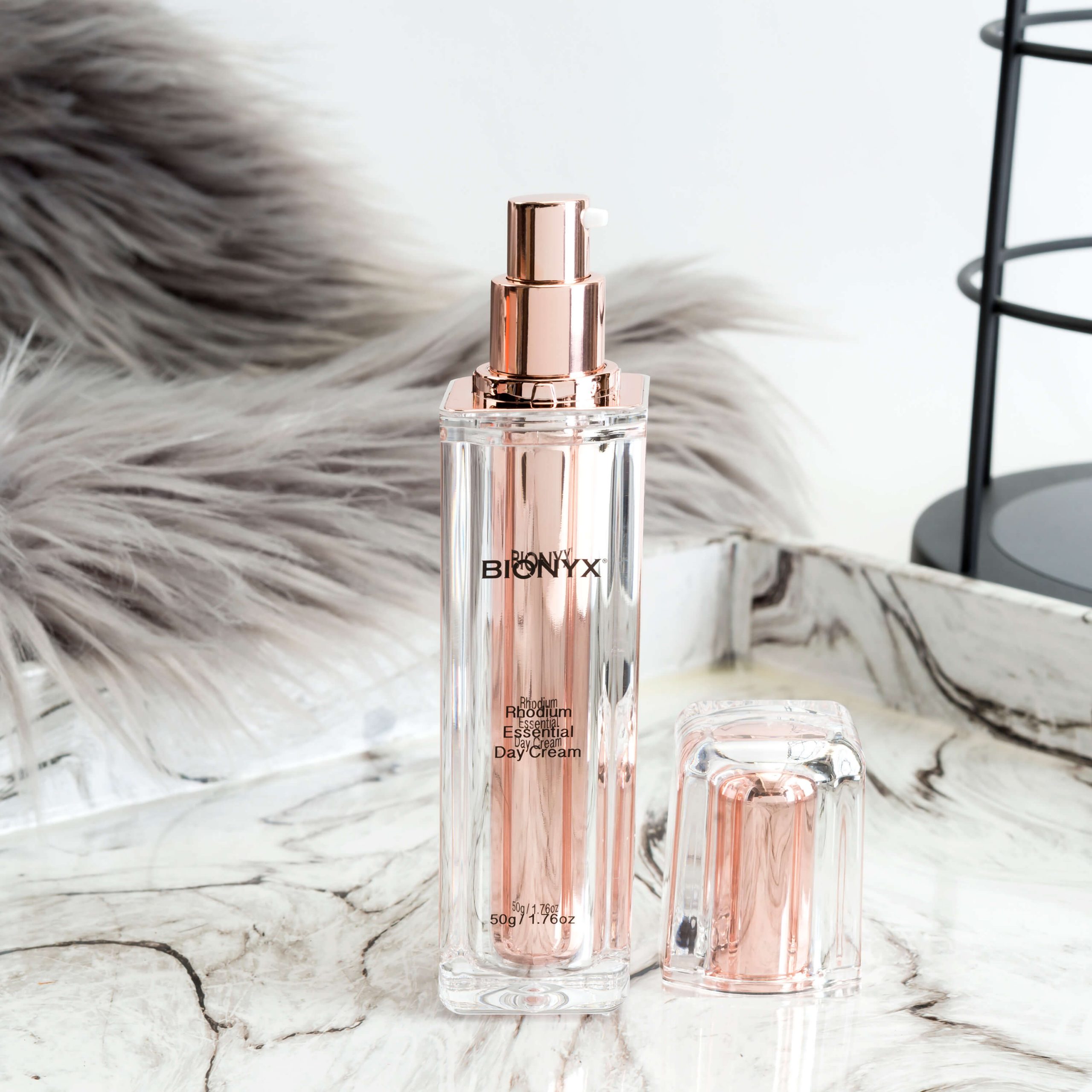 The modern woman is an environmentally conscious woman. As she approaches her thirties, forties, and embarks on the years beyond, she is increasingly aware of the effect that pollutants and UV rays have had not only on our environment, but on her skin as well.  
Empowered by her ability to make an impact on her environment, she takes action. She becomes a warrior in the fight to preserve her youthful complexion and reduce the appearance of wrinkles.
Enter the Bionyx Rhodium Essential Day Cream. A high-quality, lightweight complexion booster from Bionyx. A product with a long name and a whole lot of spunk. This product leaves skin feeling soft, supple, and clean. It fights the visibility of the damaging effects of our environment on the skin of the everyday warrior. A perfect match is made.
Intrigued? Read on to get the lowdown on the Bionyx Rhodium Essential Day Cream, what's so special about our rockstar day cream, why it's a skin-loving powerhouse, and how it works to soften and smooth the feel of your skin.
What is the Bionyx Rhodium Essential Day Cream and What Does it Do?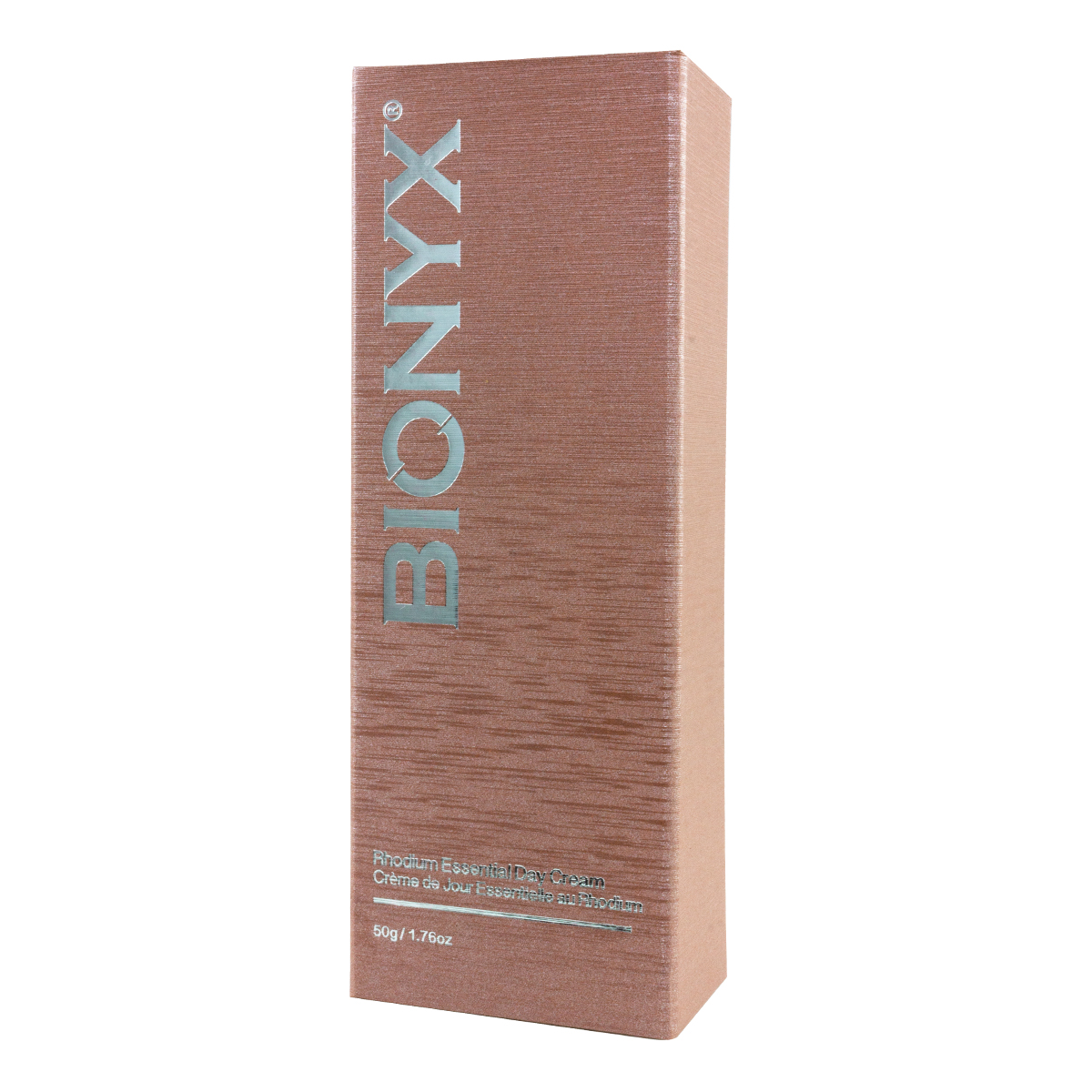 Well, before we take a look at how this product can transform the look of your skin, let's first discuss what has been changing with your skin lately, and why.  
What caused you to develop those wrinkles you are starting to notice when you have been so careful to wear SPF when out in the sun? What changes are happening that make your skin look dull and lifeless? And what has happened to your youthful glow?  
Each day, your skin is exposed to elements and pollutants in our environment that cause it to age. Simultaneously your skin begins to produce less collagen as you age. Collagen is a protein that helps keep your skin looking young and firm. This lack of collagen results in skin that looks thinner and less hydrated.
You can blame the deterioration of collagen, and elastin, for your sagging skin as well. Skin that is losing elasticity begins to lose that youthful firm and supple appearance and over time leads to that worn, haggard appearance you may be sporting.
You know, the one that has people telling you that you look tired.
As these changes begin to occur, you may start to notice some new wrinkles forming. While most women know that exposure to the sun is one of the main causes of wrinkles, pollutants in our environment are also a big contributor.
Chin up! It's not too late to save your skin!
Why Do You Need a Day Cream?
We've heard it before. You may be wondering why you can't just simply use your tried and true night cream during the day.  
Your skin needs lightweight, non-greasy products during the day when you are active. Products that provide you with the fortified feeling you need to deal with environmental irritants and pollution.
Night creams are often heavier creams that repair and restore the look of your skin in preparation for a new day.  We recommend you try the Bionyx Rhodium Night Recovery Cream for your night time needs.
What's Aging Your Skin, Besides Age?
UV Exposure

–

UV rays

penetrate your skin and damage the elastic fibers that work to help to keep your skin taut. Sunlight is also to blame for dark "age" spots.

Pollutants In The Environment

– pollutants damage your skin's barrier to the elements leading to an increase of pigmentation and premature aging.

Blue Light From Electronics

– Studies have shown that the blue light emitted from electronic devices can change your skin cells, causing them to shrink and die which speeds up the aging process on your skin.

Lifestyle Choices

– (smoking, drinking, poor diet) – Our diet and exercise regime directly impact our health and appearance. A poor diet shows up as lackluster dry skin. The smoke from cigarettes can cause wrinkles and age your skin prematurely. And drinking alcohol in excess can cause your body to release more stress hormones, which adds years to your skin.
Rest assured, this luxurious day cream from Bionyx will smooth out the appearance of those lines and leave your skin looking more supple and youthful. 
Day creams absorb into your skin and help to keep it feeling moist and elastic. When used daily, your dull, worn appearance becomes a thing of the past. The feel of skin elasticity is improved and your inner glow is visible on the outside once again. 
What's in the Bionyx Rhodium Essential Day Cream, Anyway?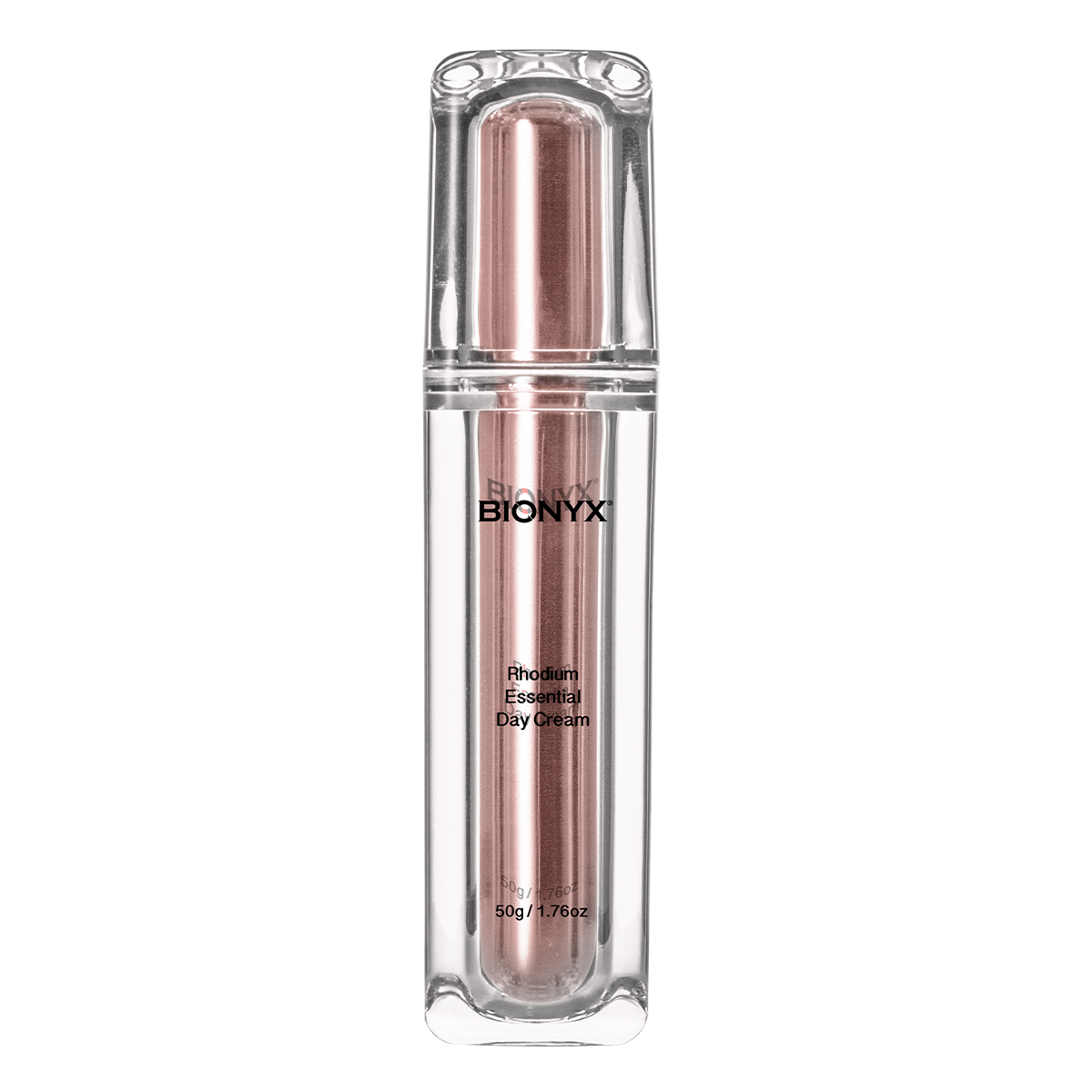 Not all day creams are created equal.
Developed from a winning combination of scientifically researched ingredients and cutting-edge trends in skincare, the sunflower seed oil, shea butter, and colloidal platinum are the true miracle workers in this product.  
By carefully hand-picking natural and synthetic ingredients, we have perfected luxury products, like the Bionyx Rhodium Essential Day Cream, without sacrificing quality.
A Step-by-Step Guide to Using the Bionyx Rhodium Essential Day Cream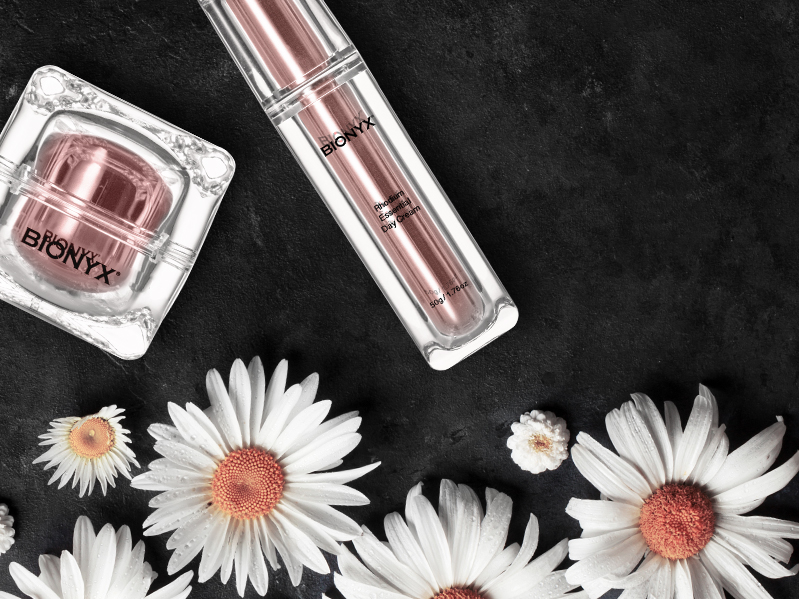 You've bought the product. Great! Now what do you do with it? Fortunately for the always multitasking modern woman, this product is quick and easy to use. 
How To Use the Bionyx Rhodium Essential Day Cream
*Recommended for use each morning*
Use a cleanser to wash your face and neck and pat dry with a towel.

Remove the cap on the top of the product 

Pump a coin-sized amount of the product onto your fingertips.

Use your fingertips to massage the product into your face and neck in an upward sweeping motion using gentle outward strokes.

Check that the cream is evenly distributed over your face and neck. Use a soft towel to wipe away any excess product from your skin and get ready to greet your day with a fresh feeling!
Tips For Including the Bionyx Rhodium Essential Day Cream Into Your Skin Care Routine Like a Boss
Try to begin your morning skin care routine around the same time each morning, whenever possible.

Having a scheduled beauty self-care ritual helps you to get into the habit of not only moisturizing your skin to prepare it for your day, but makes it less likely you'll get busy and forget to cleanse your skin as well. 

A great time to apply moisturizing products is after you shower. Moist skin is absorbent skin. 
Make sure you are using a quality cleanser, one that removes dirt oil, and impurities and leaves you feeling clean. We like our Platinum 2 Step Cleansing Set.
So, What's the Conclusion?
This product is a cutting-edge elixir of powerful ingredients carefully selected with the preventative needs of the modern woman in mind.
The Bionyx Rhodium Essential Day Cream will improve the appearance of wrinkles and dark spots to reveal skin that looks youthfully bright, smooth, and firm.
We think you've earned it.