Published: July 15, 2021
The modern woman is an environmentally conscious woman. As she approaches her thirties, forties, and embarks on the years beyond, she is increasingly aware of the effect that pollutants and UV rays have had not only on our environment, but on her skin as well.  
Empowered by her ability to make an impact on her environment, she takes action. She becomes a warrior in the fight to preserve her youthful complexion, reduce the appearance of wrinkles, and to protect her skin from the damaging effects of free radicals.
Enter the Bionyx Rhodium Essential Day Cream. A high-quality, lightweight complexion booster from Bionyx. A product with a long name and a whole lot of spunk. This product leaves skin feeling soft, supple, and clean. It fights the damaging effects of our environment on the skin of the everyday warrior. A perfect match is made.
Intrigued? Read on to get the lowdown on the Bionyx Rhodium Essential Day Cream, what's so special about our rockstar day cream, why it's a skin nourishing powerhouse, and how it works to soften and smooth your skin.
What is the Bionyx Rhodium Essential Day Cream and What Does it Do?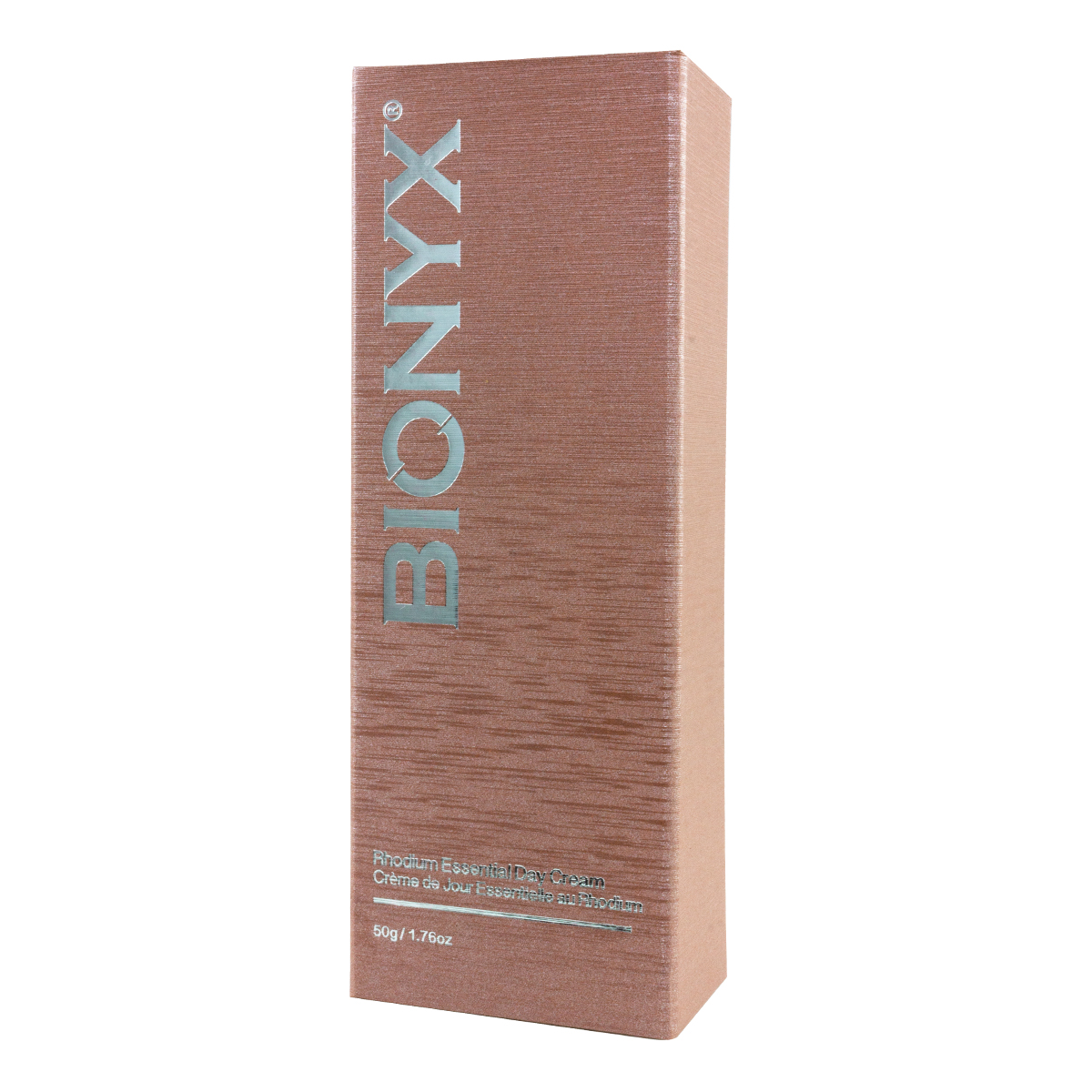 Well, before we take a look at how this product can transform your skin, let's first discuss what has been changing with your skin lately, and why.  
What caused you to develop those wrinkles you are starting to notice when you have been so careful to wear SPF when out in the sun? What changes are happening that make your skin look dull and lifeless? And what has happened to your youthful glow?  
Each day, your skin is exposed to elements and pollutants in our environment that cause it to age. Simultaneously your skin begins to produce less collagen as you age. Collagen is a protein that helps keep your skin looking young and firm. This lack of collagen results in skin that looks thinner and less hydrated.
You can blame the deterioration of collagen, and elastin, for your sagging skin as well. Skin that is losing elasticity begins to lose that youthful firm and supple appearance and over time leads to that worn, haggard appearance you may be sporting.
You know, the one that has people telling you that you look tired.
As these changes begin to occur, you may start to notice some new wrinkles forming. While most women know that exposure to the sun is one of the main causes of wrinkles, pollutants in our environment are also a big contributor.
Chin up! It's not too late to save your skin!
Why Do You Need a Day Cream?
We've heard it before. You may be wondering why you can't just simply use your tried and true night cream during the day.  
Your skin needs lightweight, non-greasy products during the day when you are active. Products that provide you with the protection you need from environmental irritants and pollution. Using the Bionyx Rhodium Essential Day Cream helps to prevent damage from free radicals and UV rays.
Night time is skin rejuvenation time.  Because your skin is not exposed to potential sun and environmental damage while you are sleeping, night creams work to correct daytime damage to your skin. Night creams are often heavier creams that repair and restore your skin in preparation for a new day.  We recommend you try the Bionyx Rhodium Night Recovery Cream for your night time skin rejuvenation needs.
What's Aging Your Skin, Besides Age?
UV Exposure

–

UV rays

penetrate your skin and damage the elastic fibers that work to help to keep your skin taut. Sunlight is also to blame for dark "age" spots.

Pollutants In The Environment

– pollutants damage your skin's barrier to the elements leading to an increase of pigmentation and premature aging.

Blue Light From Electronics

– Studies have shown that the blue light emitted from electronic devices can change your skin cells, causing them to shrink and die which speeds up the aging process on your skin.

Lifestyle Choices

– (smoking, drinking, poor diet) – Our diet and exercise regime directly impact our health and appearance. A poor diet shows up as lackluster dry skin. The smoke from cigarettes can cause wrinkles and age your skin prematurely. And drinking alcohol in excess can cause your body to release more stress hormones, which adds years to your skin.
Rest assured, this luxurious day cream from Bionyx will smooth out the appearance of those lines and leave your skin more supple and youthful. Day creams are multi-taskers that moisturize your skin and provide an invisible shield to the potential damage that ages your appearance.
Day creams absorb into your skin and help to keep it moist and maintain its elasticity. When used daily, your dull, worn skin becomes a thing of the past. Your skin elasticity is improved and your inner glow is visible on the outside once again. 
What's in the Bionyx Rhodium Essential Day Cream, Anyway?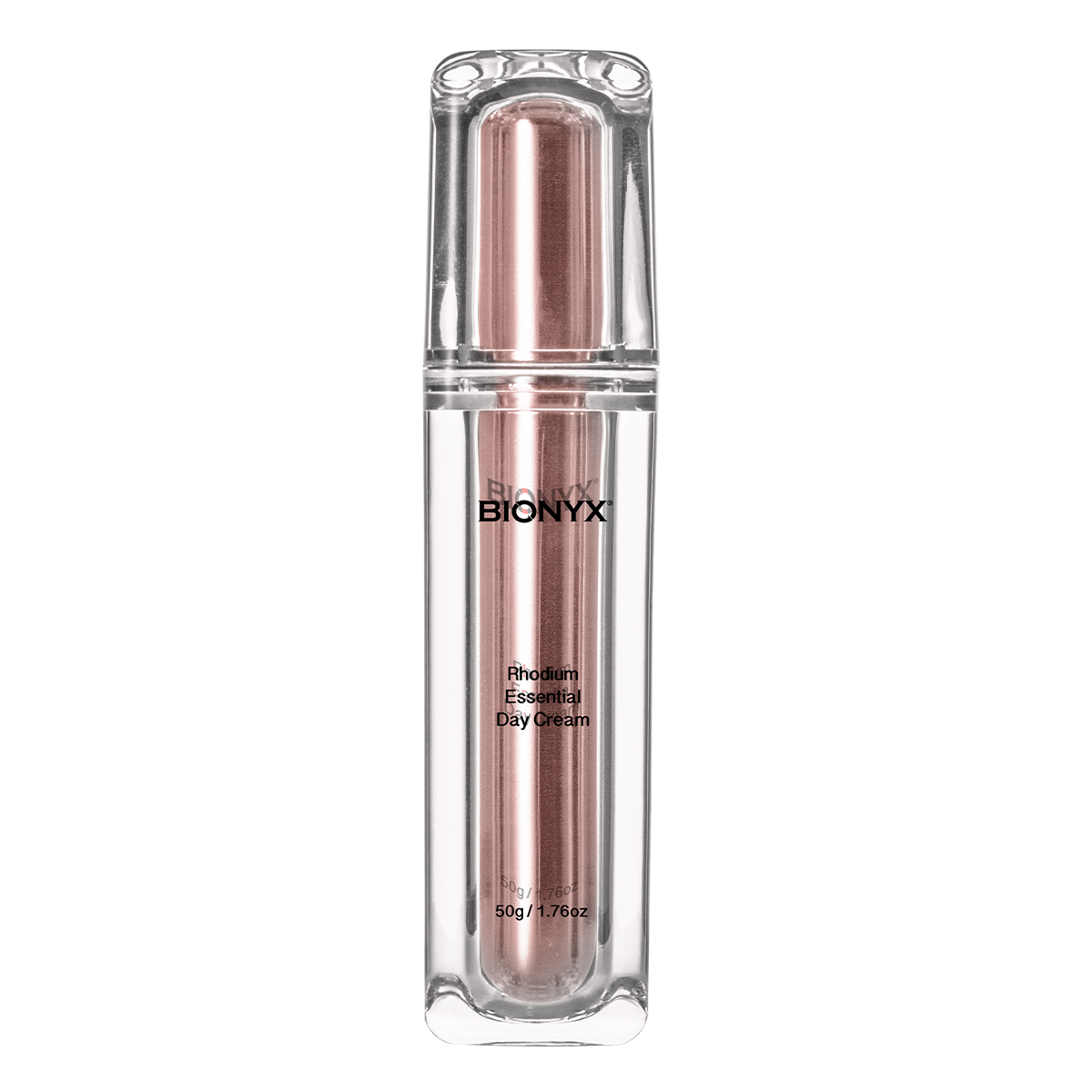 Not all day creams are created equal.
Developed from a winning combination of scientifically researched ingredients and cutting-edge trends in skincare, the sunflower seed oil, shea butter, and colloidal platinum are the true miracle workers in this product.  
By carefully hand-picking natural and synthetic ingredients, we have perfected luxury products, like the Bionyx Rhodium Essential Day Cream, without sacrificing quality.
Sunflower Seed Oil 
A popular anti-aging extract that comes from the seeds of the sunflower, this oil is nutrient-dense. The nutrients contained in sunflower seed oil include vitamin E, which helps your skin cells to hold their moisture and hydrates your skin deeply. 
Vitamins A and C give the oil its strong antioxidant properties and the ability to fight damaging free radicals. 
Perhaps most fabulous of all, sunflower seed oil has anti-inflammatory properties and fatty acids that are great for sensitive skin.
Shea Butter
This botanical has been used for centuries to moisturize the skin. It's packed with fatty acids and antioxidants, a powerful combination that helps to nourish, protect, and repair.
Shea butter gives this cream a beautifully luscious texture, but don't be concerned about greasiness. Shea butter may be rich, but it's non-comedogenic, meaning that it won't clog your pores.
Colloidal Platinum 
Rest easy, we've brought colloidal platinum to the party, and it's not going anywhere. Because at Bionyx, we've done our homework. We've read the research, we follow the trends, and we're not afraid of cutting-edge ingredients like this one. We're passing the results onto you.  
Colloidal platinum shows promise as a neutralizer of those aging free radicals, before they can damage your skin. A precious metal with a wide range of health and beauty benefits makes colloidal platinum a must-have in skin care formulations.
Platinum particles boast powerful antioxidant properties that protect the skin against cellular damage. 
A favorite at Bionyx, we strongly believe that as more research studies are performed, the true anti-aging powers of platinum-infused skincare products will make it a must-have ingredient.
You'll find Platinum in all of the products from Bionyx. 
How Does the Bionyx Rhodium Essential Day Cream Protect Your Skin?
The thing is, there is more than just nature outdoors these days. Environmental Stressors. We've had a few. But what are they?
Environmental stressors are skin agitators from our rural environment, like air pollution. Not the work of Mother Nature, of course. And an alarming amount of free radicals that are anything but, well, radical, for your skin.
Without shielding yourself each morning with the Bionyx Rhodium Essential Day Cream, these free radicals will wreak havoc on your skin's ability to produce collagen, the youth protein.  
And without collagen, your skin is an open invitation to wrinkles, dark "age" spots, fine lines, and baggy, saggy skin. The effect that has on your confidence is nothing to laugh about.  
What Else Can the Bionyx Rhodium Essential Day Cream Do For You?
Not only do we believe that each application of the Bionx Rhodium Essential Day Cream will bring you closer to attaining the youthful, smooth, and supple skin of your dreams (and your past), we are confident that once you begin using the product each morning you will:
Turn Heads

– Your smooth hydrated skin will cause necks to turn and eyes to widen. Who is that woman with the smooth complexion and where has she been hiding?

Look Younger

– By getting rid of those pesky age spots and wrinkles, you'll be rocking a more youthful look. It's the colloidal platinum in this product that makes your skin less susceptible to premature aging and damaging free radicals.

Love Your Skin Again

– Nothing says confidence quite like smooth and glowing skin. Getting rid of that dull, aging skin feels good on you and it will show.

Have Healthier Skin

– Healthy is always in. The shea butter and sunflower seed oil in this product work well on all skin types and skin of all ages.  Leaving you with skin that looks and feels clean, clear, and beautiful.
A Step-by-Step Guide to Using the Bionyx Rhodium Essential Day Cream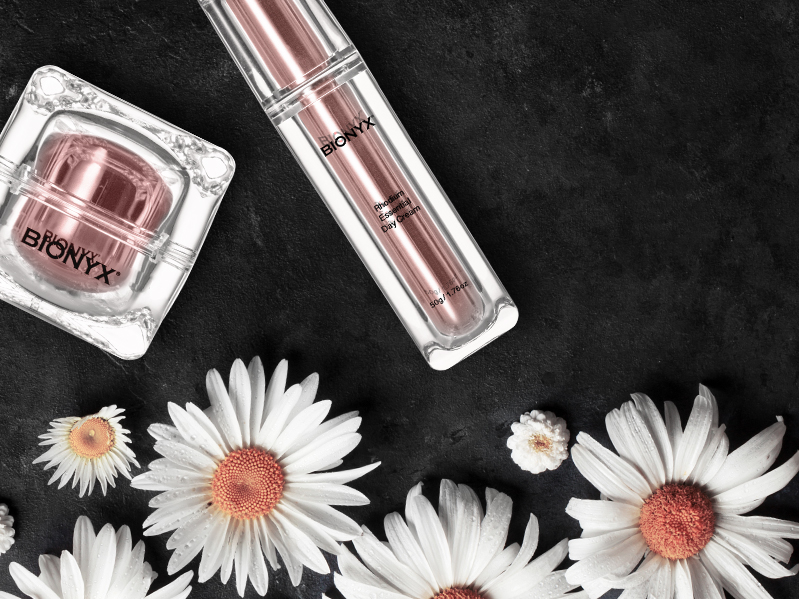 You've bought the product. Great! Now what do you do with it? Fortunately for the always multitasking modern woman, this product is quick and easy to use. 
How To Use the Bionyx Rhodium Essential Day Cream
*Recommended for use each morning*
Use a cleanser to wash your face and neck and pat dry with a towel.

Remove the cap on the top of the product 

Pump a coin-sized amount of the product onto your fingertips.

Use your fingertips to massage the product into your face and neck in an upward sweeping motion using gentle outward strokes.

Check that the cream is evenly distributed over your face and neck.  Use a soft towel to wipe away any excess product from your skin and get ready to greet your day with a fresh face forward!
Tips For Including the Bionyx Rhodium Essential Day Cream Into Your Skin Care Routine Like a Boss
Try to begin your morning skin care routine around the same time each morning, whenever possible.

Having a scheduled beauty self-care ritual helps you to get into the habit of not only moisturizing your skin to prepare it for your day, but makes it less likely you'll get busy and forget to cleanse your skin as well. 

A great time to apply moisturizing products is after you shower. Moist skin is absorbent skin. 
Make sure you are using a quality cleanser, one that removes dirt oil, and impurities and leaves you feeling clean. We like our Platinum 2 Step Cleansing Set.
So, What's the Conclusion?
Well, you can't stop your skin from aging, but this product can. It can totally transform your skin from the invisible, wrinkle-causing, dangers beyond your front door.
This product is a nourishing elixir of powerful pollutant-shielding, anti-aging ingredients carefully selected with the preventative needs of the modern woman in mind.
The Bionyx Rhodium Essential Day Cream will improve the aging appearance of wrinkles, a dull complexion, age spots, and sagging skin and reveal youthfully clean, smooth, supple skin. 
We think you've earned it.