Published: August 14, 2019
If you're getting ready for a special occasion, there are several products from Bionyx that can assist with preparation for that big event.
Curious about what these are? Keep reading!
Day One
One of the most common areas of concern is the eyes. Are you experiencing fine lines, dark circles, and puffiness around the eyes? If so, it may be more than a good night's sleep can help with. You may want to try a more topical solution.
Bionyx Platinum Intense Eye Serum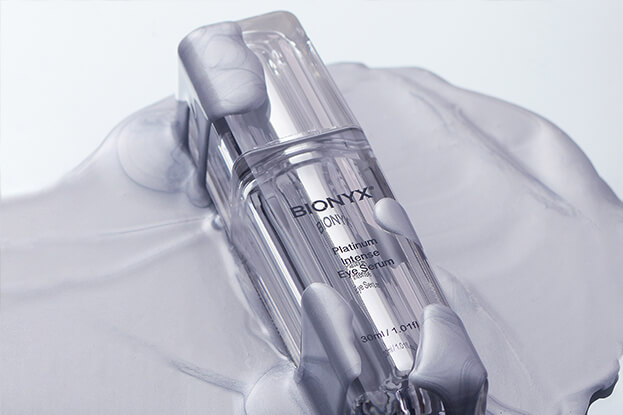 The Platinum Intense Eye Serum contains powerful, proactive ingredients to really combat the unwanted signs of weariness around the eyes.
Here are a few of this serum's most notable ingredients:
Green Tea Extract: For centuries green tea bags have been used in households to help with rejuvenating skin. Green tea bags are especially great for reducing puffiness under the eyes and getting rid of dark circles. Thanks to the green tea extract inside the Platinum Intense Eye Serum, this serum will be able to do the same and help with improving the look of puffiness
Caffeine: Caffeine can do more than be your liquid happiness every morning. Used as a topical substance, caffeine is also great for skincare. As the skin under the eyes tends to be very thin, blood vessels easily show and this may cause some of the discoloration under the eyes. Caffeine is able to shrink blood vessels and make them less visible under the eyes, which in turn helps to brighten the entire eye area. Caffeine has also been proven to decrease puffiness and reduce wrinkles.
Glycerin: Glycerin (also known as glycerol) is a top humectant frequently used in skincare, thanks to its role as a natural compound that is able to bind and lock moisture to the skin's surface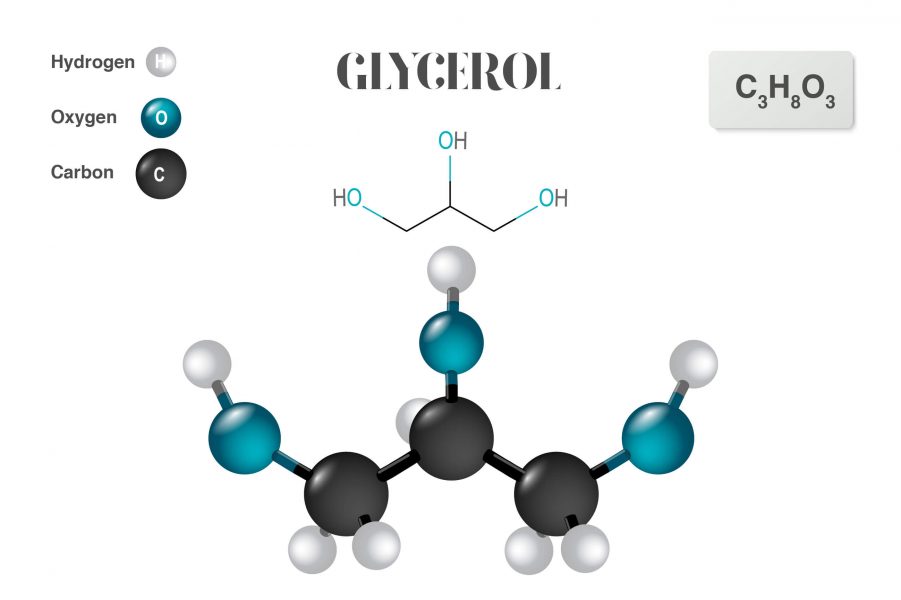 There are simply a few of the ingredients found in the Platinum Intense Eye Serum. For best results, use this eye cream daily.
Day Two
One of Bionyx's bestselling products is the BioLift Platinum Deep Wrinkle Concentrate, which helps to quickly target areas of concern and smooth away wrinkles and creases.
BioLift Platinum Deep Wrinkle Concentrate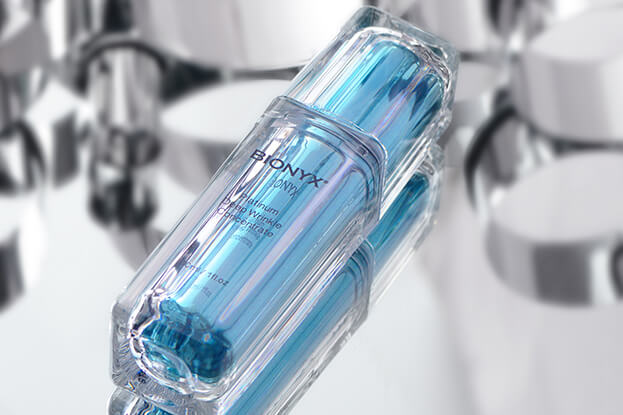 Did you know that most facial wrinkles are the result of repeated expressions? Smiling, squinting, frowning all contribute to unwanted facial lines and wrinkles.
The Bio Lift Deep Wrinkle Concentrate is created to help with this. The difference between this product and other products is that it is made for specific areas of concern. Not too many people are dealing with an entire face of wrinkles; the problem tends to be a few pesky creases here and there, which unfortunately affects the overall facial appearance.
Wondering how the Bio Lift Deep Wrinkle gets the job done so efficiently and rapidly?
It's all thanks to the vitamin A!
What are the benefits of vitamin A?
Retinol is a form of vitamin A, and when used topically it has the ability to absorb into the skin and trigger a higher production of new skin cells. This process helps to eliminate damaged skin cells and keeps the skin from becoming too dry.
Research has proven that the more retinoids in the skin, the greater the collagen production. This means fewer wrinkles and firmer skin.
Vitamin A is one of the best vitamins to fight acne, as the stimulation of cell reproduction from vitamin A assists with the clearing of acne.
When accompanied by vitamin E, vitamin A is even more effective. Naturally, the BioLift Platinum Deep Wrinkle Concentrate has both.
Did you know that sometimes wrinkles in the skin are just mistaken as signs of aging? Those wrinkles could also be due to dryness in the skin. All you need is the right moisturizer to help hydrate and nourish your skin to get rid of them.
Vitamin E is one of the best skin moisturizers from nature, and here's what vitamin E can do for your skin:
Prevents sunburn
Decreases the visibility of scars on the skin
Clinically proven to improve and clear psoriasis
Studies have shown that Vitamin E has healing capabilities for eczema
Provides relief from itching skin, which can occur from allergic reactions, insect bites and dry patches of skin
Don't forget about checking your neck area for wrinkles too. This cream can be used on both face and neck areas and should be used daily.
Day Three
Before the big event, your skincare routine should also be able to incorporate rest and, preferably, a good night's sleep. This is why the Platinum Vita Night Recovery is so important.
Platinum Vita Night Recovery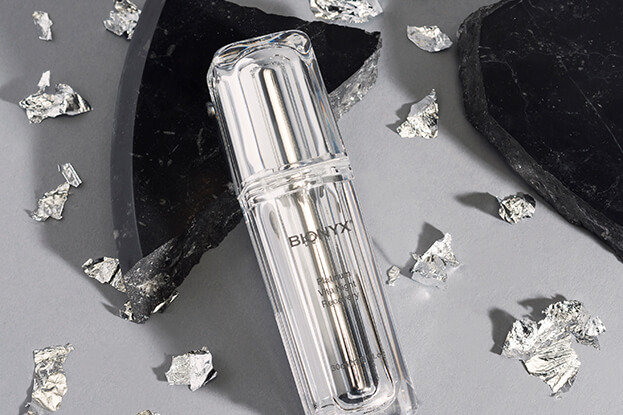 The Platinum Vita Night Recovery is a customer favorite, as it is able to work on the skin during sleep. It is a serum that includes Bionyx's signature colloidal platinum, and helps to silken the skin, reduce the appearance of wrinkles, and restore the dewy look of youth.
Day Four
It's time to pay some attention to the body too! And just like the face, the body needs exfoliation as well.
Bionyx Salt Scrub
This salt scrub will enhance your body's skin appearance in three ways.
Exfoliation: Keeping dead skin on your body for too long can cause some serious problems. Dead skin either sheds off your body (if actions are taken for it to fall off) or it hardens, but nobody wants hard, rough, callused skin. This makes exfoliation critical in maintaining healthy, smooth skin.
Cleansing: Sure, taking showers and baths are perfect when it comes to cleaning yourself. But, by using a salt scrub you are really able to do a deep cleanse. Salt scrubs have the capability of removing bacteria from the skin and unclogging pores, which also helps reduce inflammatory areas or lesions on the skin.
Rejuvenation: Salt scrubs enhance the blood circulation when massaged onto your skin. With clean pores, your skin is able to become softer and firmer. Having dead skin cells removed by Bionyx Salt Scrub will also stimulate the growth of new skin cells. This all helps with skin restoration and radiance.
Not to mention how therapeutic a nice salt scrub rubdown can be!
After exfoliation, be sure to moisturize and re-hydrate. In fact, Bionyx has a body butter that is perfect to follow this up with.
This body butter will hydrate and provide nourishment to your skin. If you're wearing a dress to the event that reveals a little more of your body than normal – the Bionyx Salt Scrub and Bionyx Body Butter are crucial.
Day Five
The final day of a Bionyx self-care event preparation is upon us. You are more than ready for the event. However, on this final day there are still a couple of items to make sure that your skin is absolutely glowing for the special occasion.
Here are a few Bionyx products that you will want to use on this final day while getting ready for the event: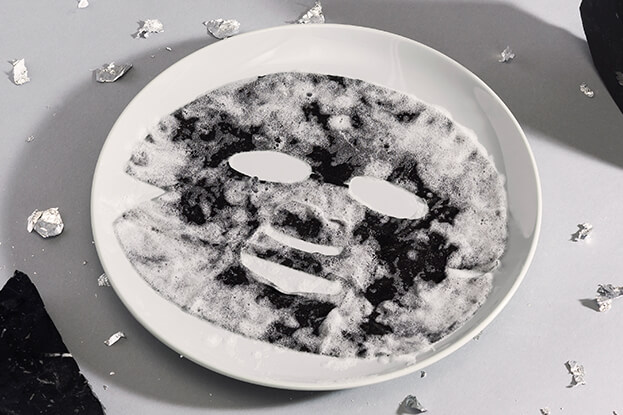 This mask includes charcoal powder that deeply cleanses the skin and absorbs dirt and grime from the pores. Imagine how amazing it will feel to have breathing pores and oxygen bubbles lathering and cleansing your face. Cucumber juice is also an ingredient in this mask. This ingredient adds a final cooling and soothing touch to the skin.
Platinum Two-Step Cleansing Set: This set contains the perfect products to ensure an even, smooth, radiant complexion at the event. This set includes a milk cleanser and skin toner. The milk cleanser should be used first to get rid of all dirt. Then the toner is applied to replenish the skin with a potent infusion of vitamin B3, hyaluronic acid and platinum.
Platinum Essential Day Cream: After you've given yourself a deep facial cleanse, a moisturizer is necessary. This cream includes sunflower seed oil to boost skin moisture. Studies have shown that when compared to other natural oils, sunflower seed oil tends to be the preferred oil for moisturization. It is also a great source of vitamin E. This oil heals inflammation, fights aging, and prevents acne. Therefore, not only does the Platinum Essential Day Cream give you a re-charge and long-lasting glow, but it will also promote your overall skin health.
Once you're done prepping your skin with this 5-day routine, it's time to show your glow at your special event!