Published: September 15, 2021
Skincare is an effective form of self-care. It's a great way to pamper ourselves, and this year, we're seeing so many trends in the skincare-sphere that are taking the world by storm.
From dermatologist-approved ingredients to new findings in the skincare industry, there's plenty to be excited about this year, and we're here to talk about it.
At Bionyx, we try to keep the ongoing trends in mind while producing effective skincare products that work for our customers.
Keep on reading to find out more about the biggest skincare trends for 2021!
Natural Ingredients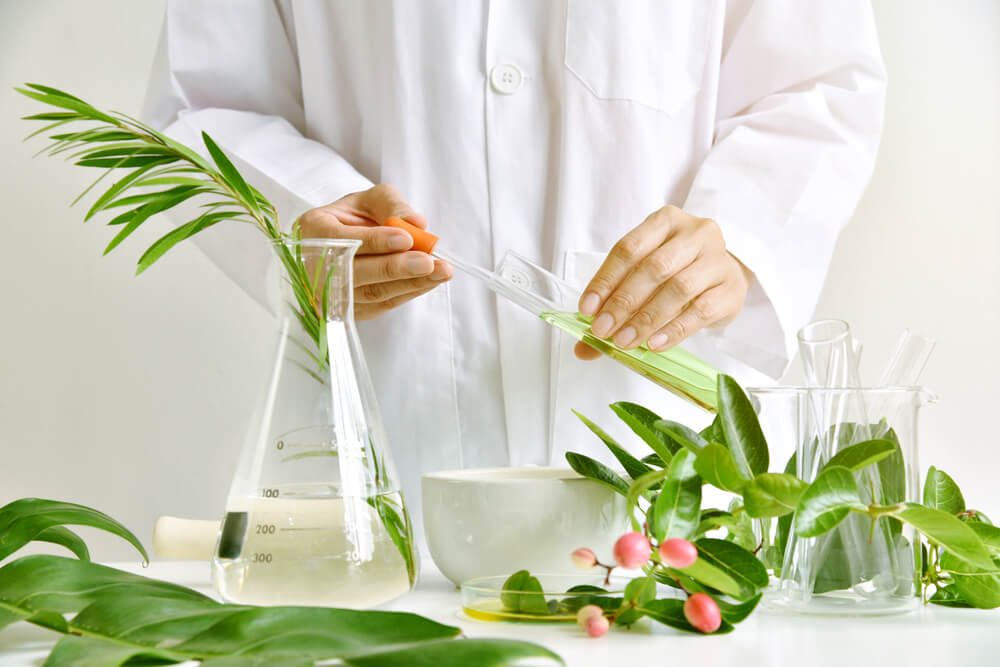 Using natural ingredients in our skincare is probably one of the most significant skincares trend for 2021 we've seen.
At Bionyx, we've infused our skincare products with colloidal platinum. But why colloidal platinum?
Platinum has long been in high demand in the jewelry industry, but like many other unusual metals, it has also made its way into the realm of skincare.
Bionyx offers a luxury line of skincare products that will change the way you think about skincare. We try to ensure that our skincare isn't simply practical but enjoyable by including colloidal platinum into the products.
So, how does colloidal platinum fit into all this? The skin is known to have an ionic buffer zone that seals in moisture while also protecting against free radical damage.
Electrons are arranged into negatively charged and positively charged areas.
As stress, pollution, and sun damage wreak havoc on the skin's natural balance between good and bad, the skin's protective buffer is rendered useless, leaving the skin exposed to harmful elements.
Experts are confident that platinum will help restore electrolyte balance, and in turn, help your skin retain moisture and become healthier.
Of course, while colloidal platinum may be the star of the Bionyx show, we make use of plenty of other natural ingredients too. You'll find sea salt in our Salt Scrub and witch hazel in our Platinum Transformative Cream. There's also the cucumber and avocado extracts in our Transformative Fine Line Syringe. Pretty much every Bionyx product contains natural ingredients, so you can't go wrong there!
Sustainable Products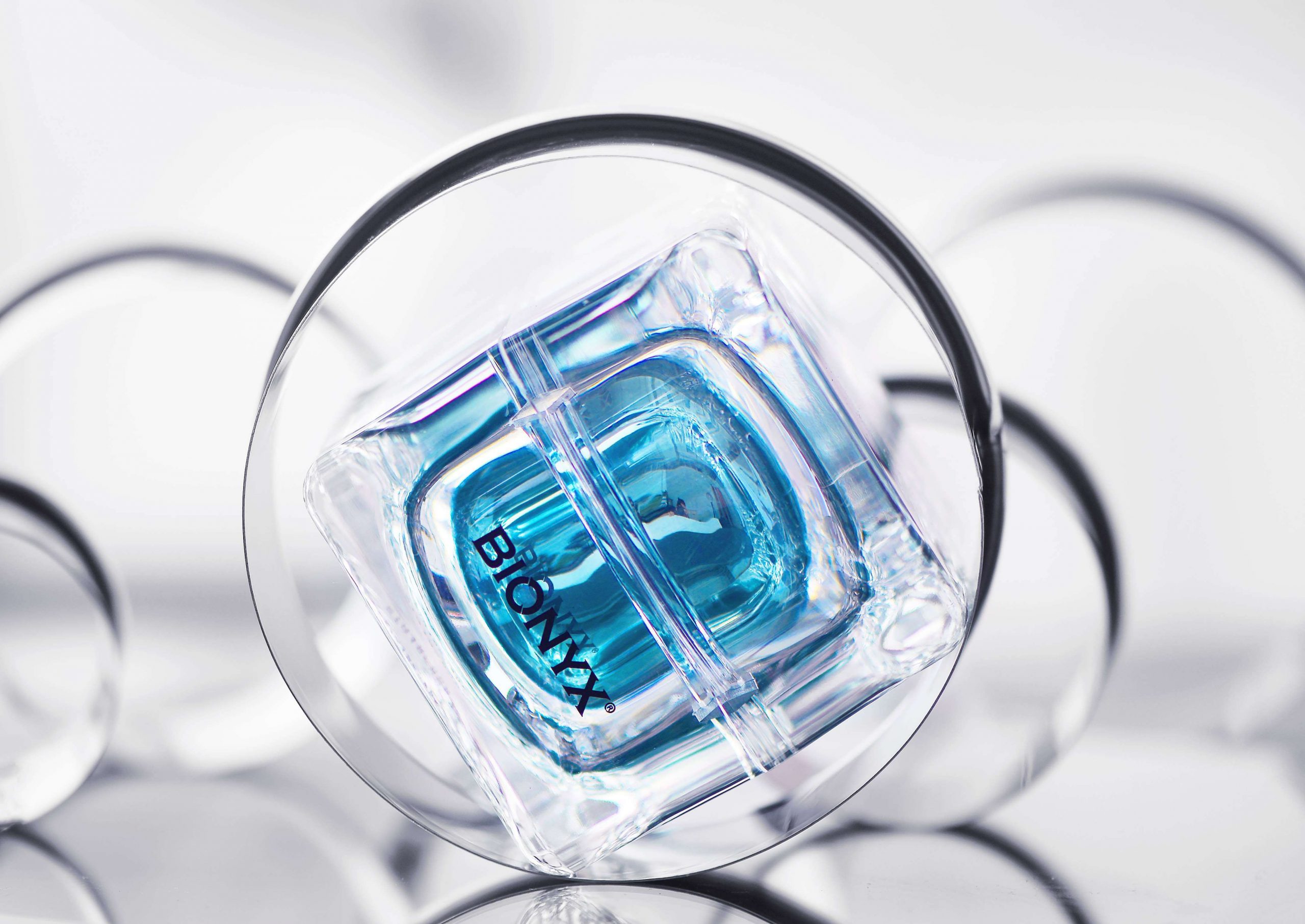 Most skincare brands use single-use plastic packaging. Given how damaging this is to the environment, here at Bionyx, our skincare products are made from recyclable materials, and the best part is that they're cruelty-free as well!
But why is it so important to use sustainable and eco-friendly packaging for our products?
While the quality of our products speaks for itself, we also believe that our products may communicate our dedication to working sustainably, such as how we source raw materials and how we reduce, reuse, and recycle.
Bionyx strives to supply our customers with products that reflect our sustainability values. We aim to minimize our consumption of natural resources and promote activity that leads to recyclable products.
Going green and producing eco-friendly products is at the top of the list of skincare trends for 2021. Consumers know how important it is to utilize sustainable packaging in our products.
Using Devices To Target Skin Concerns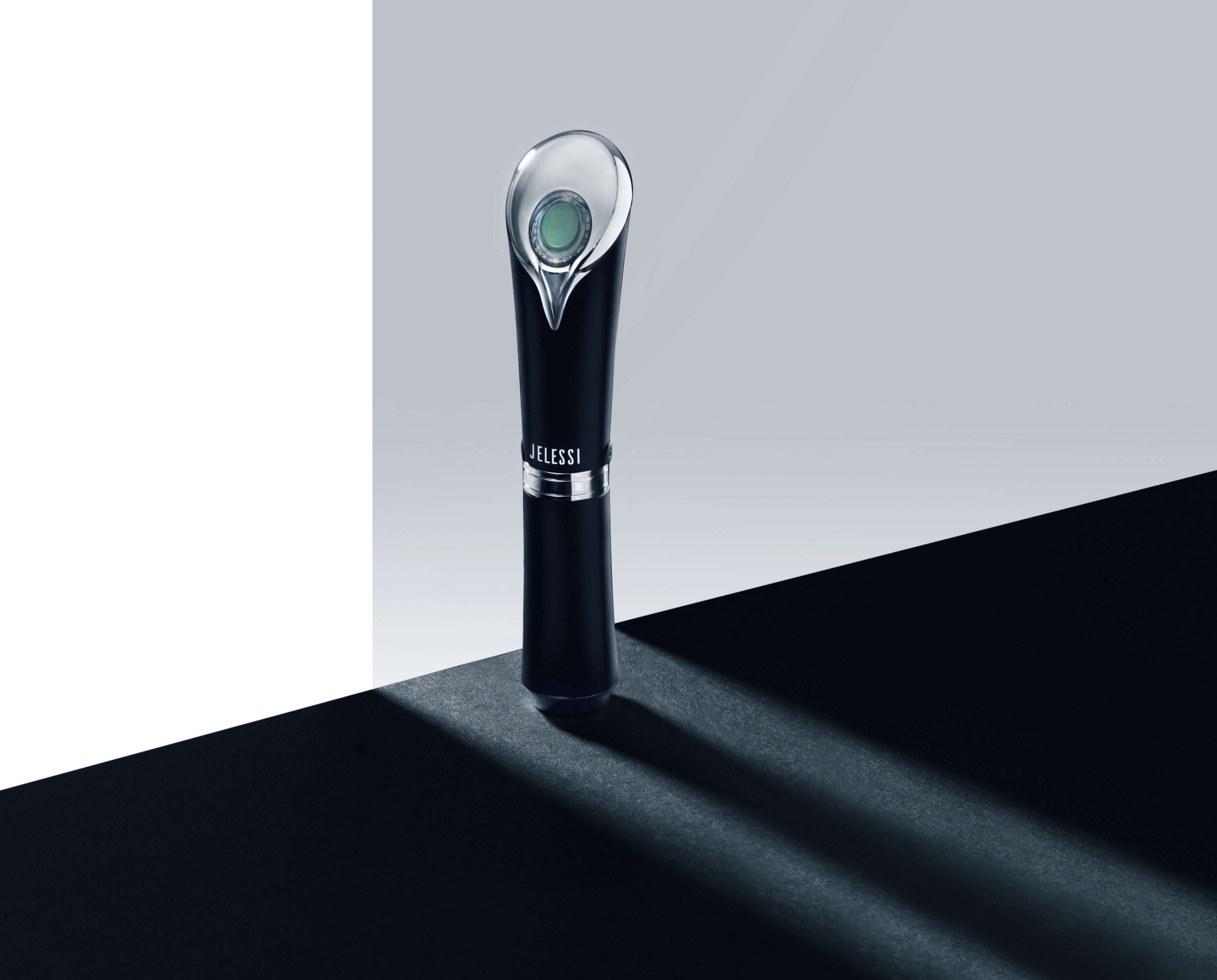 Ever heard of beauty technology?
Technology and facial care have collided more than ever before in recent years, where most of us have started adding a slew of high-tech gadgets and devices to our skincare routines.
It's one of the biggest skincare trends for 2021, which is why we've added it to this list. In addition, we at Bionyx have also developed a few beauty technology products that are effective at combatting any skin concerns that you may have.
The Torche V2+ Amber Light
First, we're starting with the Torche V2+ Amber Light. You can experience the dramatic skin results you crave with this device.
After each usage, the soothing amber LED light and heat technology can help you address irritating skin conditions like redness, inflammation, and brown spots, leaving you with a more balanced, radiant appearance.
Did you know that phototherapy with light-emitting diodes (LEDs) of various wavelengths can treat various skin disorders?
Blue light, for example, is commonly used to cure acne, red light is widely used to reduce inflammation (rosacea) and create collagen, and amber light has been demonstrated to diminish redness.
LED light is non-thermal and non-invasive. It is safe to use even at home, with no risk of pain or burning. LED light does not contain UV light, so it will not cause any skin harm.
LED phototherapy also is quite affordable and requiring no recuperation time following treatment.
The Photonix-2 Jade Eye Wand
The following tech-based skincare product is Photonix-2 Jade Eye Wand.
The Jelessi Photonix-2 Eye Wand was created to help reduce the appearance of fine lines and wrinkles around the eyes.
This remarkable device has two built-in settings that help reduce the appearance of weary, puffy eyes while also promoting a younger, more vibrant overall appearance.
This device has two modes, 'Anti-Aging' and 'Anti-Puffiness', depending on your skin concern, and uses red LED light to build collagen to diminish wrinkles. So you can bid those crow's feet goodbye!
The Photonix-3 Neck Solution
Last in our facial technology product lineup is the Photonix-3 Neck Solution.
Most of us place our primary focus on our facial skin but tend to neglect our necks. Well, that's where this device comes in. Our necks can also display signs of aging, so this is a one-of-a-kind tool to tighten and tone the neck and chest.
This device has two distinct functions that support the growth of fibroblasts and increase collagen formation, resulting in a firmer, smoother décolletage.
Facial Peeling Products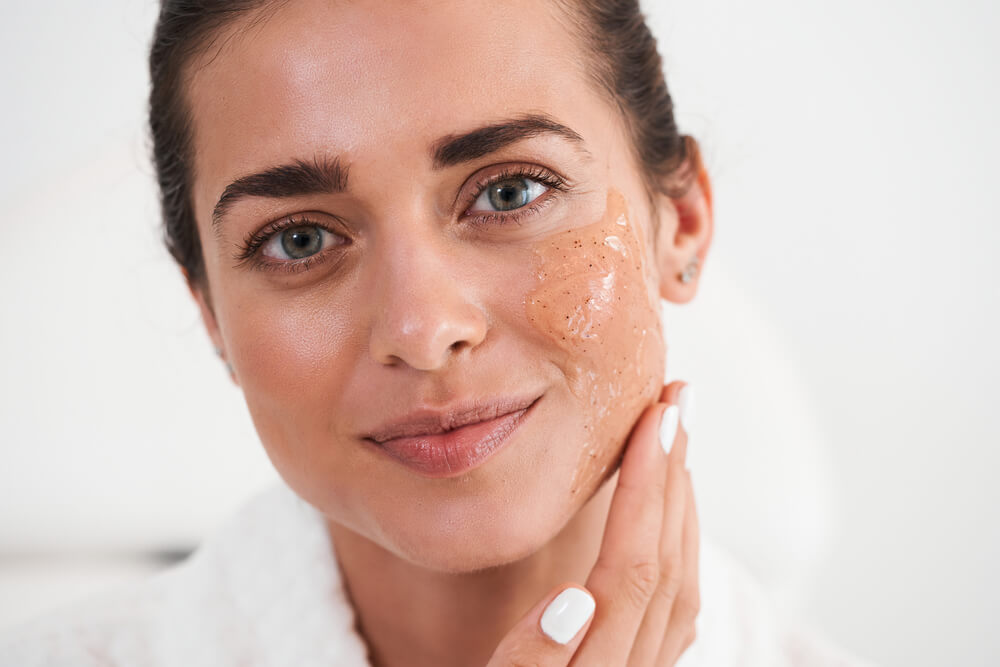 Another skincare trend for 2021 that you should check out is facial peeling products.
Facial peeling products have been all the rage recently because it's a form of exfoliation. Exfoliating your skin on a regular basis can also help avoid clogged pores, which means fewer breakouts.
Besides that, exfoliating might boost collagen production. Collagen is essential for healthy, bright skin. The protein also improves skin elasticity, which helps to reduce the appearance of fine wrinkles and drooping.
Want the ultimate exfoliating experience? Our Platinum Complex Facial Peeling is strong but delicate, lifting debris, excess oils, and dead skin to leave your skin smooth and radiant.
It's enriched with the goodness of humectants like glycerin and 1,2-Hexanediol, ensuring that your skin stays moisturized and hydrated as you exfoliate.
While its name may sound a little intimidating, as a humectant, 1,2-Hexanediol aids in retaining moisture in your skin.
It draws moisture from the deeper layers of the skin and the air to protect the upper layers of the skin from drying out.
Struggling with dry, flaky skin? Look out for products that contain 1,2-Hexanediol, along with other humectants.
Magnetic Face Masks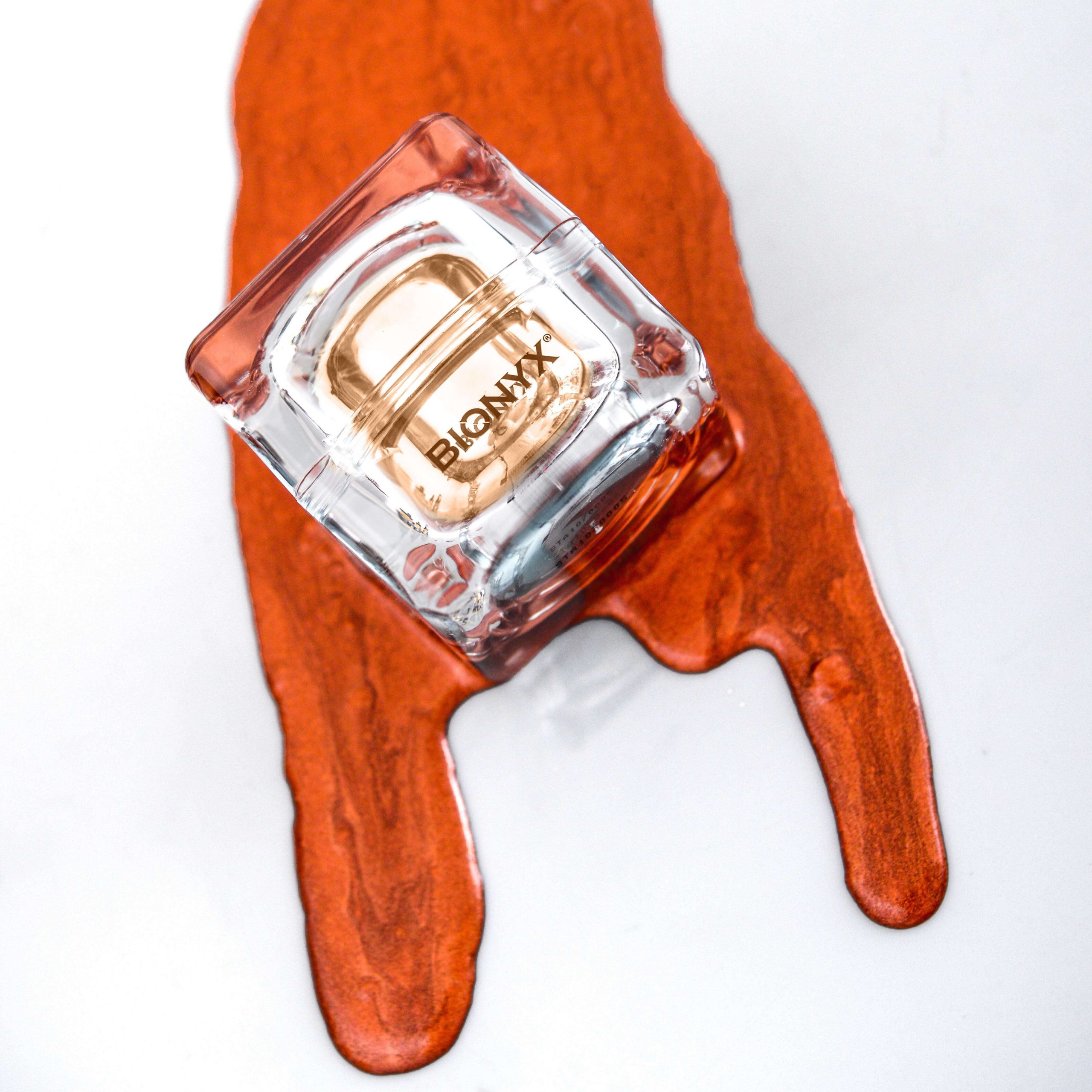 Another thing that's been trending in the skincare-sphere is magnetic masks. These masks don't just promise to unclog pores by drawing out toxins, but they also contain a variety of other good ingredients, like peptides, vitamins, and minerals, which are excellent for your skin.
You'll be left with clean, smooth skin once you're done with the mask.
Magnetic face masks contain an iron pigment that's a mixture of ingredients designed to soothe the skin. An electromagnetic field is created to get the mask off, giving you more anti-aging benefits in the process.
Here at Bionyx, we've also manufactured the Alloy Magnetic Synergy Mask. It's infused with skin-loving, nourishing ingredients.
The formula for this face mask includes skin-softening oils that will balance your skin's appearance, giving it a youthful sheen.
Some of the oils include sunflower oil, marula oil, baobab oil, and even hemp seed oil.
Before you classify hemp oil as a buzz-ingredient, this bad boy has been making waves in the skincare industry because of its many purported benefits. Hemp seed oil also has hydrating properties. It functions as an emollient to smooth rough textures on your skin's surface.
Furthermore, in addition to its anti-inflammatory effects, hemp seed oil is high in antioxidants. These can help your skin fight environmental damage on a regular basis.
Gentle, Minimalist Skincare Routines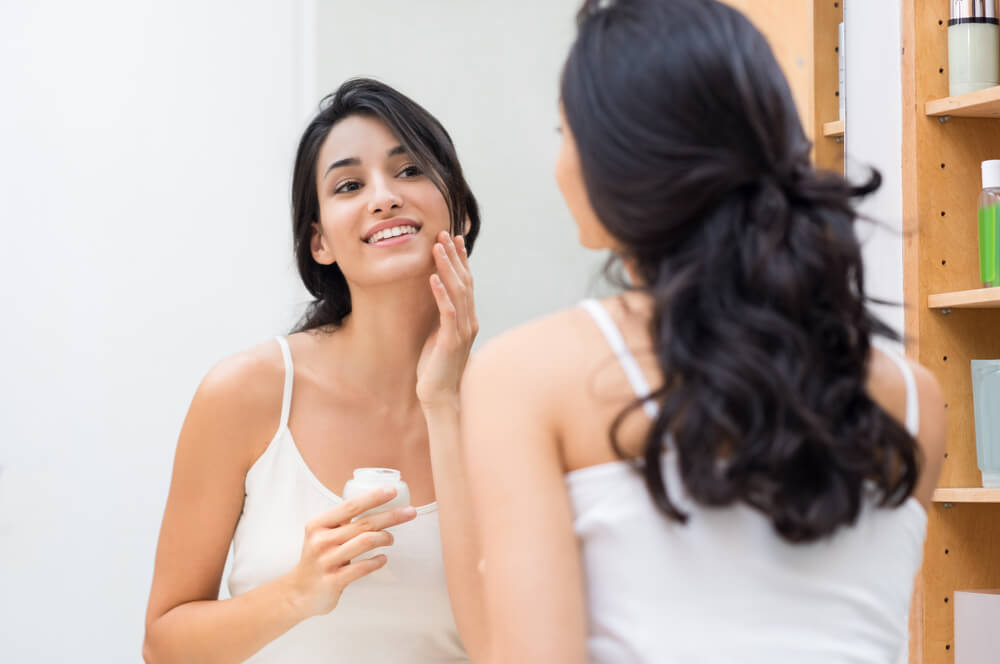 Now that most of us have got our masks on due to the pandemic, it's no secret that we have to battle with the dreaded maskne.
Your mask tends to trap a lot of hot air when you breathe or talk. This air provides a warm, humid atmosphere. This is ideal for yeast, bacteria, and other flora to develop, such as demodex (forms of skin mites that naturally live on our skin).
To combat this, you must go for clean and gentle skincare products that won't irritate your skin further. Overdoing your skincare routine can mess with your skin barrier function.
Also, did you know that using harsh products can even cause your skin to get dehydrated?
What happens is that the chemicals in these products can draw out your skin's natural moisture content. This leaves you with taut, tight skin that can feel uncomfortable.
Besides that, using harsh skincare can strip your skin of its natural oils. This could cause your skin's complexion to look dull and lifeless.
Check out Bionyx's Daily Essentials Platinum Collection + Jelessi V2+ Amber skincare set for a simple, streamlined routine.
It comes with the Milk Cleanser, Skin Toner, Platinum Complex Facial Peeling, Jelessi V2+ Amber, Platinum Vita Night Recovery, and the Platinum Essential Day Cream.
It's a very basic skincare set that nourishes your skin without causing too much irritation. Cleanse, tone, exfoliate, and moisturize your skin so that you can get that glow!
Body Treatments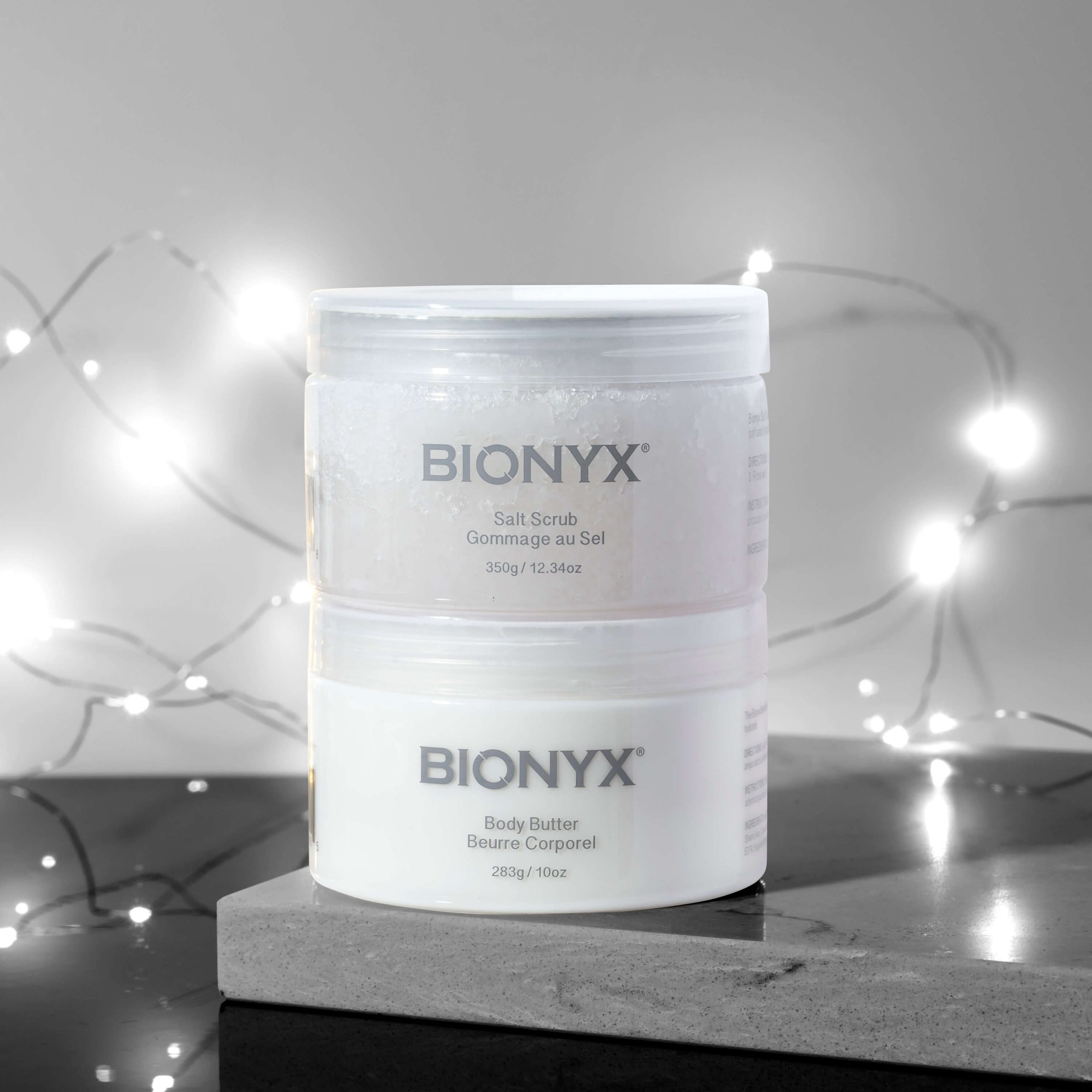 Undeniably, 2021 is the year where skincare enthusiasts show more love to their bodies. Skincare trends for 2021 have seen consumers investing in body butters, body scrubs, and lotions alike.
Body skincare is not only required but can also help your skin regenerate.
Body treatments can also help combat uneven and saggy skin, as well as dry and flakey skin.
If you're looking for effective body treatment products, we at Bionyx have formulated a hand and body cream, sea salt scrub, and body butter that you can use to attain those skin goals.
Bionyx's Hand & Body Cream is enriched with shea butter, an ingredient that's loaded with various fatty acids.
It aids in softening and soothing your skin while preventing further inflammation. It's probably the most widely-used moisturizing agent in the world because it's so gentle and helpful.
Besides that, our Salt Scrub is loved by many. This body scrub is made with sea salt, which is a great skincare ingredient.
Sea salt, which is made from seawater, has a variety of skin-loving minerals that can help your skin's blood circulation. When massaged on the skin, the big, rough salt granules in salt scrubs can exfoliate dead and hardened skin.
Lastly, don't forget about our Body Butter. Bionyx's Body Butter contains glycerin, a humectant.
This ingredient helps your skin retain moisture. It can help to hydrate the skin, reduce dryness, and rejuvenate the skin's surface. It's also an emollient, meaning it softens the skin.
A Focus on Eye Care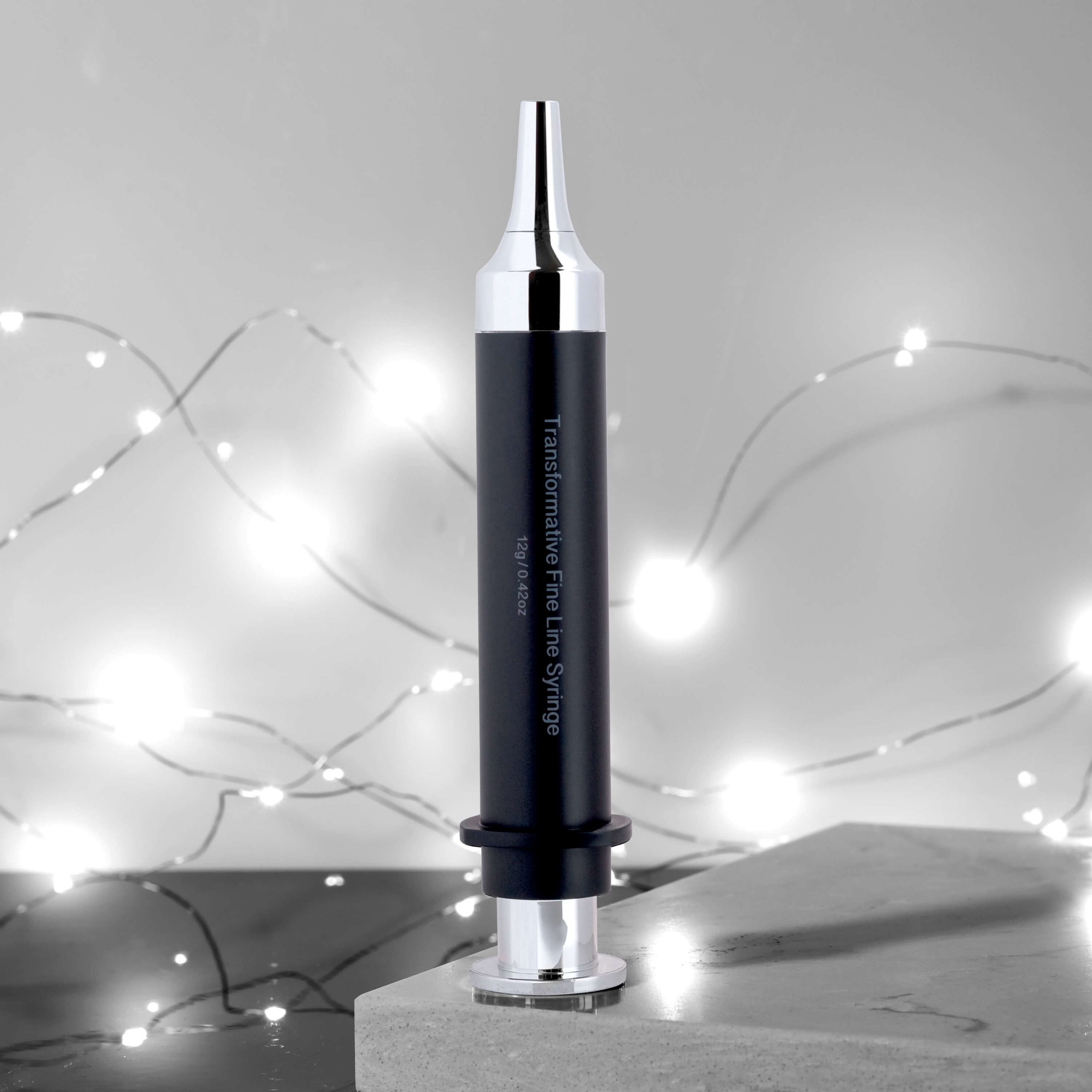 Since an increasing number of people are wearing masks out, most consumers place their main focus on the eyes. There has been a boom in the production and consumption of these eye-related products, making this another one of the major skincare trends for 2021.
One of Bionyx's best-selling eye care products is the Transformative Fine Line Syringe.
With this product, you can instantly reduce the appearance of wrinkles and creases. This strong treatment is suitable for all skin types. It can be used weekly or on special occasions to boost any anti-aging routine.
The Fine Line Syringe addresses wrinkles at their source. It consists of a blend of vitamins, peptides, and botanical extracts to help dramatically soften their length, depth, and severity for a smoother, more youthful-looking face.
Summary
All in all, there are so many Bionyx products you should look out for when it comes to keeping the skincare trends for 2021 in check.
From eye serums and body butter to LED devices, here at Bionyx, we've got just what you need to combat your skin concerns.
The best part about our products is that they're all paraben-free. So, you don't have to worry if you've got sensitive skin. Our products are gentle and clean!
Additionally, Bionyx products are also tested and approved in the USA. You can rest assured that we don't use harsh chemicals in our skincare products.
Beautiful, ageless, and glowing skin awaits you with Bionyx. Check out more of our products here.