Published: December 30, 2021
Most skincare lovers spend hundreds (or maybe even thousands) of dollars on a potent vitamin C serum or a luxurious night cream. And for good reason — investing in your complexion is a must if you want to have a youthful-looking glow for as long as possible.
But skincare doesn't stop at just your face. Caring for the skin on your body is important too. This is especially the case during the colder months, where your skin from head to toe feels sensitive and tends to feel dehydrated quickly. That's when you bring out the scrubs and body creams.
Whether it's to buff away dead skin and grime from your epidermis or moisturize your skin, the Bionyx Body Care Set has got you covered. Read on to see what this Bionyx body care set can do for you and what makes it of top-notch quality.
Skincare Isn't Just for the Face — It's for Head to Toe Too!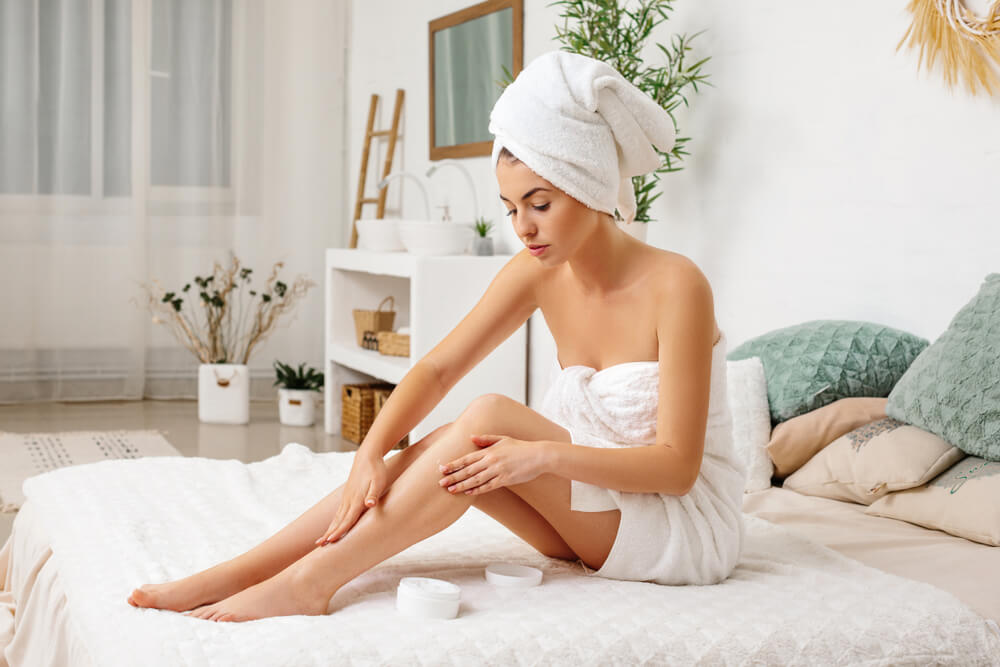 Most, if not all, skincare and beauty brands are focused on one thing and one thing only — the face. It makes a lot of sense to invest in facial skincare. After all, it's the part of you that everyone looks at all day long.
But it's important to remember that your skin is the largest organ in your body. Your face doesn't even make up a quarter of your skin. So when it comes to giving your skin some tender loving care, you should always remember to treat and pamper the rest of your body as well.
Your skin from the neck down is arguably even more vulnerable to delicate skin issues. These include dry patches, cracking, insect bites, eczema, rosacea, and more. Plus, who wants to be the person with smooth-looking skin on their face but skin that feels dry, dull, and saggy on the rest of their body?
The good news is that the skin on your body is typically thicker than that on your face. That means it doesn't require the same amount of maintenance, like using serums and facial oils daily. The only factors you need to focus on are exfoliating and moisturizing, which makes it a lot less intimidating.
This is especially the case in the colder months, when your elbows and knees might appear cracked because of the weather. Winter is also the time when your skin feels more dehydrated than usual. So, you need to have lotions and creams on-hand to remedy the situation. Luckily, there's one body care set that does it all.
Purify and Moisturize the Feel of Your Skin with the Bionyx Body Care Set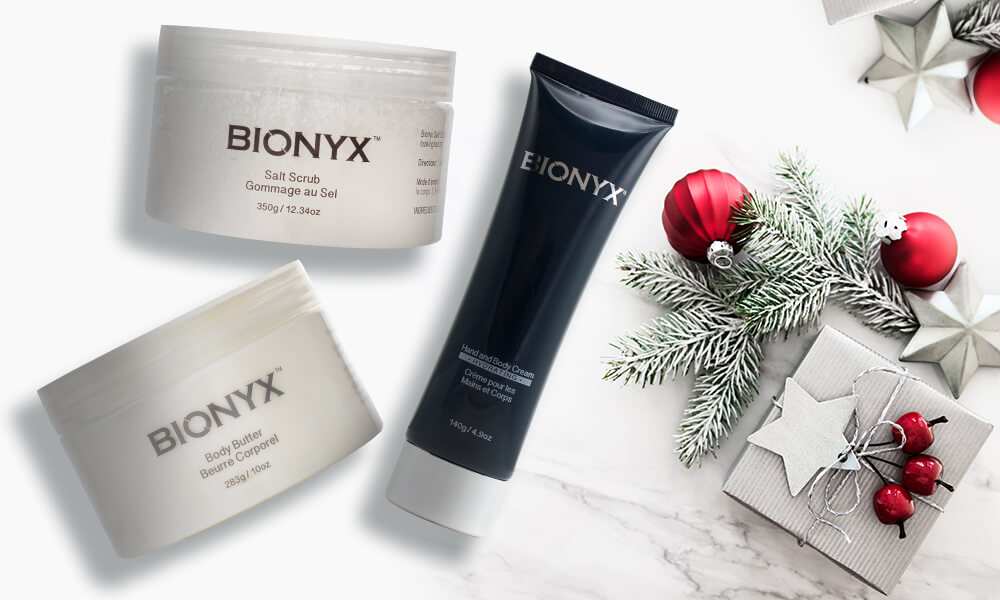 From cleansing and exfoliating to replenishing the feel of moisture in the skin, the Bionyx Body Care Set is your new best friend when it comes to all things body care.
The set has all the essentials for basic body care. And though the collection isn't as comprehensive as a facial skincare routine, it has everything you need to ensure your body feels radiant and taken care of properly, especially in the winter months.
It contains a Salt Scrub to help polish the appearance of your skin and rid it of dirt, grime, and debris. It also has two moisturizers — a Hand and Body Cream and an all-around Body Butter. We'll get into what each product can do for you later, so keep on reading!
The products in this body care set are infused with Bionyx's signature ingredient: colloidal platinum. It gives off a feeling of luxury and indulgence while you care for your body, making it a memorable treat.
What's the Value of Getting this Body Care Set?
A good body care philosophy to follow is to invest in your body's skin the same way you do with your face. That means if you have a regimen for your face, you should also treat your body to a well-thought-out routine.
The biggest benefit of the Bionyx Body Care Set is that you can get all your body essentials in one collection. You won't have to fuss and do stringent research across brands to see which products you want and then put them all together in a body care routine. Bionyx has done all of that for you.
That's super helpful for beginners who are just starting to get into body care and don't know how to build a routine from scratch.
And since they're all formulated by the same expert teams at Bionyx, you can rest assured that they work well as a system.
This is unlike mixing and matching exfoliators and creams from other brands that aren't aligned in their vision. Some ingredients may not work well with others, which can hurt your skin.
Exfoliate with the Bionyx Salt Scrub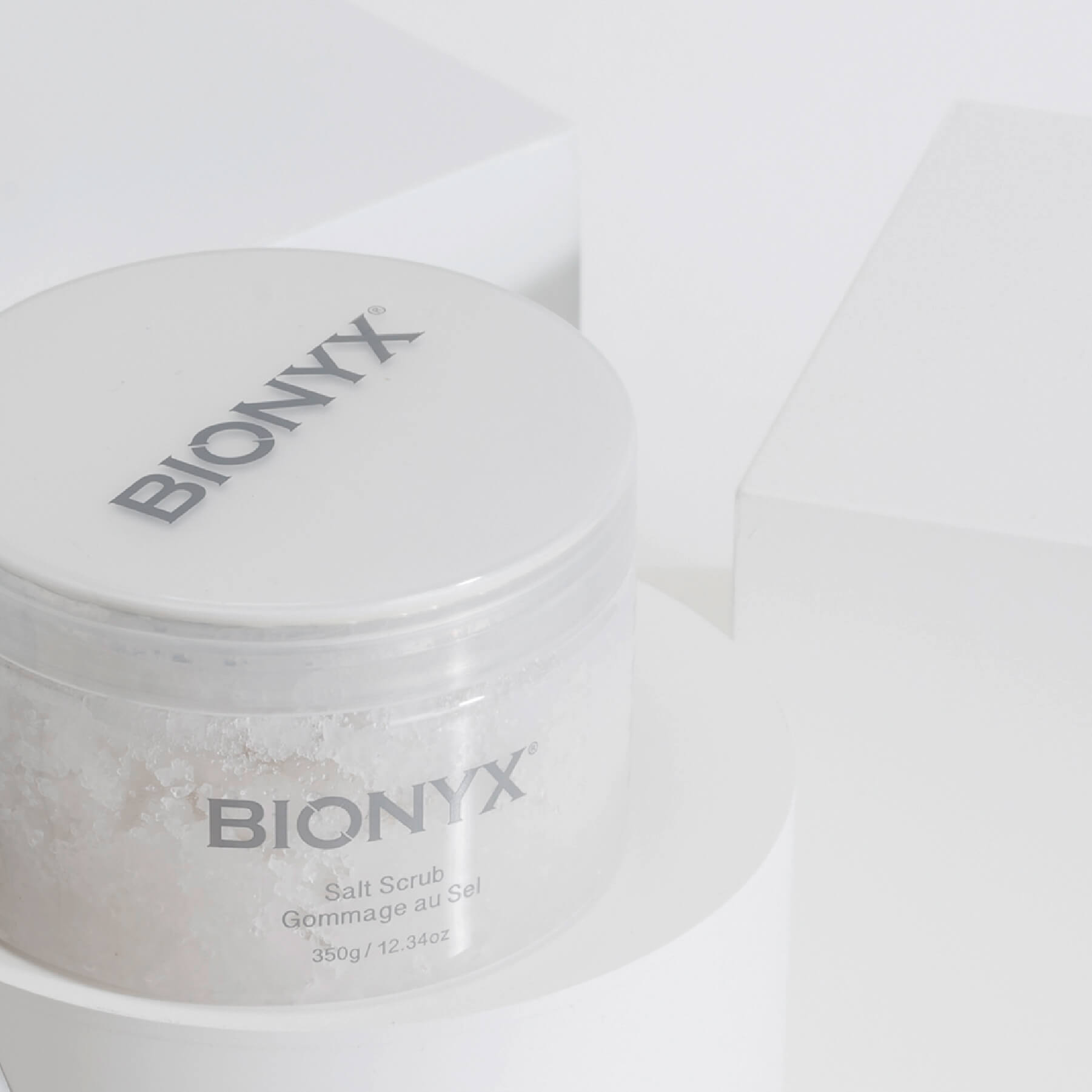 Exfoliating is very important if you want skin that feels velvety-smooth and touchable all over your body. It's the process of buffing away dead skin cells that lie on the top surface of the skin. These dead skin cells make your skin look rough and dull. Exfoliating helps reveal the brighter-looking skin lying underneath.
The Bionyx Body Care Set includes a Salt Scrub to help you shed the debris, dirt, and dead skin blocking your body from looking glowy and radiant. It's the first step in your essential body care routine.
It's made with minimal ingredients, including sea salt and mineral oil. The salt buffs and polishes your skin to remove toxins, leaving your complexion feeling smooth and supple after. Meanwhile, the mineral oil adds slip and light hydration so your skin isn't completely rubbed raw while you're exfoliating.
There are tons of types of scrubs, from oats to black sugar. But we formulated our body scrub with sea salt because of its tremendous benefits for the skin. Sea salt is rich in minerals like magnesium, potassium, and calcium, which are all pertinent to strengthening and softening the feel of the skin.
Using the scrub is simple. All you have to do is scoop out some of the product from the tub with your fingertips (make sure they're freshly cleansed beforehand!). Then, massage the scrub into your damp skin to exfoliate. When you're done, rinse with lukewarm or cool water.
If you exfoliate religiously every week, you'll notice how soft and smooth your skin will feel! That said, this scrub is formulated to be safe for everyday use, so don't be afraid to use it more than once a week if your skin feels clogged and dirty.
Hydrate Your Hands and Body with the Hand and Body Cream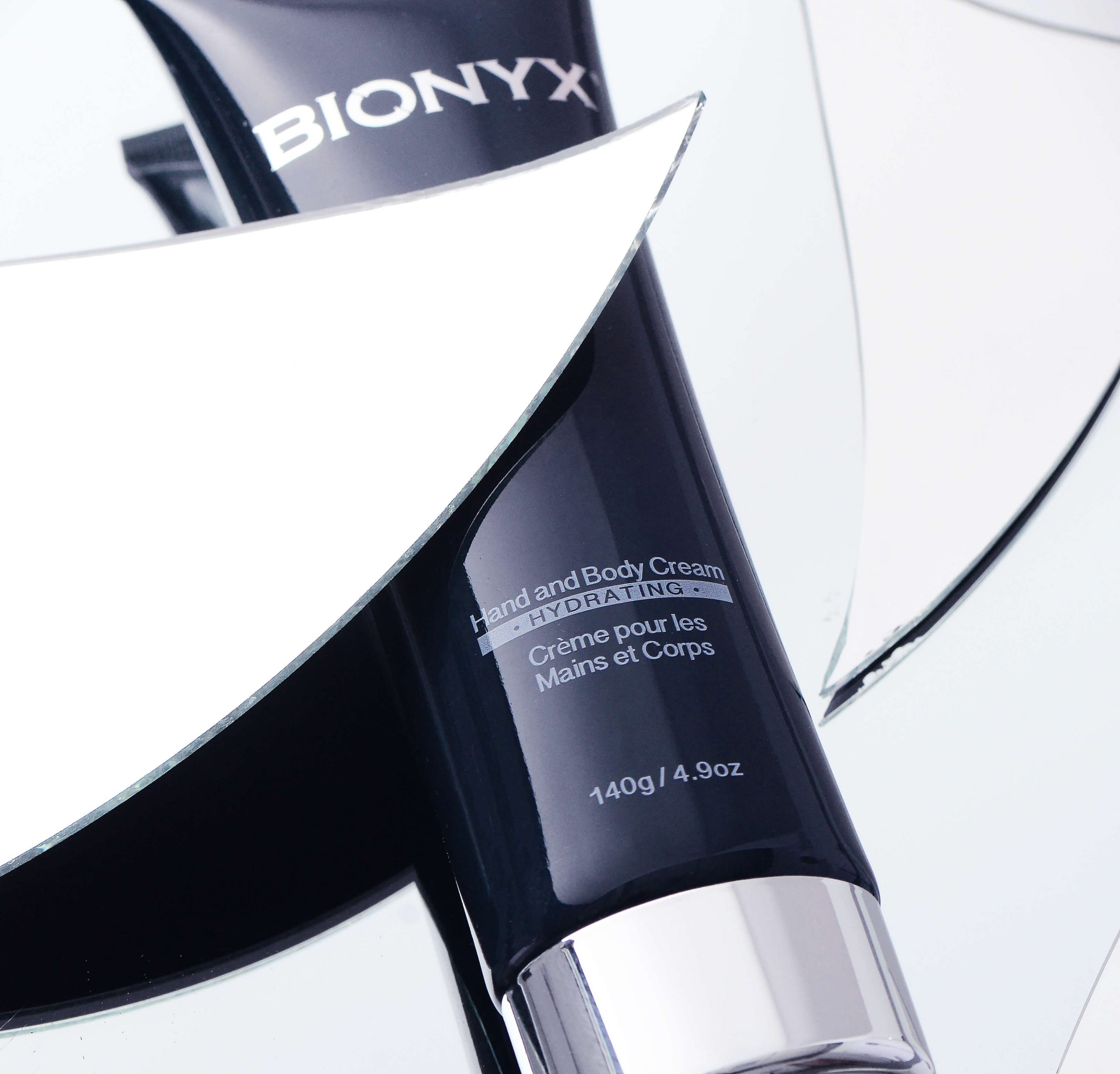 One downside of exfoliating is that when you do it too much, it can dehydrate your skin. That's why you must follow up with a moisturizer. It will help minimize the feeling of irritation and add a boost of moisture.
If you're looking for a lightweight body moisturizer, go for the Hand and Body Cream in the body care set. It's formulated with sealing silicones, shea butter, and mineral oil for moisture, leaving your skin looking super soft and refreshed.
One of the most important ingredients in this cream is glycerin. Glycerin is a humectant, which means it has moisture-binding properties. This is excellent for hydrating the skin, making it feel plump and glowy from the inside out. It also enhances the moisturizing effect of the other ingredients it's paired with.
Moisturizing your hands with cream is especially relevant today. Because of the global pandemic, we have no choice but to frequently wash our hands either with soap or alcohol. Either way, it can be extremely harsh and drying to the skin. So, if you moisturize afterward, your skin will thank you.
Many dermatologists recommend using a dye-free hand cream with mineral oil to seal all the hydration in your skin. And the cream in the Bionyx Body Care Set fits that criteria.
Provide Deep Care to Extremely Dry Skin with the Body Butter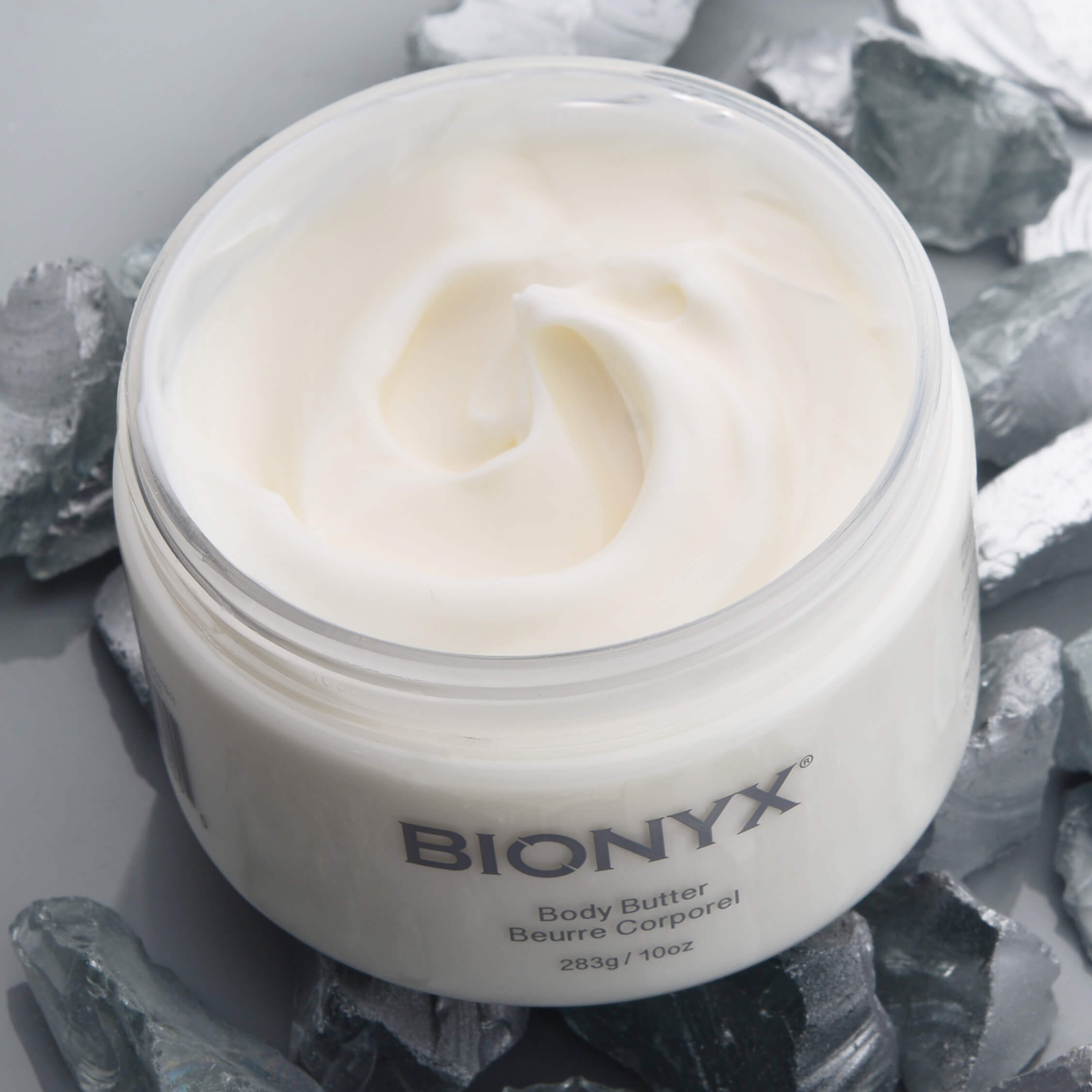 For something thicker and more moisturizing, try the Body Butter that comes with the body care set. It's formulated with fatty alcohols and shea butter, the latter being higher up on the ingredient list than in the Hand and Body Cream, making this formula feel richer.
Shea butter is important for moisturizing super dry skin because it's rich in essential fatty acids like oleic and stearic acids. 
Shea butter plumps up the appearance of the skin, making it look and feel supple and bouncy. Just apply this Body Butter to your skin and it will feel comfortably hydrated and free of itching and tightness from the cold.
Incorporating All Three Products in Your Body Skincare Routine
The first step in your body care routine is to exfoliate with the Salt Scrub. You can do this after a long day to make sure you scrub out all the sweat and grime that has accumulated on your skin.
You can exfoliate before or after you soap your body. It's all up to your preference. Exfoliating before soaping your skin is good for oily skin that can't afford to get congested, because the soap will wash away the light mineral oil residue from the Salt Scrub.
However, if you're the type to wear body makeup or sunscreen from head to toe every day, you might prefer washing your body with soap first, and then exfoliating. This assures that you're exfoliating a clean canvas, so the scrub can be super thorough.
Then, follow up with your body moisturizer of choice. In the summer months, the lightweight Hand and Body Cream is fine. But in the colder seasons, the Body Butter is the way to go. If you have naturally dry-feeling skin on your elbows and knees, you might even consider using the Body Butter year-round.
Remember to always keep a tube of the Hand and Body Cream in your purse too, so that you can grab it whenever your hands start feeling a bit dry and chilly when you're outside!
Conclusion
While skincare is usually focused on the face, it would do you well to start pampering and paying attention to the skin on the rest of your body too. That way, you can feel fresh, clean, and hydrated from head to toe. The best part? Everything you need comes in our body care set!
The Bionyx Body Care Set is your go-to for all the essential body care rituals you should incorporate into your routine. It comes with everything you need, from a satisfying scrub to exfoliate and renew the feel of your skin to rich creams and butters to replenish your appearance with much-needed moisture.
Make this body care set a mainstay in your regimen, and you'll see a difference right away. Instead of having a glowy face and cracked-looking skin on the rest of your limbs, you'll flaunt a look of radiance and luminescence all over your body.
Click here to browse more platinum-infused products from Bionyx.