Published: June 12, 2021
What all of that time spent looking for the perfect product has taught us is that, when you've found that elusive product that suits your skin type in every way, you'd better stick to it.
More importantly, if you have stumbled upon a true jewel, such as a manufacturer whose whole line of products fulfills everything you have ever dreamed of, be sure never to change it, ever.
That is why we have to draw your attention to some of the skincare sets and collections from Bionyx. Whether you want to cleanse and detoxify, tighten and firm, or brighten and refresh, these sets will have something for you. We truly believe that these Bionyx reviews won't leave you indifferent.
Bionyx Platinum Collections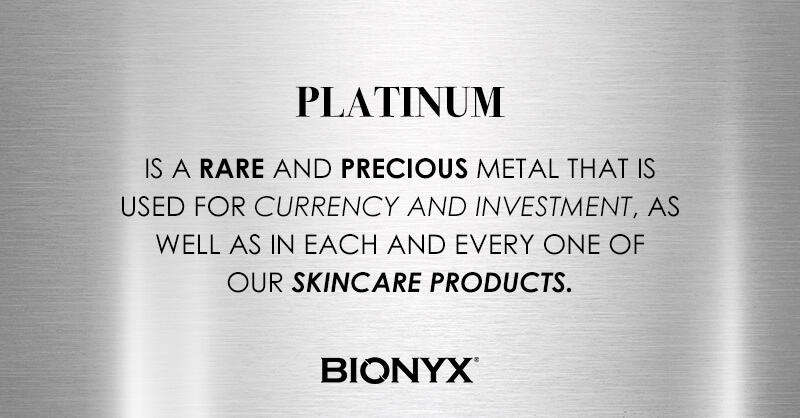 Platinum, being one of the most precious metals of all, has recently become one of the key ingredients in Bionyx products. For good reason, too! You have definitely heard of the healing and anti-aging properties of copper, silver and gold. But, did you know that Platinum is by far the strongest?
It has magnificent antioxidant properties that remove free radicals from your body. In that way, toxins are removed from the deeper layer of your skin. This leaves your skin fresh looking and more radiant than ever!
The thing that has to be clearly mentioned in all Bionyx reviews is how well the anti-aging properties of its products work. And it is all mainly because of Colloidal Platinum. It stimulates collagen production, making your skin elastic and soft. This erases those fine lines and wrinkles you worried about so much.
We have your attention now, don't we?
After only a couple of days, you will be able to see a world of difference. Those awful signs of aging and other imperfections will be gone for good.
First things first, let's start with a set that has some essentials you will love to use every day.
Daily Essentials Platinum Collection + Jelessi V2+ Amber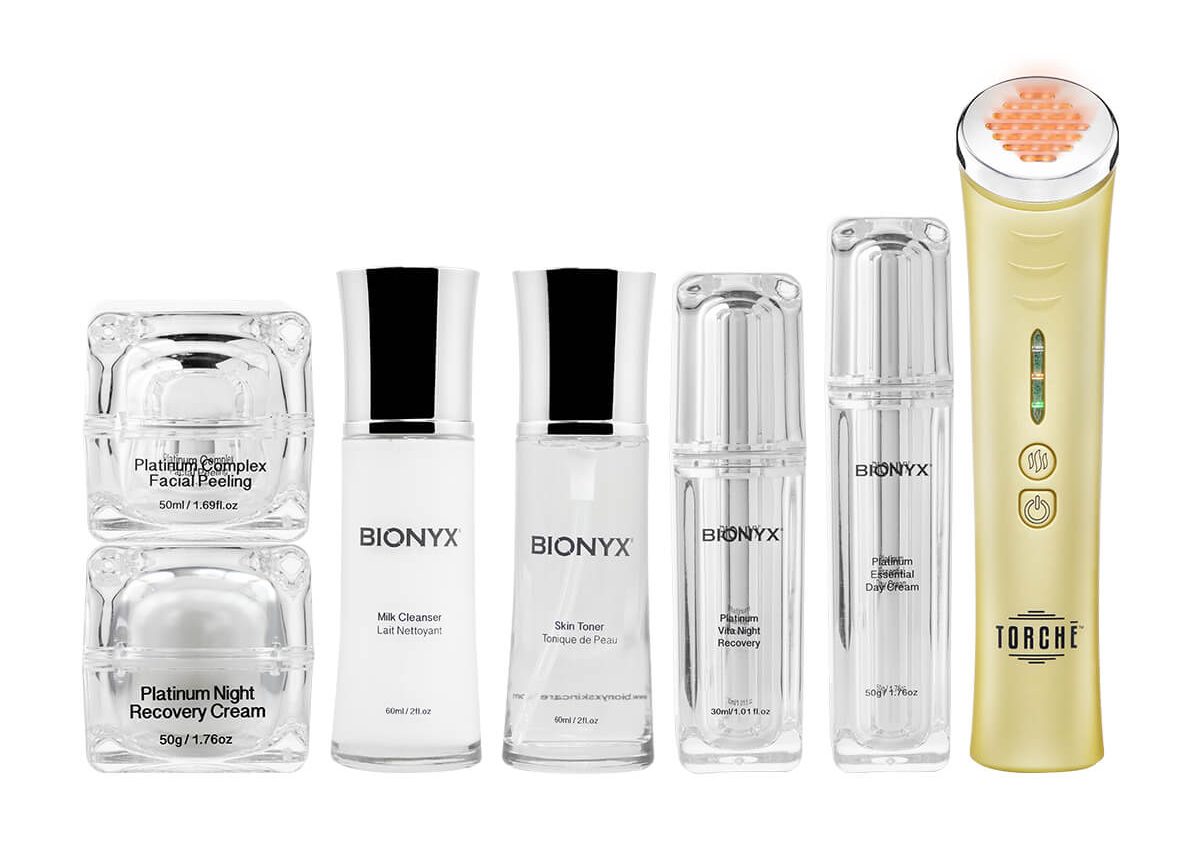 Of course, we had to start with this one. It contains everything you need and so much more!
This set includes Platinum Complex Facial Peeling, Platinum Night Recovery Cream, Platinum 2-step Cleansing Set (which includes a Milk Cleanser and Toner), Platinum Vita Night Recovery, and Platinum Essential Day Cream.
In order to get the maximum effect from this collection, so that your Bionyx reviews could be nothing short of outstanding, it is important to follow the steps that are clearly put in the manual.
Cleansing
At the very beginning, you need to wash your face with the Milk Cleanser. After you have finished, you need to rinse, dry, and apply the Skin Toner.
Aside from the Colloidal Platinum each of the products has, and whose benefits we have already mentioned, each of these products has some amazing properties that have to be emphasized.
The Milk Cleanser is rich in Castor Oil. The benefits of this botanical are numerous. Not only does it moisturize your skin, making it look young, shiny and healthy, but, by doing that, it also helps in the prevention of wrinkles. It also has strong antibacterial and anti-inflammatory properties. This will help to make your acne the thing of the past.
The Toner, on the other hand is rich in Hyaluronic Acid. This is an ingredient already well-known for its incredible ability to restore elasticity to your skin. This leaves your complexion youthful-looking and radiant.
Exfoliation
After you have washed your face properly, it is time for a peel. With the Platinum Complex Facial Peeling, you will give your skin a ride of lifetime. It will remove excess sebum, which is important for those fighting acne and other skin impurities. It will also remove the dirt from your pores, making sure none of them remain clogged. The result will soon be obvious and you will get perfect-looking skin, devoid of all imperfections.
Now, the thing that, in our opinion, all Bionyx reviews absolutely need to emphasize is the power of Jelessi Torche V2+ Amber Light. Luckily, you get this when buying this set.
LED Light Therapy
So, after the cleansing and the peeling, you need to massage the nose, cheeks, chins and jawline with it for about 3 minutes. The LED light and heat projected from the device will soothe all the redness, inflammation and brown spots on your skin, leaving your skin clean and refreshed.
Moisturizing
After these obligatory steps, you choose the type of cream you need, depending on the parts of the day. For the night, apply the Platinum Night Recovery Cream, and for the day you need the Essential Day Cream. These two will help you in your combat against aging, removing the fine lines and wrinkles on your face, making it young again in no time.
This collection really has it all. From removing all impurities to infusing your skin with all the necessary ingredients to keep it young, you will, for sure, enjoy using it. It is hard to believe that something can surpass the experience this set will give you, but, luckily, Bionyx reviews that follow will not leave you stranded. 
Platinum Transformative Collection
This set is for everyone who desires to get a good cleanse and hydration. It includes the Platinum Transformative Cream, Platinum Transformative Serum, Platinum Transformative Thermal Mask, and Transformative Fine Line Syringe. 
In order to get the full effect from the Platinum Transformative Thermal Mask, you need to apply it and then add 2-3 drops of the Platinum Transformative Serum over the top. This will intensify the heating effect. You leave it for 10-15 minutes and then rinse.
When you take a look at the ingredients you will be sure that this mask will provide you with a thorough cleanse. Your skin will know no impurities from that day forward. And the heating effect will stimulate circulation. This boosts the production of collagen, an ingredient we all know and love, and which our skin misses as each day passes.
All in all, this collection contains products that are filled with amazing antioxidant properties. It offers all the vitamins and minerals your skin desperately needs. Collagen and Hyaluronic acid, the main ingredients of the whole collection, will definitely provide you with a powerful weapon against all of the signs of aging your skin is experiencing.
Instant Results
When it comes to combating aging, one product from this collection particularly drew our attention, and that is the Transformative Fine Line Syringe. It doesn't matter what skin type you are, it will help all of you! It is a fantastic addition to your anti-aging routine and you will see the difference almost instantly!
That is why it shouldn't be used more than once a week, or for special occasions, when you have to remove the particular wrinkles that are spoiling your look. And what you get is nothing short of spectacular – a smoother, younger-looking complexion that many will envy you for!
Many of the users' Bionyx reviews confirm that the whole experience is just well worth the money. So, if you want your skin to transform, treat yourself to the collection now! 
Platinum Transformative Collection + Platinum Facial Eye Mask Routine + Jelessi V2+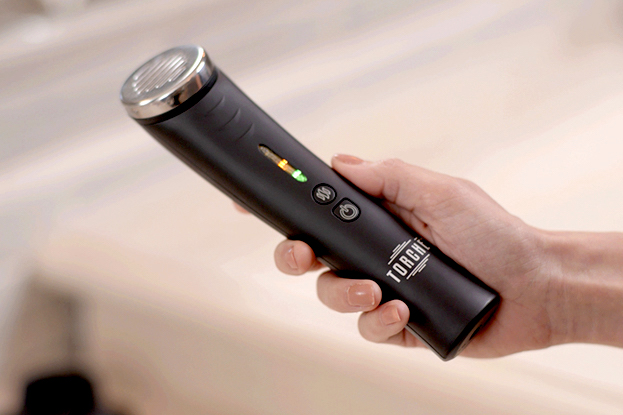 This set includes the basic Platinum Transformative set (which includes Platinum Transformative Cream, Platinum Transformative Thermal Mask, and the Transformative Fine Line Syringe) with the addition of Platinum Facial & Eye Mask Routine and Jelessi V2+.
The procedure is pretty much the same: After the application of the Thermal Mask or the Platinum Facial & and Eye Mask Routine (which are suggested to be alternated each week), you need to gently massage the Torche V2+, and afterward apply the Platinum Transformative Serum. Follow with the Platinum Transformative Cream.
If you ask us, all additions to the anti-aging routine are good! The Platinum Facial & Eye Mask Routine is only going to make things better. Rich in Hyaluronic Acid, it is going to make your skin softer and fresher than ever before.
As for Jelessi V2+, we think we have said it all. The stimulating effect it is going to have on your face and neck will blow your mind once you start noticing at what speed the fine lines and wrinkles are disappearing. The renewed youthful look of your face will be the best proof of its amazing power! Users' Bionyx reviews really praised this one.
Biolift Collection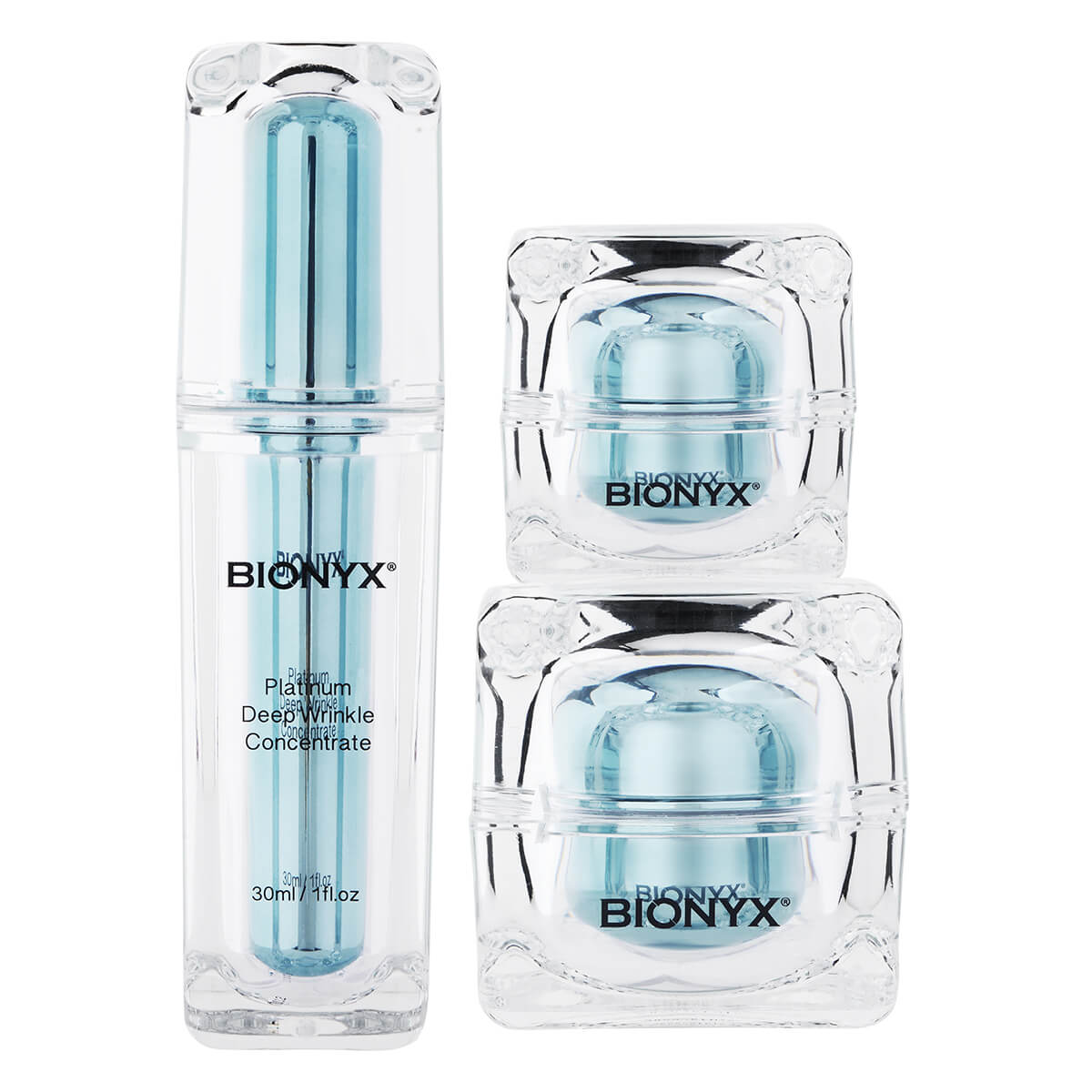 The Biolift Collection is a basic set which includes Biolift Platinum Deep Wrinkle Cream, Biolift Platinum Elasticity Mask and Biolift Platinum Deep Wrinkle Concentrate.
BioLift Platinum Elasticity Mask will combat the wrinkles in the best way possible. Its main ingredients such as DMAE, Vitamin A, and E will smooth even the deepest lines. You will restore the youthful appearance of your skin in a matter of weeks. It should be noted that this mask ought to be used no more than once a week.
You will be utterly astonished by the effect the BioLift Platinum Deep Wrinkle Concentrate and Cream will have on your skin. Each in its own way will make those wrinkles a memory long forgotten. By using these products, you will definitely be the winner in the never ending battle against time. For a while, at least.
Your skin will restore its former firmness and elasticity in no time. What's not to love? 
Biolift Collection + Platinum Facial Eye Mask Routine + Jelessi V2+
As it can be seen, this set also includes the Jelessi Torche V2 +, so this is a no brainer, really. Apart from that the products you can find here include the ones from the basic Biolift Collection: Biolift Platinum Deep Wrinkle Cream, Biolift Platinum Elasticity Mask, Biolift Platinum Deep Wrinkle Concentrate, Platinum Facial & Eye Mask Routine.
The routine remains the same when the Jelessi Torche V2+ is included. You'll get the Mask, the Torche V2+, the Concentrate and the Cream.
However, what has to be highlighted in this part of the Bionyx reviews is that this set was made for all of you with deep wrinkles already set in. And the Jelessi Torche V2+ is only meant to boost that wrinkle-removing process even further.
As we have already mentioned, by stimulating the circulation, it nourishes the skin and makes it more elastic than it used to be. Torche V2+ combined with the Elasticity Mask, the Deep Wrinkle Concentrate and the Facial and Eye Mask Routine is a perfect set, if you ask us!
It has it all. It manages and treats all the "weak points" of your face. Your face is definitely going to thank you for it!
Ageless Alloy Collection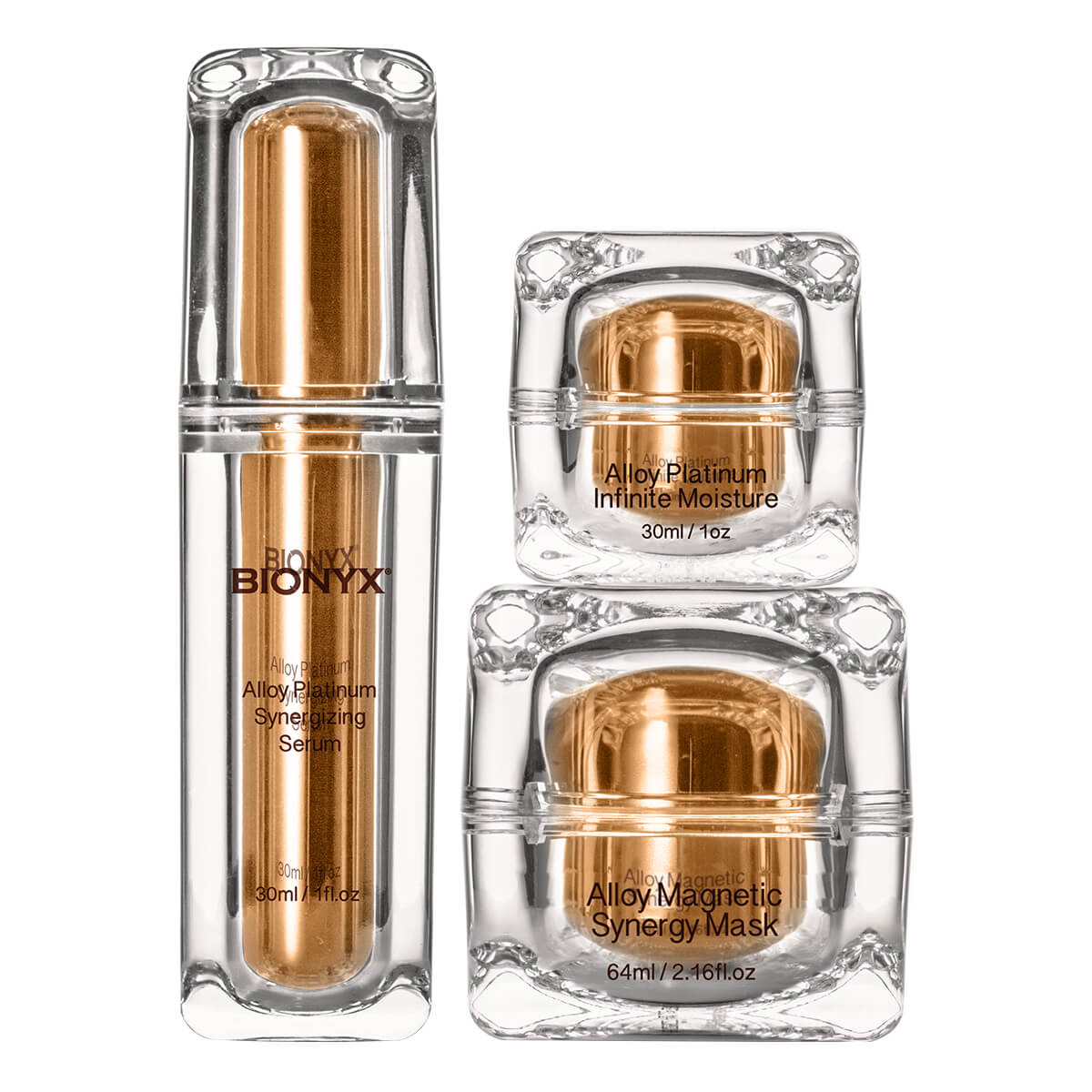 One of the more balanced sets that has to be included in Bionyx reviews. It contains Alloy Magnetic Synergy Mask, Alloy Platinum Synergizing Serum, and Alloy Platinum Infinite Moisture. Of course, this set could include the Jelessi V2+ for a higher cost.
The Ageless Alloy Routine
The best thing about the Alloy Magnetic Synergy Mask, which you have to start your routine with, is that it is infused with all those wonderful ingredients any type of skin would love: Coconut Oil, Sunflower Seed Oil, Colloidal Platinum, Copper and Gold. Could you imagine that amazing mixture which includes three of the most precious metals on Earth?
Of course the effect is going to be outstanding.
The production of collagen is going to change the look of your face very soon, and restore the elasticity and freshness of days past. Your skin is going to be soft, smooth and without wrinkles yet again.
As for the Alloy Platinum Synergizing Serum and the Alloy Platinum Infinite Moisture Cream, perfect results are guaranteed. The anti-aging serum is infused with Copper and Platinum. They stimulate the production of collagen additionally, so you know you're going to have perfect results with the combination of the three products.
They work together perfectly!
While the Mask and the Serum penetrate the deeper layers of the skin, stimulating the production of collagen and thus removing the wrinkles from your face and neck, the Cream brings moisture to both surface and deeper layers of the skin, refreshing it and protecting it from outer irritants.
A youthful appearance will no longer be a thing of the past, your time has come!
So, don't waste any more time, and opt for any of the collections! We are sure that each that you choose will be a perfect choice!
However, be sure to do it fast, because, as we have seen from these Bionyx reviews, time waits for no man. The more you wait for a treatment to start kicking in, the more difficult it will be to get things going.