Published: November 15, 2021
The cold weather that comes at the end of the year is no stranger to us all, but it brings a big set of challenges. While winter sets the perfect tone for sweater weather, hot chocolate, and, best of all, indoor heating that'll make us all feel cozy and warm, it can wreak havoc on our skin.
That's why it's important to avoid making common winter skincare routine mistakes that can easily exacerbate your skin problems during this chilly season.
Wondering what those mistakes are? Stick with Bionyx to find out!
Sticking with the Same Lightweight Moisturizer You Used in the Summer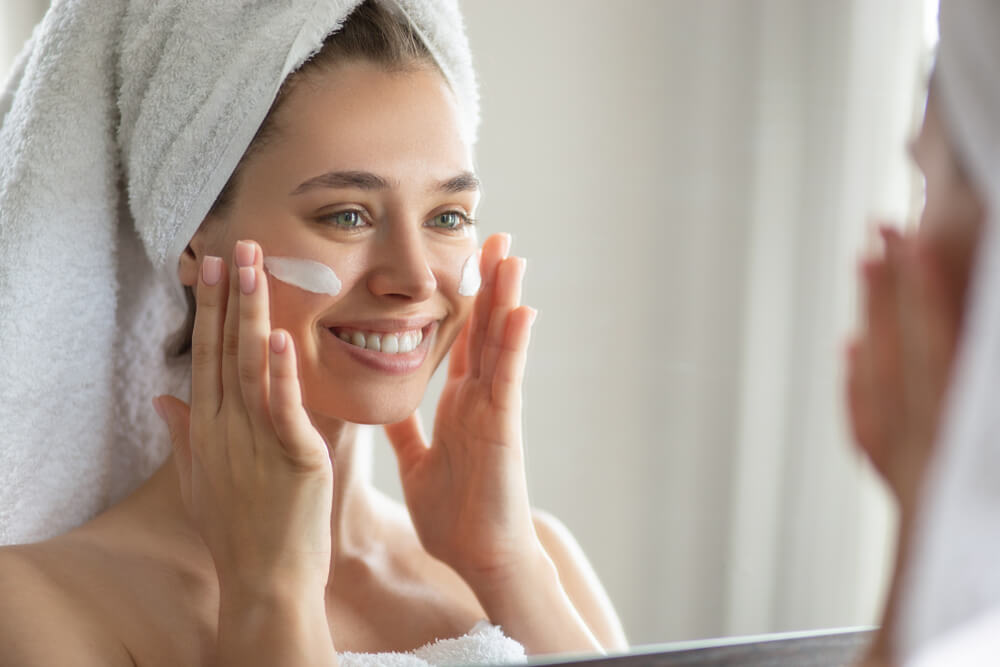 The colder season is always synonymous with one thing, and that's dry skin. A typical winter skincare routine mistake is not changing up your moisturizer, even if you have oily or combination skin. All skin types, not only those with dry skin, suffer from dehydration during this time of year. For your winter skincare routine, you'll need a heavier moisturizer than what you used in the summer.
Choose a thick, buttery formula instead of a water-based moisturizer if you want to keep your skin's essential moisturizing oils locked in.
Apply your moisturizer as soon as you've finished washing your face or getting out of the shower. When your skin is slightly wet, rather than completely dry, it absorbs the most product – just like a sponge!
For the Face
Day
The Rhodium Essential Day Cream is the perfect day cream for the winter months. With this formula, you can protect your skin from environmental irritants while softening and smoothing your complexion.
This luxurious cream is enriched with shea butter, which helps diminish the appearance of wrinkles, making you look and feel younger. Shea butter is an extremely beneficial ingredient when it comes to combating dry skin. It has a wide range of fatty acids that restore and lock in your skin's hydration, preventing it from drying out or feeling "stripped" of its natural oils.
Night
If you need a little extra hydration at night, check out the Platinum Night Recovery Cream. A night cream is an important step in a winter skincare routine, and here's why. ​​A night cream can promote repair by increasing cell turnover, and soothing and hydrating skin after a long day. While day creams defend against the elements such as pollution, dryness, cold, heat, and UV radiation, night creams focus on regenerating your skin as you sleep.
Using moisturizers as a barrier to prevent moisture evaporation from the skin while simultaneously drawing additional hydration into the skin is even more crucial during the colder months. As a result, your night cream serves as a barrier and a magnet for a double dosage of hydration.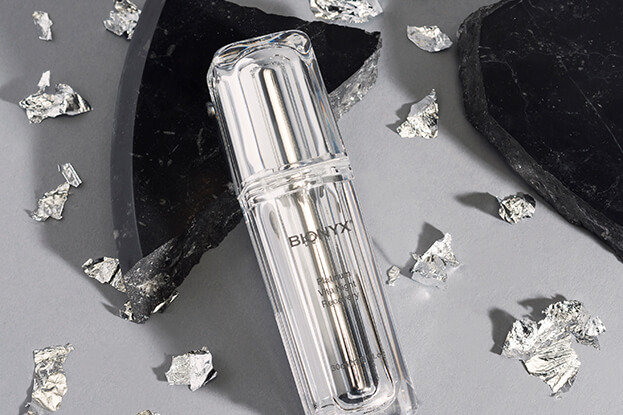 For the Body
If the skin on your body is also going through a major dry phase during the wintertime, slap on a good amount of lotion! At Bionyx, we've got two-star products to recommend – the Bionyx Body Butter, and the Bionyx Hand and Body Cream.
While the cream may be enough for those with normal or oily skin types, those with dry skin should turn to butter. During the winter months, your skin will need a thicker texture to protect it. Using body butter in the winter will help keep your skin hydrated and moisturized all season long, and that's where the Bionyx Body Butter comes in. Enriched with shea butter, this bad boy is suitable for all skin types.
Just add these products to your winter skincare routine, and enjoy supple, soft, and silky skin during the winter season.
Neglecting to Exfoliate Your Skin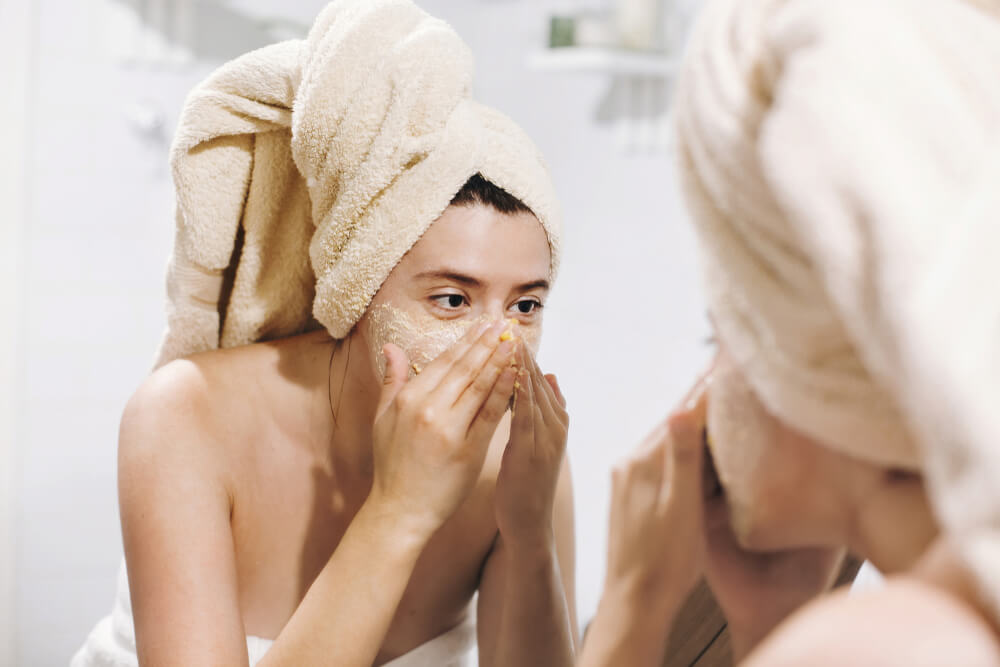 During the winter, humidity drops substantially. As a result, the winter months can be particularly harsh on your skin. A lack of moisture in the air can cause chapped lips, cracked hands, and dry, flaky skin. Therefore, your winter skincare routine should include both hydration and exfoliation, so you won't have to deal with dryness and dehydration.
Exfoliation helps your skin's renewal by removing dead cells. Due to the chilly outside air and dry heating, your skin cells dehydrate and "die" more quickly in the winter. Dead cells should be removed with a buffer twice a week so that new, healthier cells can grow in their place.
Also, moisturizers perform better when used in conjunction with exfoliators. You'll want to make sure that your lotion is as effective as possible in the winter because you'll use it more frequently. To achieve this, exfoliate regularly.
For the Face
Pick between physical exfoliation or chemical exfoliation, depending on your skin type. Physical exfoliants use a brush or sugar particles to remove dead skin cells, whilst chemical exfoliants use acids (such as lactic or citric acid, or salicylic acid) to do the same job.
Bionyx's Rhodium Complex Facial Peeling is a gentle physical exfoliator that will help remove dead skin on your face using fine grains of walnut seeds.
If you're looking for a mild chemical exfoliator, check out the Bionyx Platinum Transformative Cream, enriched with lactic acid. Naturally found in milk and yogurt, lactic acid promotes cell turnover and aids in the removal of dead skin cells that have collected on the top layer of your skin.
For the Body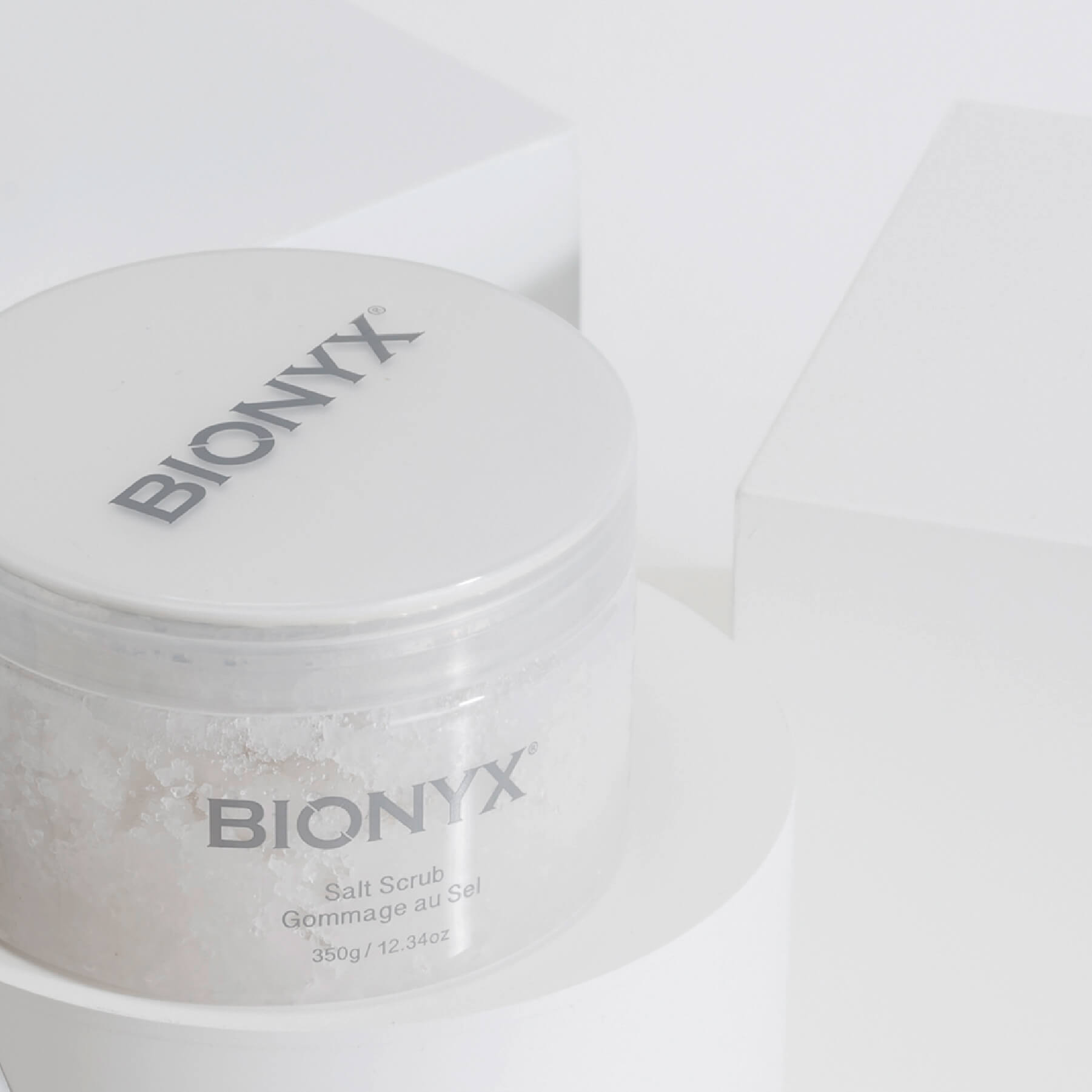 Exfoliating your body is just as important as exfoliating your face, and that's where the Bionyx Salt Scrub comes into play! Exfoliating with mineral-rich sea salts is an excellent way to purify, restore, and cleanse your skin gently. Sea salt scrubs, like all exfoliation, sweep dead cells away and stimulate circulation, revealing fresher, brighter skin.
Besides salt scrubs, you could also use physical brushes and gloves to scrub the grime and dead skin off your body.
Using the Wrong Kind of Cleanser
Whether it's summer or winter, bubbly, soapy cleansers are one of the most common causes of dry skin. These cleansers can strip your skin of its natural oils, which keep it nourished and healthy. They also frequently contain alcohol and chemicals like sodium lauryl sulfate, which are harmful to the skin. Synthetic perfumes can also irritate skin that has become more sensitive in the colder weather, exacerbating winter skin problems. 
To avoid all this, use a natural cleanser free of sulfates and other harmful substances to remove grime and residual makeup without stripping the skin gently.
We'd recommend the Bionyx Milk Cleanser – it's a gentle and hydrating formula, perfect for your winter skincare routine!
Designed for delicate and sensitive skin, the Bionyx Milk Cleanser is a luxurious treat. It contains vitamin C, vitamin E, and jojoba oil, which allow for a thorough yet gentle cleanse. After using this cleanser, your skin will feel clean, fresh, and velvety.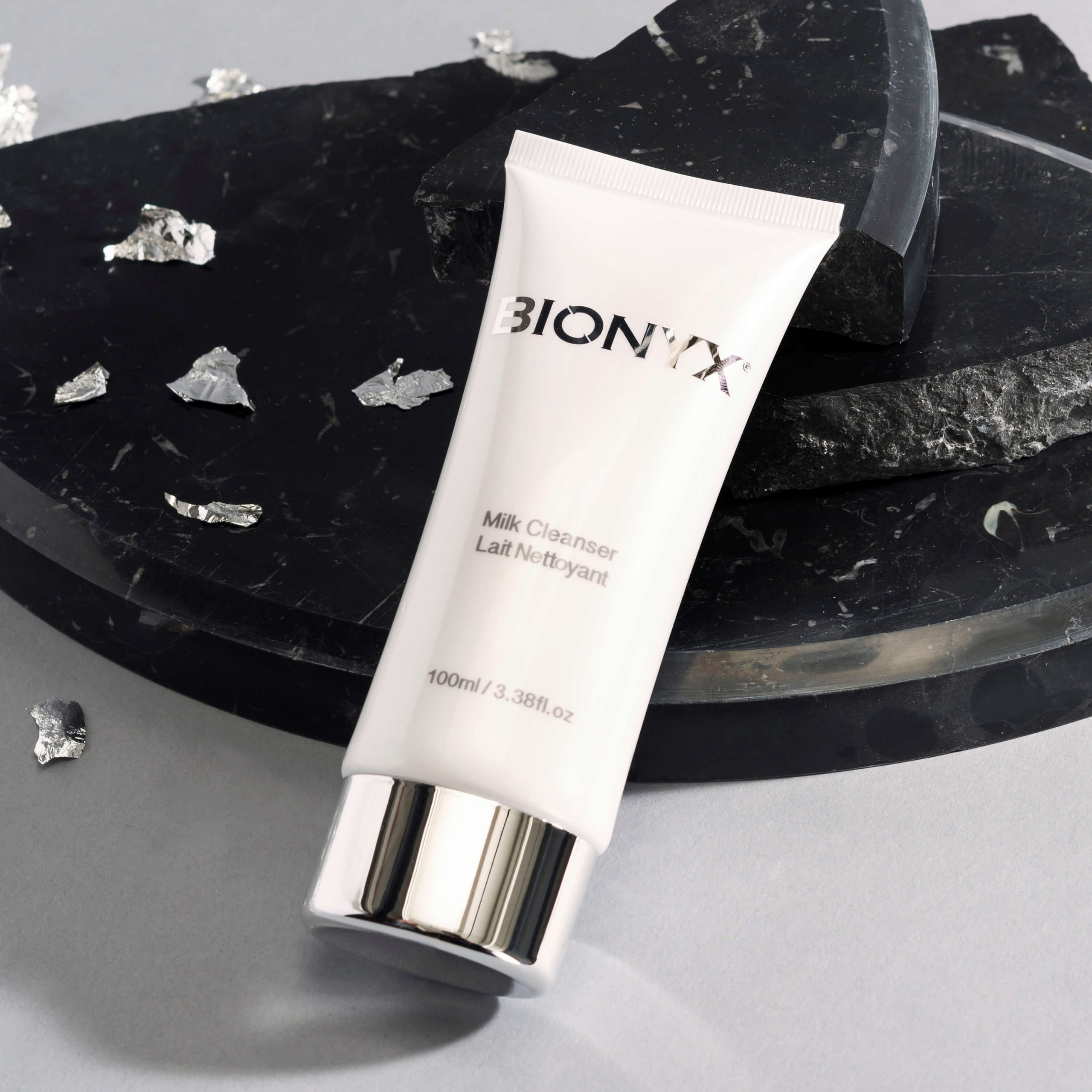 Skimping on the Eye Cream
The skin around your eyes is susceptible to damage from severe and cold winter winds, which is why soothing eye cream is also must-have in your winter skincare routine. An eye cream that contains essential oils, especially non-clogging oils, is a good option for all skin types.
The Bionyx Platinum Advance Eye Cream contains jojoba oil, olive oil, and soybean oil for maximum hydration and moisturization. However, it's not too thick for the under-eye area.
It's even enriched with aloe vera extract, licorice root extract, and green tea extract. This results in a formula that can help with dark under-eye circles, puffiness, and fine lines!
An Instant Eye Lift for Winter Parties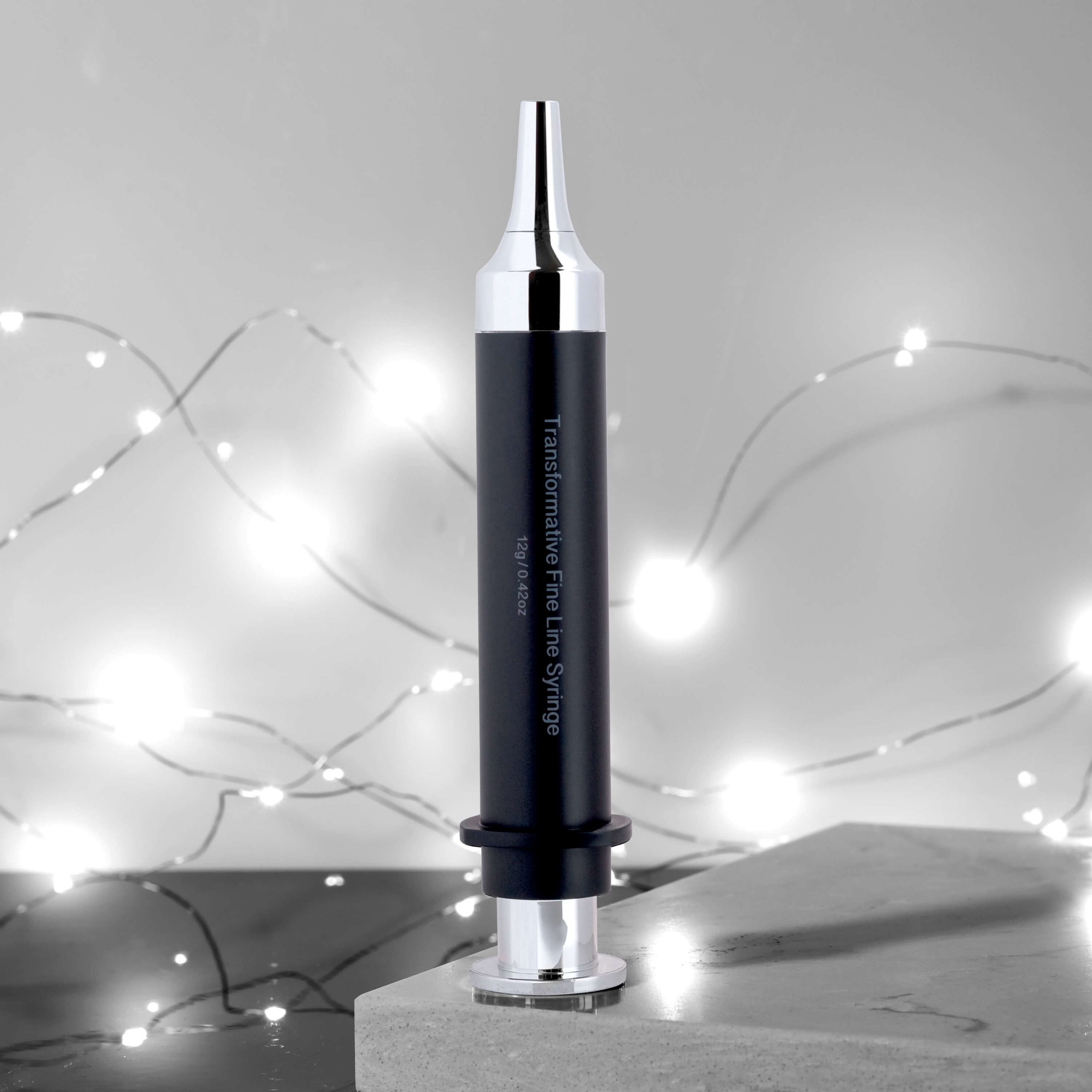 Looking for an instant eye lift for a holiday party? Look no further because the Bionyx Transformative Fine Line Syringe is just what you need.
This product addresses wrinkles at their source with a blend of vitamins, peptides, and botanical extracts for a smoother, more youthful-looking face. It works instantly – just apply it directly onto each wrinkle and watch them disappear!
Forgetting Your SPF
Sun protection MUST be a part of your daily routine, regardless of the season or how foggy the day is! It's easy to forget about sunscreen as the warm days pass, but UVA and UVB rays are still prevalent, even in the middle of winter.
While both UVA and UVB rays can harm the skin's outer layers, UVA rays have a more direct impact on the dermis, causing damage to collagen and elastin fibers and resulting in more fine lines and wrinkles. The sunburn and peeling dry skin caused by UVB can catch you off guard on those sunny but cold days.
Want to prevent premature aging? Trust Bionyx when we say, don't skimp on this significant part of your winter skincare routine.
Although we generally associate wearing SPF with the summertime, being exposed to the sun's rays during wintertime is also just as harmful. This is because of the Earth's thinning ozone layer, which means we're being exposed to more intense UV rays.
In the winter, we are often exposed to extra UV light every day without even noticing it. Snow reflects 85 percent of the sun's rays, and the sun on the slopes can be as bright as, or even stronger than, a hot summer day, which is why you can develop a skier's sunburn.
Because the sun's rays are highest between 10 a.m. and 4 p.m., it's best to minimize your outside activities during those hours, even in the winter. If you can't avoid it, wear sunscreen, hats, and sunglasses, and try to stay in the shade as much as possible.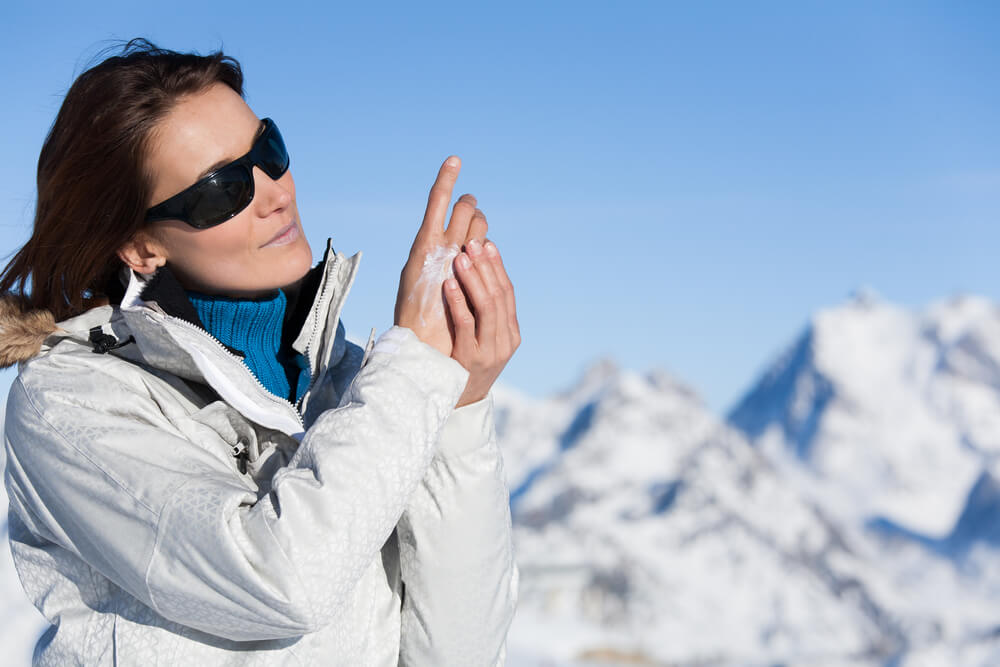 Create Your Winter Skincare Routine with Bionyx
Trying to avoid those winter skin problems you experience every year? This is where Bionyx comes in. If you want to build a winter skincare routine that will give you that glow even when it's cold out, we're here to help.
As a leading skincare brand, Bionyx produces body and face skincare products that are infused with colloidal platinum for an indulgent skincare session. You may already know this about us, but have you ever wondered why platinum?
The skin is known to have an ionic buffer zone that seals in moisture while also protecting against free radical damage. Negatively charged electrons make up one side of the zone, while positively charged electrons make up the other. However, stress, pollution, and sun damage disrupt the positive/negative balance, rendering the buffer ineffective and exposing the skin. Platinum can aid in the re-establishment of this electrolyte balance, hence assisting in the protection and moisturization of the skin.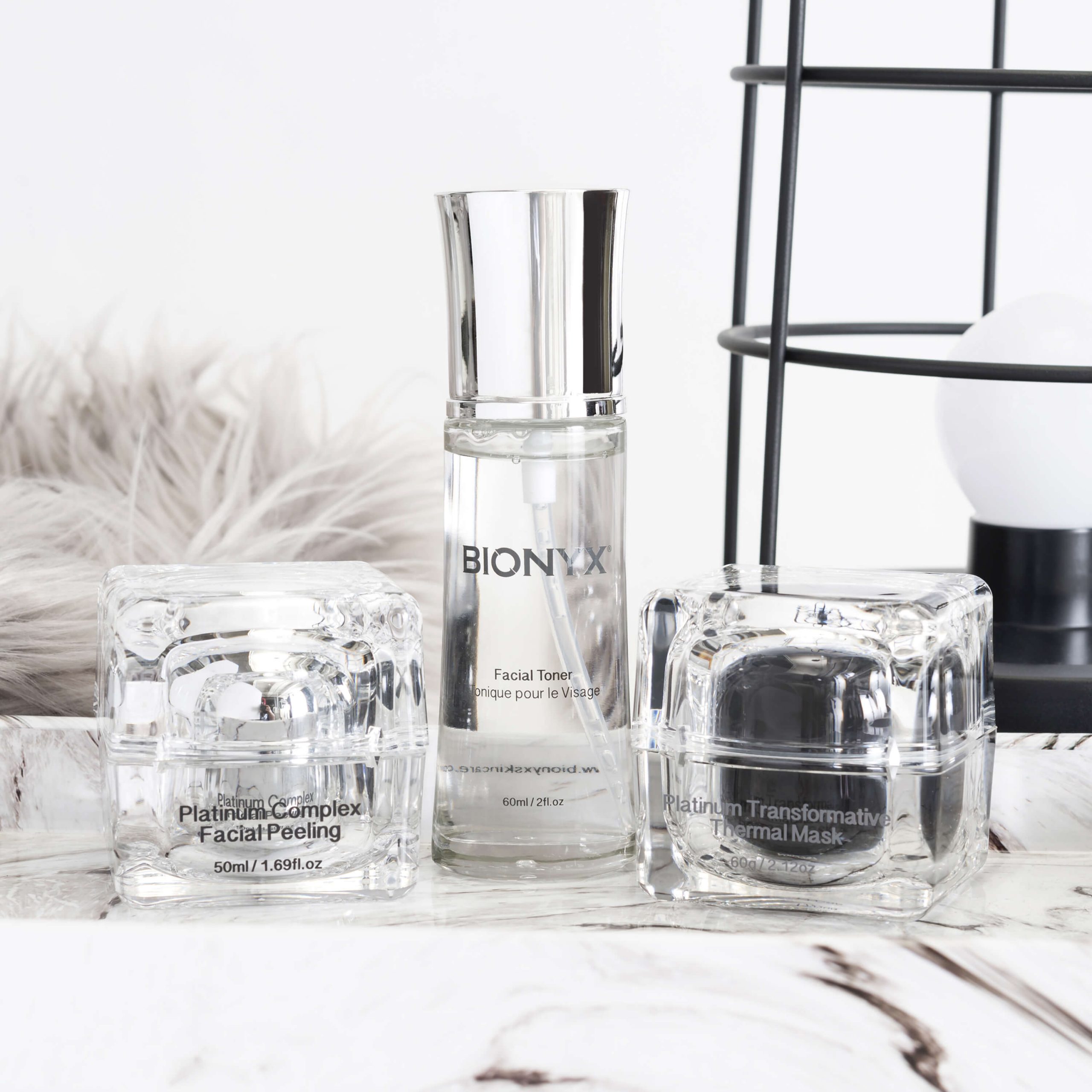 Summary
In addition to everything we've already discussed, follow the below tips to keep your skin looking gorgeous and glowing this winter season:
Avoid hot showers – hot water will over-dry your skin and remove the natural oils that keep your skin healthy

After you're done in the shower, moisturize while your skin is still damp

When going outside, wear gloves and scarves to protect your skin from the elements

To keep the air in your home from becoming too dry, use a humidifier

Don't forget to eat plenty of antioxidant-rich fruits and vegetables in your diet, as well as foods high in healthy fats
All in all, skincare is a journey, and if you find yourself making these mistakes unknowingly, don't fret! There's always time to change and undo your mistakes – you could soon be enjoying the skin of your dreams! Made with effective ingredients, you can count on Bionyx to provide you with products that will make your skin glow to the gods.