Published: November 30, 2022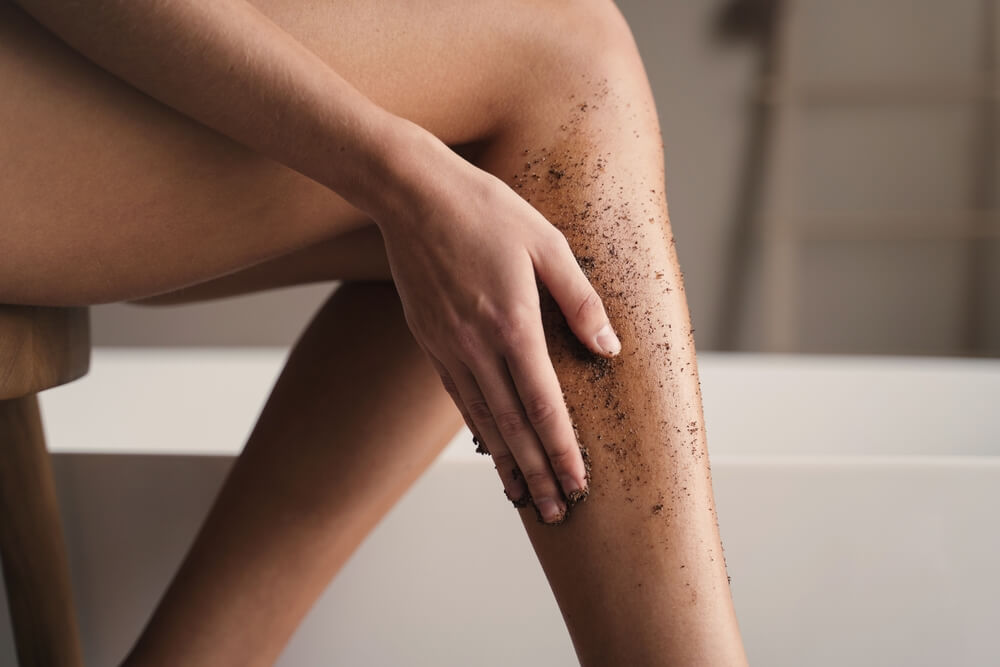 A salt scrub has a lot to offer when it comes to skincare. They're the latest buzz in the body care niche for their ability to deliver glowing results! If you feel like your skin doesn't bounce back the way it used to, often appearing dull and weary, you might need a good salt scrub to spruce up your daily body care routine.
Odds are that this dull, lifeless look is because of dead cells accumulated on the surface of your skin. Over time, because of a lack of exfoliation, these cells start to build up and clog your pores, giving your skin a dry and rough texture as well. You might be following your daily maintenance routine perfectly, but when you don't have a good scrub in the picture, things can start to derail. Regular exfoliation is likely to help you stay away from a host of skin problems. And today, we're here to talk about it all!
Bionyx brings you an informative read about the 8 reasons you should use a salt scrub and how it can benefit your skin. Our skincare brand is home to advanced formulas that incorporate research-backed ingredients to give you the results you need. We'll be highlighting some of our best products throughout this read. So, be sure not to miss a peek!
What Exactly is a Salt Scrub?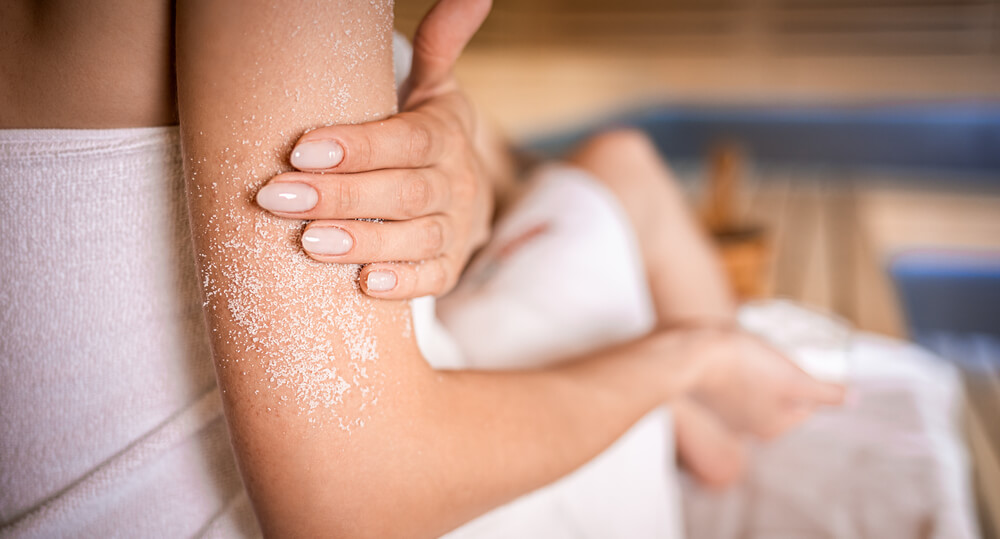 How well do you know salt scrubs? These are body-care formulas that help you get rid of built-up dead cells by rubbing them off. They use salt granules, which are naturally abrasive in texture, to help loosen the hold of dead skin on the surface. Common salts used in scrubs include table salt, Epsom salt, Dead Sea salt, and Himalayan salt.
Salt scrubs pair salts with moisturizing ingredients to help protect your skin's natural moisture barrier. Your skin can become sensitive and dry because of removing dead cells manually, so moisturizing ingredients like carrier oils — jojoba, avocado, and grapeseed — minimize the look of inflammation and keep the skin feeling smooth and soft. If you feel like your skin is very sensitive and won't be able to handle a salt scrub, you can also opt for a sugar scrub. Sugar granules are less harsh in comparison to salt and can deliver similar exfoliating effects.
But the natural properties of salts can't be denied when it comes to pampering your skin…
The Bionyx Salt Scrub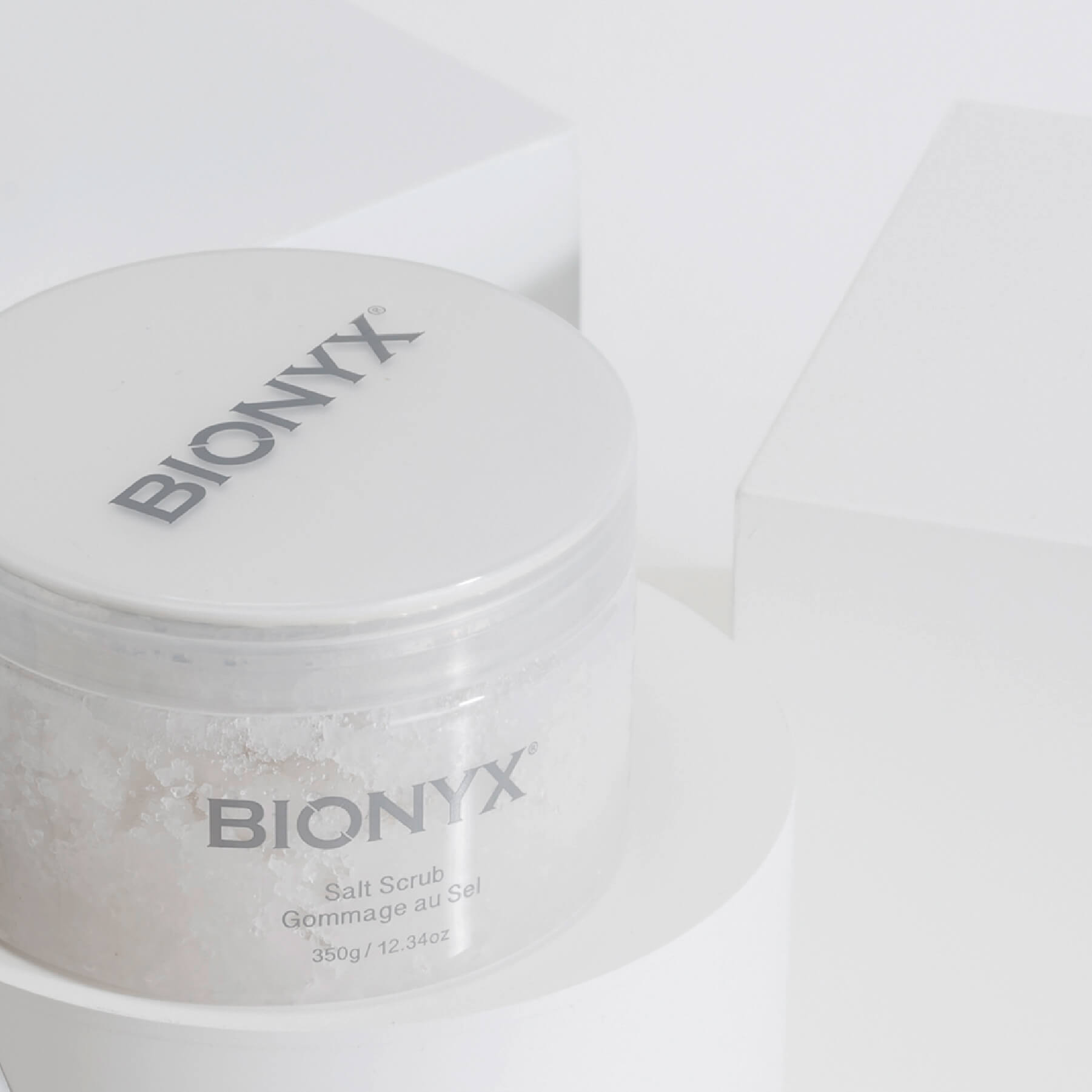 Bionyx has its very own line of sensational exfoliators to help you get rid of dead cells and maintain your skin's luminous glow. These exfoliating formulas incorporate premium-grade ingredients to help rejuvenate your complexion's tone and texture.
But our prized Salt Scrub is the product of the hour! It can be a total game changer for your body care routine, helping to keep skin problems at bay. Let's talk about how this exfoliating marvel can help you achieve younger-looking, radiant skin.
The Bionyx Salt Scrub features a powerful blend of natural sea salt and mineral oil to help rid your skin of dead cells and debris while keeping it feeling soft and smooth to the touch. Sea salt boasts a rich nutrient profile, complete with essential vitamins and minerals, to enhance your appearance. 
Our Salt Scrub incorporates mineral oil, which helps soften the feel of your skin and keep it properly moisturized. As an occlusive, mineral oil works well to help your skin retain water. This Bionyx exfoliating gem brings the spa treatment to your home with its therapeutic and skin-enhancing properties. Witness skin that feels silky-smooth and looks instantly revitalized with our exceptional Salt Scrub.
7 Reasons You Should Be Using a Salt Scrub
Salt scrubs are in a league of their own when it comes to exfoliants. Not only do they easily remove dead cells but they're also capable of keeping a lot of visible skin problems at bay. So, here are 7 reasons you need a salt scrub to liven up your body care routine:
Improves the Absorption of Body Care Products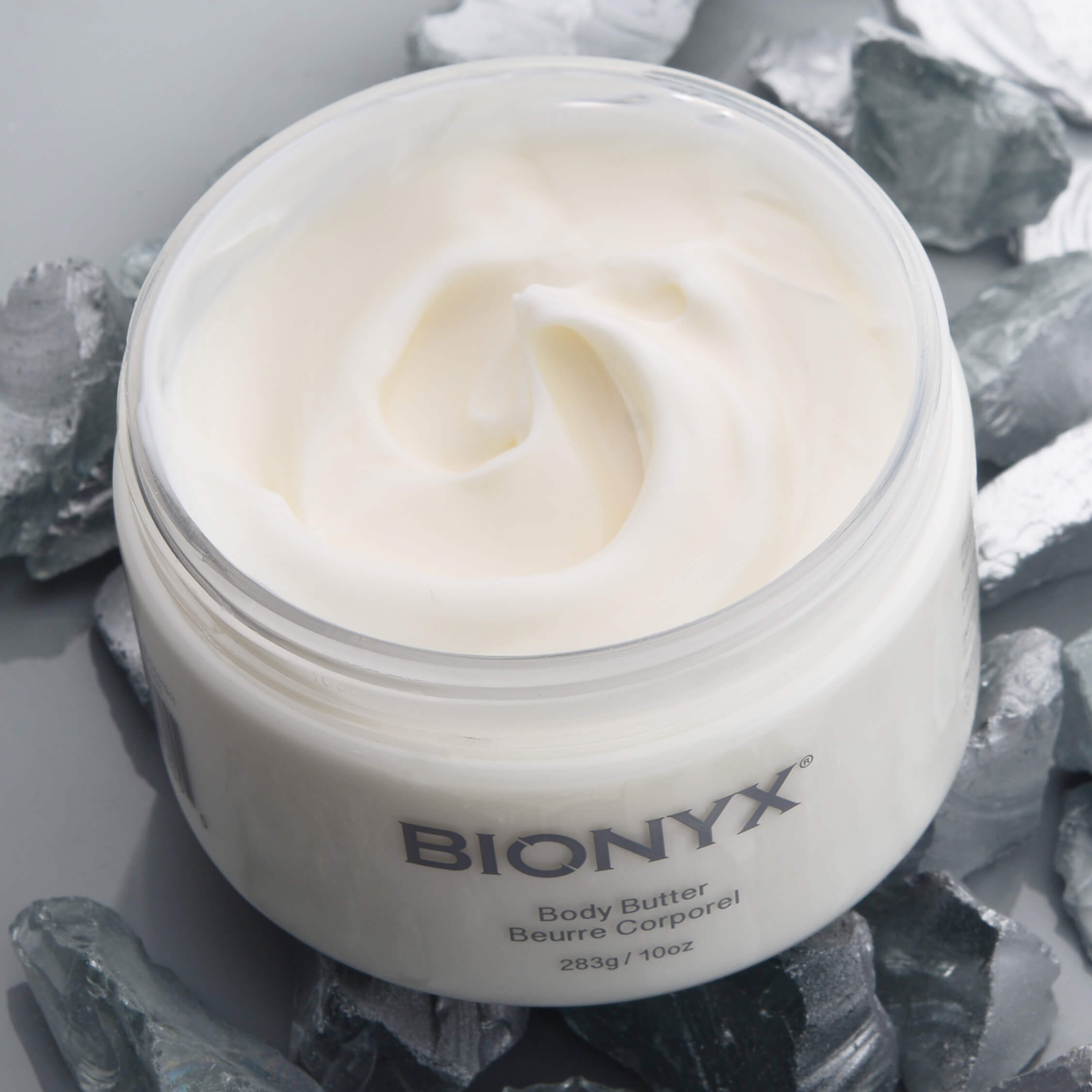 When your skin's surface is overrun with dead cells and debris, it can make it much harder for your regular body care formulas to work their magic. Lack of exfoliation clogs your pores with dirt and dead cells, giving your skin an uneven texture and inhibiting its natural absorption power.
You need a good salt scrub in your routine to help get rid of dead skin and impurities. Just using it once a week — or twice for oily skin — will help you achieve a clarified look and get better results from your body care formulas.
This is especially great news for dry skin because moisturizers will be able to provide you with maximum benefits when properly absorbed into your skin. By increasing your skin's moisture content and reinforcing its natural barrier function, a salt scrub can make your skin appear supple and dewy-fresh.
Makes the Skin Glow
Dead skin cells are a normal thing — a byproduct of the natural renewal process your skin goes through from time to time. With age, this process gets weaker and weaker, leaving dead cells lying around on the surface for much longer than they should be.
These dead cells make your skin appear dull, weary, and also much older than your actual age. Salt scrubs are a wonderful way to get around this issue as they not only help get rid of dead skin but also contain essential nutrients that your skin craves. Sea salt has trace amounts of magnesium, calcium, and potassium, which play a key role in improving your skin's look. The rich nutrient profile works well to make your complexion bounce with a radiant glow!
Makes Rough Skin Feel Smooth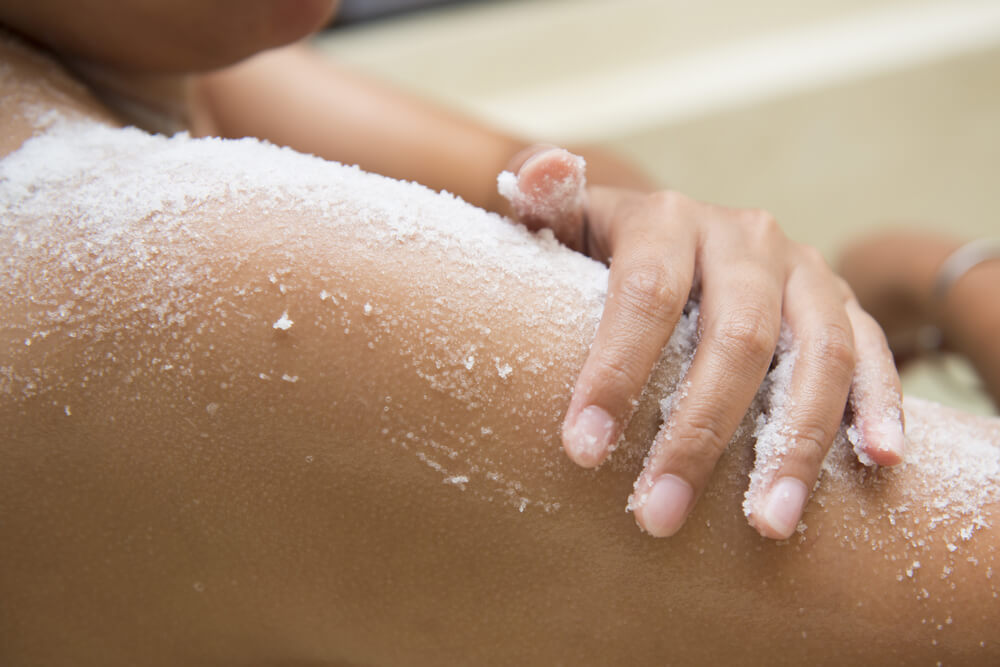 When your skin has not been exfoliated for a while, you're likely to spot a rough, coarse texture. The dead skin cells accumulated on the surface make your skin texture appear uneven.
The natural abrasive nature of salt granules is exceptional for removing the outer layer of dead skin cells, revealing fresh new skin underneath. This helps keep your skin looking smooth, even, and well-balanced.
Reduces the Visibility of Large Pores
When you have oily, acne-prone skin, large pores are a common occurrence. They can make your skin appear grainy and untidy and they aren't particularly easy to deal with. When they become clogged with dirt and debris, they can lead to acne breakouts.
Salt scrubs can help with this as their standout exfoliation capabilities help remove dead skin and debris from your pores. Opening them up will significantly diminish their appearance, tightening the look of your skin. Moreover, salt helps absorb excess sebum, keeping the grease under control.
Minimizes the Appearance of Cellulite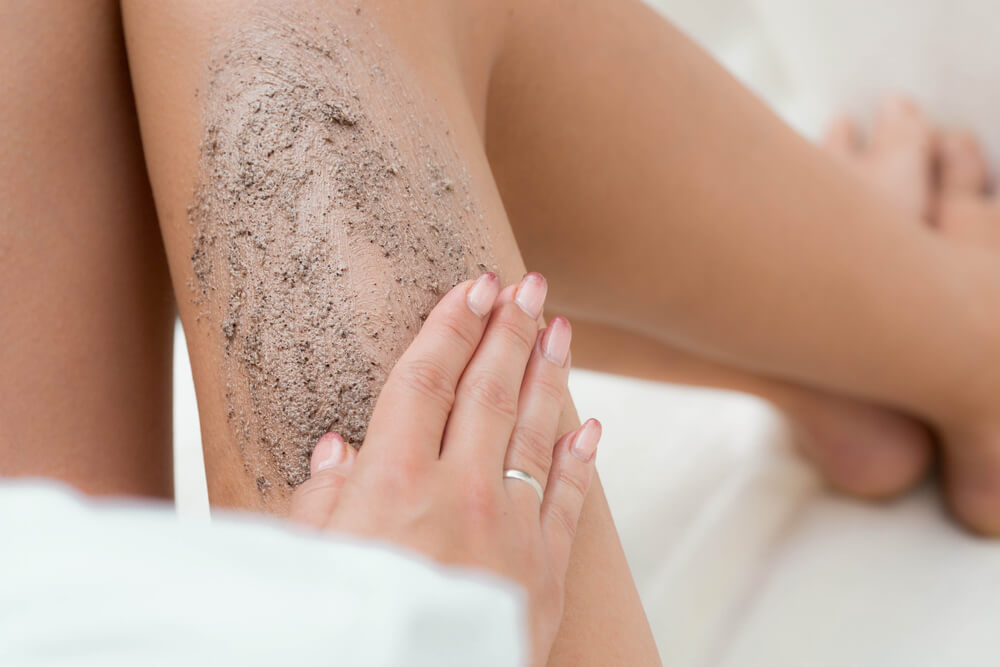 Cellulite is a common issue when it comes to skin texture. Anyone can develop cellulite in certain areas of the body, including the thighs, buttocks, lower abdomen, upper arms, and breasts.
A salt scrub is a wonderful exfoliant to help you diminish the look of cellulite. The Bionyx Salt Scrub infused with sea salt can help enhance the appearance of these problem areas. The key is to massage these areas properly using the scrub to get the blood flowing. Your skin will look more balanced and smoother in a matter of weeks!
Makes You Appear Youthful
Salt scrubs have exhibited astounding capabilities to give your skin a youthful look. Scrubbing regularly — once or twice a week depending on your skin type — reduces the appearance of premature aging. It's effective in diminishing the existing visible signs of aging as well.
The rich mineral content of salt works wonders for enhancing the skin's natural barrier function and fading the look of wrinkles, fine lines, dullness, and sag. It tightens and lifts the appearance of your skin, giving you a rejuvenated and younger feel.
Keeps the Skin Feeling Clear of Bad Bacteria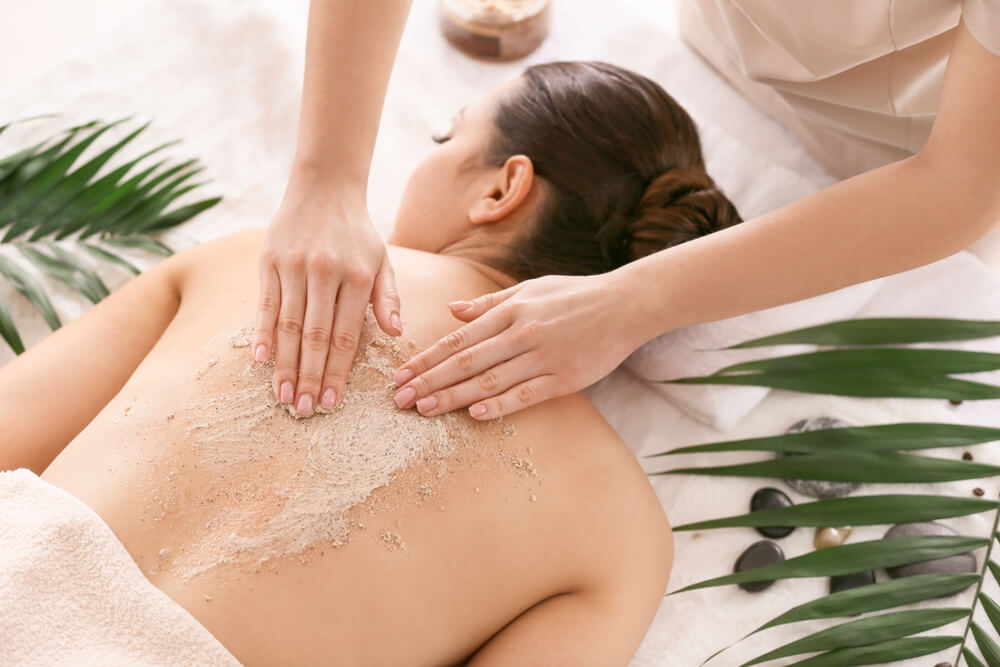 Your skin houses two types of bacteria — bad and good. The good bacteria help your skin retain its natural function and keep it healthy. For example, S.epidermidis, a good skin bacterium, helps prevent water loss and damage.
But bad bacteria can wreak havoc on your skin. It can cause acne breakouts and visible damage to your skin. In some cases, it can even delay the skin's natural healing process as well.
However, salt is exceptional for keeping the skin feeling clear of bad bacteria and reducing the visible signs of inflammation on the skin. It ensures that your skin appears healthy and happy. A salt scrub is a great way for keeping your skin looking clean and fresh!
Speaking of clear skin, have you taken a look at the magnificent Rhodium Mousse Cleanser from Bionyx? This skincare marvel helps clear sebum, dirt, and debris from your skin, giving you a soft and refreshed look. The gentle yet effective formula works well on dry, sensitive skin types. It forms a satisfying lather, allowing your skin to fully benefit from what's inside! It features hydrating humectants, plant-derived amino acids, and our signature ingredient, colloidal platinum, to give your complexion a refreshing, energizing boost!
Delivers Therapeutic Effects
Salt is a great ingredient in skincare formulas for its natural therapeutic effects. The minerals and vitamins found particularly in sea salt have a relaxing impact on the mind and body.
So, when you've got the Bionyx Salt Scrub, you can turn your home into a makeshift spa!
The Proper Way to Use a Salt Scrub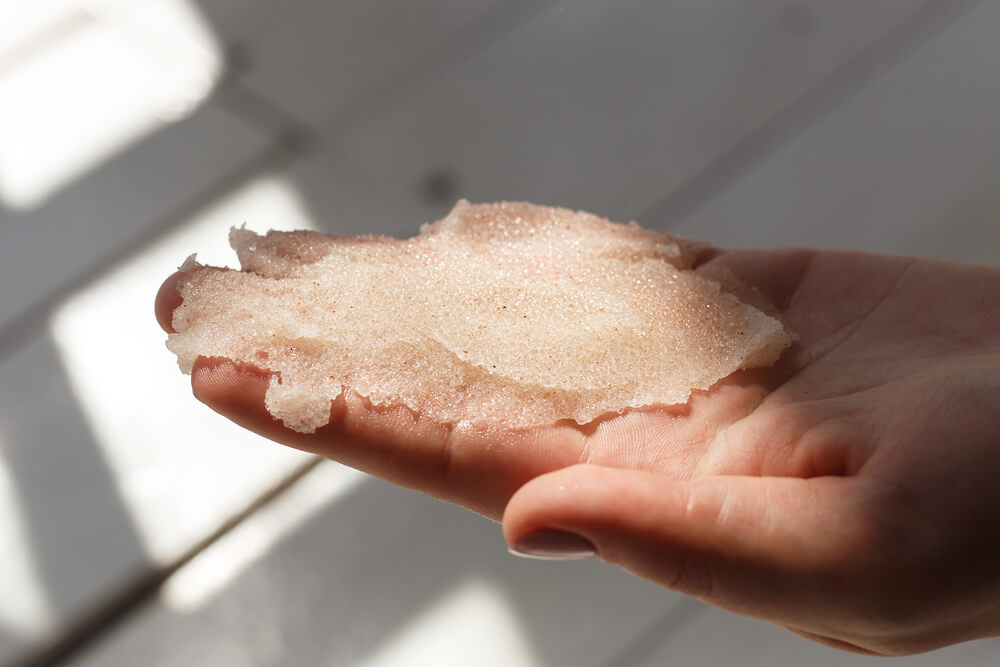 To experience the complete benefits of salt scrubs, it's important to know the right way to use them. Here is a step-by-step process to help you out:
Always apply a salt scrub to wet skin, preferably while you're in the shower. Scoop out the scrub with clean hands and massage it gently in circular motions for roughly 30 seconds per area to slough off dead cells and impurities.

Never apply too much pressure as it can damage your skin's natural moisture barrier.

Don't exfoliate more than once a week if your skin is dry. If it's oily, twice a week would suffice. 

After you're done, remember to moisturize afterward to replenish your skin's hydration levels and keep it feeling soft and smooth. You can use the Bionyx Hand & Body Cream, which features shea butter, mineral oil, and colloidal platinum, to pamper your skin. Shea butter is wonderful for easing visible signs of inflammation and strengthening the feel of the skin's moisture barrier, making this cream the perfect post-exfoliation moisturizer!
Summary
A salt scrub packs a multitude of skin-enhancing benefits in one super formula! The natural therapeutic and skin-improving properties of salt granules make them an excellent ingredient in scrubs. Not only do they effectively rid your skin of dead cells, but also help in the overall maintenance of your skin. 
Click here to check out more of Bionyx's bestselling skincare products.