Published: February 28, 2022
Do you long for a smooth, even, and flawless appearance? Perhaps you have tried and failed to perfect your skin texture in the past. You are not alone! The appearance of enlarged pores are one of the most common skincare complaints. Applying primer as a step before makeup only serves to mask the issue.
Pores serve to permit oil generated by the oleaginous glands to travel up the hair follicle and reach the face. You cannot make your pores disappear – they play an important role in skin health. However, we can certainly shrink the visibility of enlarged pores.
What's the secret, we hear you ask?
There are several game-changing products on the market that help solve this issue. We are here to answer your skincare prayers to shrink the appearance of those pores with some of the most technologically advanced skincare on the market. Couple these Bionyx products with these 8 skincare tips and the skin of your dreams can be yours!
Double Cleansing is Key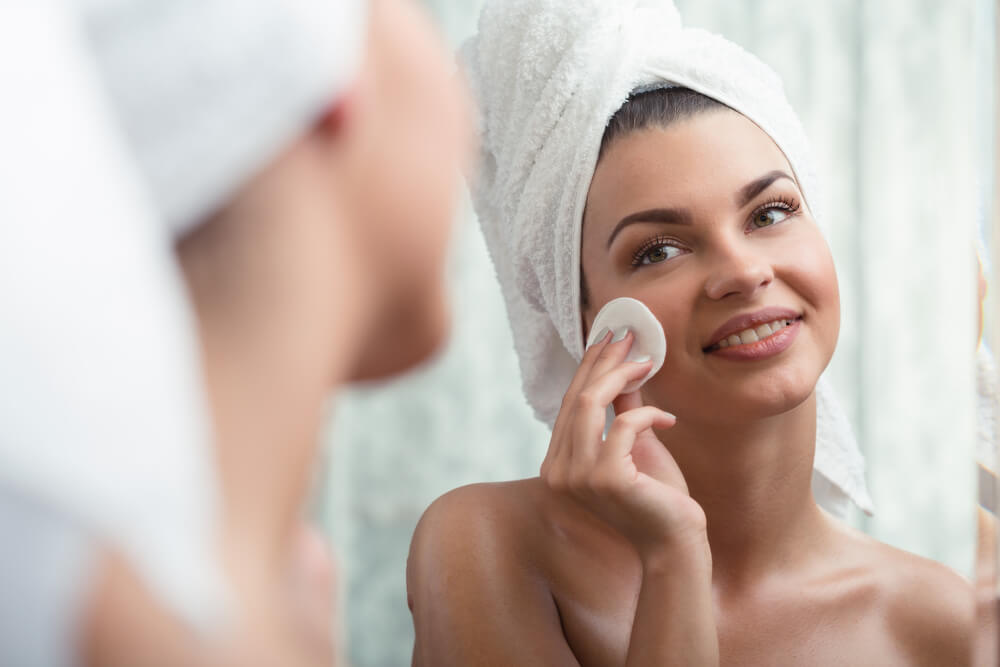 Any decent skincare regime must start with cleansing, day and night. However, we now know the benefits of the double cleanse. The initial cleanse breaks down and removes any makeup or residual oils and dirt that lingers on the skin, threatening to enlarge and potentially block those pores. The second cleanse serves to treat skin concerns and to ensure your skin is squeaky clean and ready to soak up the next steps of your skincare regime.
For this vital step, we recommend the Rhodium Mousse Cleanser from Bionyx. This cleanser is gentle enough to use every day. Ingredients such as Citric Acid gently remove those oils, which can enlarge the appearance of those pores. Simply apply a small amount to your clean hands, massage into your face, and rinse when desired with cool, but not cold water.
Alternatively, if you feel your skin requires more of a hydration fix, this Milk Cleanser contains jojoba and musk oils to ensure thorough and effective, yet gentle, cleaning. Using it in the same way as the Rhodium Mousse Cleanser from Bionyx will leave your skin feeling fresh, clean, and soft.
For days when you require that extra Je ne sais qua from your cleanse, the Bionyx Rhodium Complex Facial Peeling can help serve your needs. This luxurious peeling gel is the ultimate cleansing solution to remove impurities and exfoliate the skin. It is recommended for use once to three times a week, due to its powerful and active ingredients. This elixir is massaged into the face for 20-30 seconds in gentle circular motions. Your pores will thank you after using this!
If you are religious with this double cleansing system, paired with a deeper cleanse once or twice a week, you are laying solid foundations for reducing the appearance of those enlarged pores.
Tone those Cheeks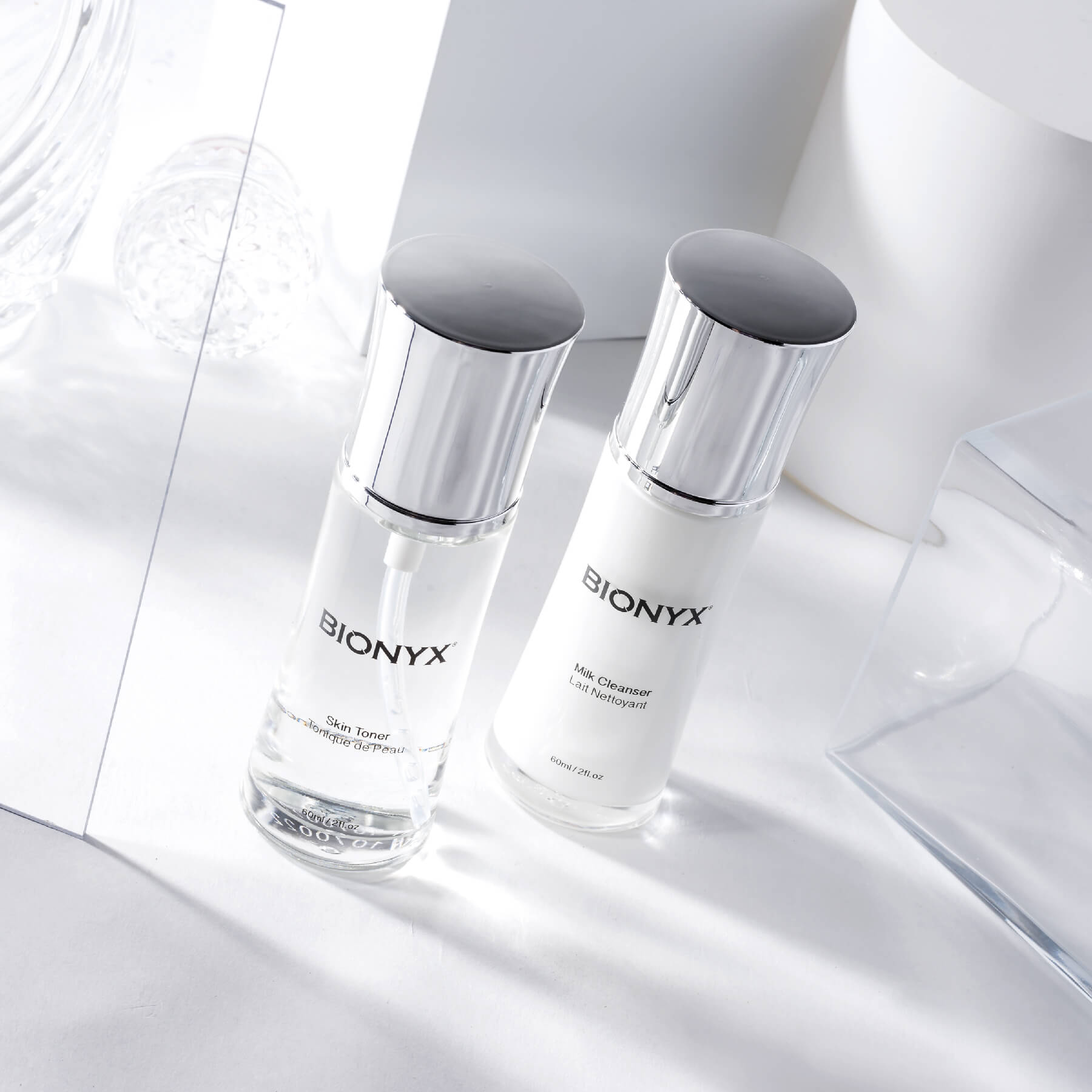 The use of toner fell out of skincare fashion for some time. Some viewed it as an unnecessary step or purchase. Now, toner is most definitely 'in' and is a crucial step in preventing the appearance of enlarged pores.
The role of a toner in a skincare regime is to remove lingering traces of excess cleanser, dirt, and oil that our cleanse may have missed. Depending on the type of toner you use, it can also serve as a calming and cooling step.
The Bionyx Facial Toner is specifically formulated with ingredients that'll diminish the appearance of your pores, such as Vitamin B3, and moisture-retaining elements derived from Sodium Hyaluronate. This is the perfect follow-on step from your double cleanse.
For optimum results, pour 2-3 pumps onto a cotton pad. Glide this cotton pad across your face, focusing on those areas of your face where your enlarged pores are more visible. Be gentle, as we do not want to tug on our skin.
Exfoliation is your Secret Weapon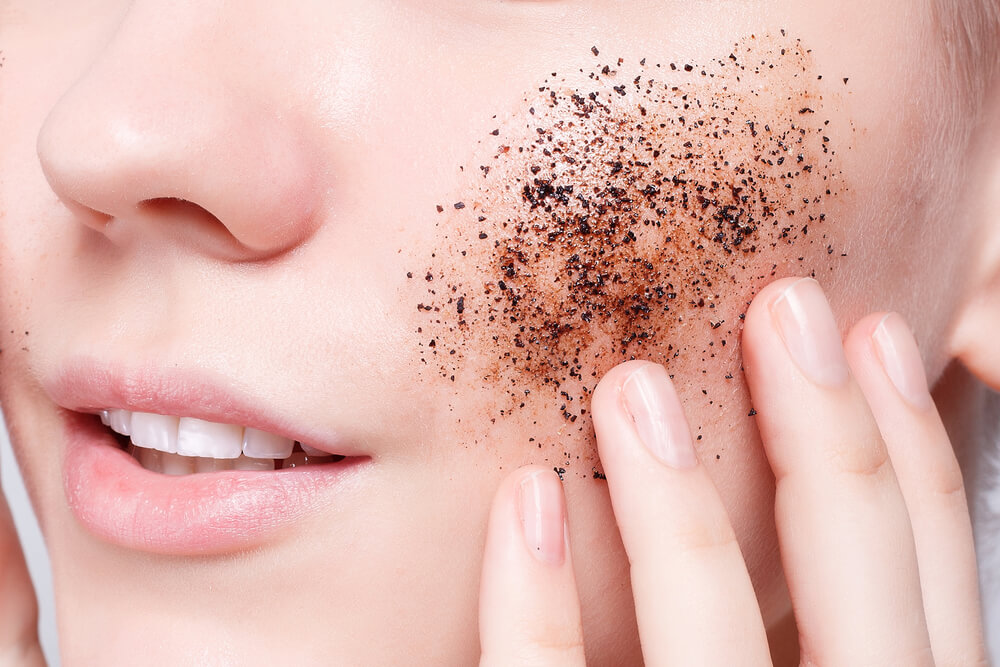 Why should we exfoliate, and how often? The art of exfoliation removes dead skin cells from the surface of the skin. There are a plethora of reasons why exfoliating should be embedded into our skincare regime, including reducing the appearance of enlarged pores. Moreover, exfoliators are more complex than we think.
Did you know there are different types of exfoliators? The two most common types are Physical Exfoliators and Chemical Exfoliators. Here's the lowdown on each.
Chemical Exfoliator:
A chemical exfoliant is usually a liquid or gel-type product. Active enzymes and acids dissipate the bonds between dead skin cells, in turn removing the dead cells.
Physical Exfoliator:
A Physical exfoliant is the type we are most familiar with. Commonly, it comprises of a granular scrub that physically exfoliates the skin's surface and consequently removes dead skin build-up. This type of exfoliation helps improve the look of enlarged pores.
If a physical exfoliator sounds like the type for you, a powerful yet gentle product is the Bionyx Platinum Complex Facial Peeling. This platinum-enriched product affords a potent peel, whilst still feeling soothing on the skin. Simultaneously, this exfoliator lifts built-up dirt, excess oil, and dead skin. This results in skin that looks smooth and radiant, with minimized pore appearance. This product is a holy grail for a spa-like ritual in your own home.
Mask Up
Using a face mask is not just an act of self-care. Yes, whilst it can be a relaxing and indulgent ritual, it is a key component in a solid skincare regime.
Masks act as a vehicle for the ingredients contained within them. Due to the nature of a mask being left on for a set amount of time, this allows for the skincare elements of the mask to penetrate the skin.
Eradicating the look of enlarged pores can be done with the help of a clay-based mask. There is a particular type of clay having a skincare moment and that is Kaolin.
A prime example of this wondrous clay in action is in the Platinum Transformative Thermal Mask by Bionyx. Kaolin is one of the main ingredients, alongside coffee, lemon extract, and sweet almond oil. This extravagant mask is the ultimate in luxury skincare.
A small amount of this product is spread thinly all over the face or in targeted areas. The mask gently warms on the face for 10-15 minutes. When rinsed away, enlarged pores appear purified and refined. This mask also reduces the appearance of fine lines and wrinkles.
For optimum results, Bionyx advises that you pair a serum with this mask. 2-3 drops of our Platinum Transformative Serum are best applied over the Platinum Transformative Thermal Mask.
A powerhouse of ingredients for phenomenal results. 
Daily Drench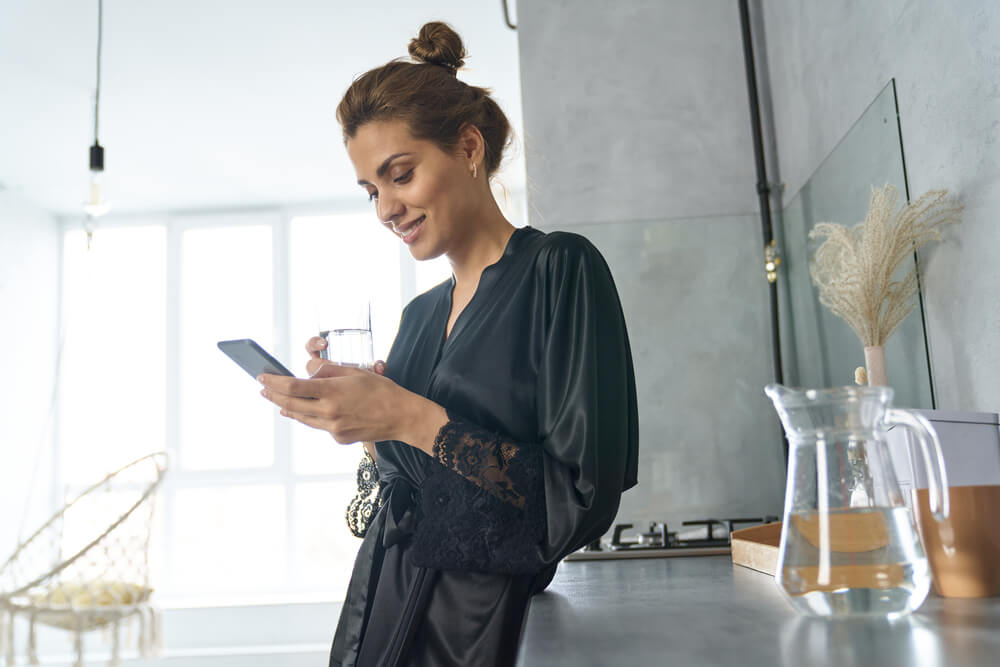 Daily Drench is a skincare mantra we swear by. What does it entail? It's very simple and we can all do it. It involves one simple instruction: drinking water.
The National Academies of Science, Engineering, and Medicine recommends the following for daily fluid intake:
125 ounces (3.7 liters) for men

91 ounces (2.7 liters) for women
Find out more about how much water you should drink daily here.
Will drinking this much water specifically help my enlarged pores? Yes, here's the science:
Water plumps the skin, making sure the pores get filled. It also balances the amount of oil and water in your skin. Therefore, by drinking more water, you will not only reduce the size of your pores but also your chances of getting acne and other blemishes.
Serum and Moisturizer are Best Friends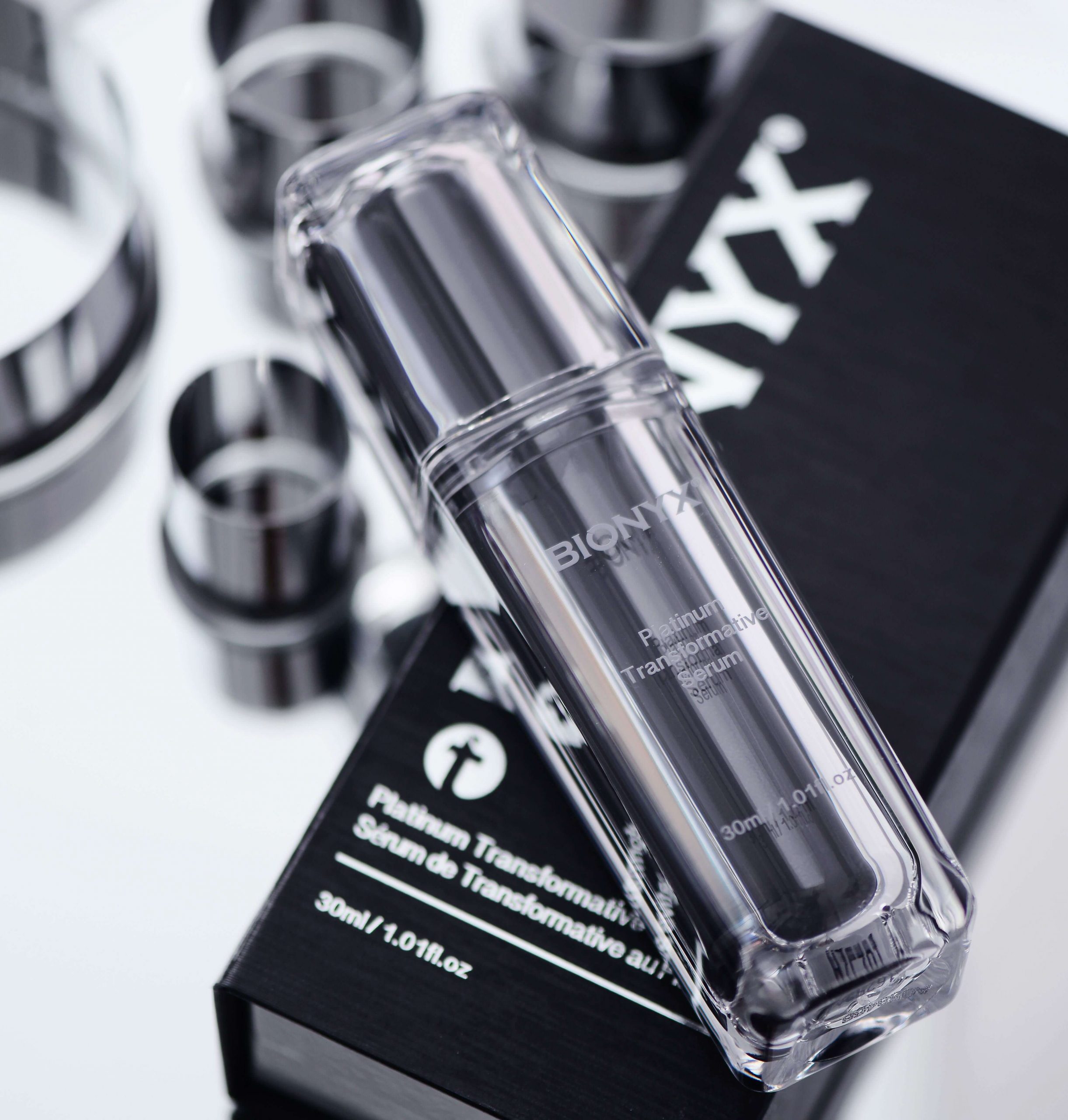 If you feel like you are failing with your water intake, do not fret. Whilst there is no product on the market that can replace the benefits of adequate hydration, a moisturizer and serum combination can come a close second.
Serums have a higher concentration of ingredients than a regular moisturizer, but they work best in tandem.
Confused? Don't be. Scroll to the end of the article to learn about the correct order to use skincare products for optimum benefits.
We recommended the Platinum Transformative Serum when we explored using a mask. This serum can also be used alone and not only will its powerful ingredients help the appearance of your enlarged pores, but it also serves to refine and renew the appearance of your skin, reducing the visibility of fine lines and wrinkles.
Best paired with this serum is Bionyx Rhodium Essential Day Cream – to be used after the serum. This rich yet lightweight moisturizer is the perfect partner to our Platinum Transformative Serum, serving serious results.
Sleeping Beauty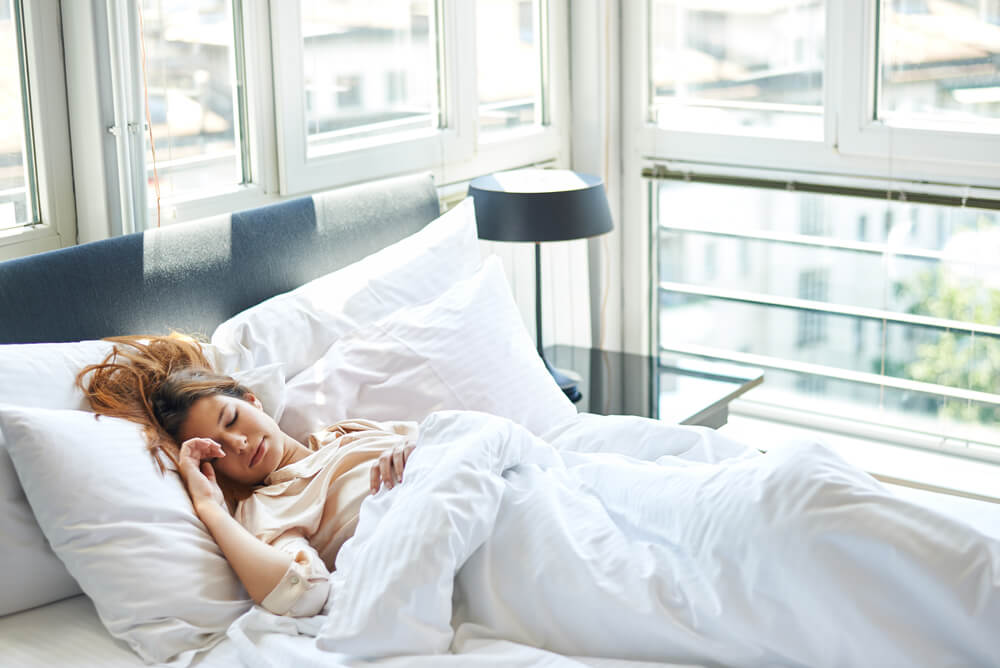 There's no denying the wondrous effect of makeup. It can help us women feel powerful and beautiful. However, the number one skincare cardinal sin is wearing makeup to bed. Not only does this act of debauchery increase the visibility of your pores but it causes them to become trapped with excess dirt and oil.
You may get away with it the odd night here and there – we're all human, right? However, over time, dirt and oil build up in the pores, causing them to become enlarged. We won't even mention the risk of eye infection from leaving eye makeup on!
We've said enough. Become a skincare saint by religiously remembering your double cleanse before bedtime, using the Bionyx Rhodium Mousse Cleanser or Milk Cleanser. You will thank yourself the next morning!
What's the Order?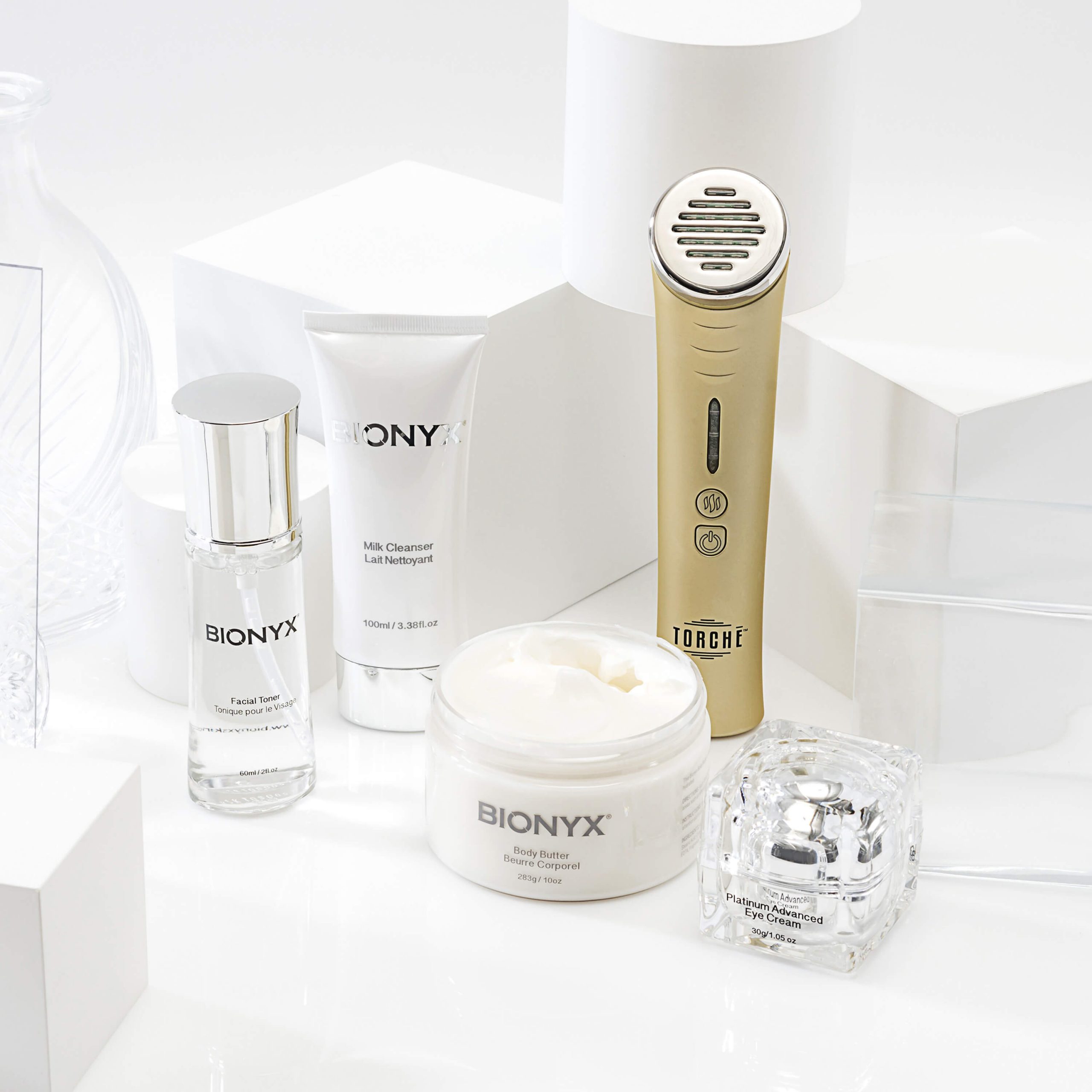 Now, you are armed with the knowledge and the perfect products to ignite your skincare regime. You might be wondering – what order do I use these products in?
Here is a useful step-by-step reminder of the sequence in which to use these products, and a general guide to frequency for maximum results! Please remember to check individual packaging for specific instructions.
There are several products and therapies available to reduce the appearance of enlarged pores. For most, sticking to a strict skincare routine and drinking adequate water, along with a balanced diet, helps to improve the skin's overall look and feel.
Please remember, if at-home treatments are ineffective and your skin quality is impacting your self-esteem, please seek out a doctor or dermatologist for further advice.
The skin of your dreams is only a skincare regime away when you've got Bionyx on your side!