Published: October 15, 2022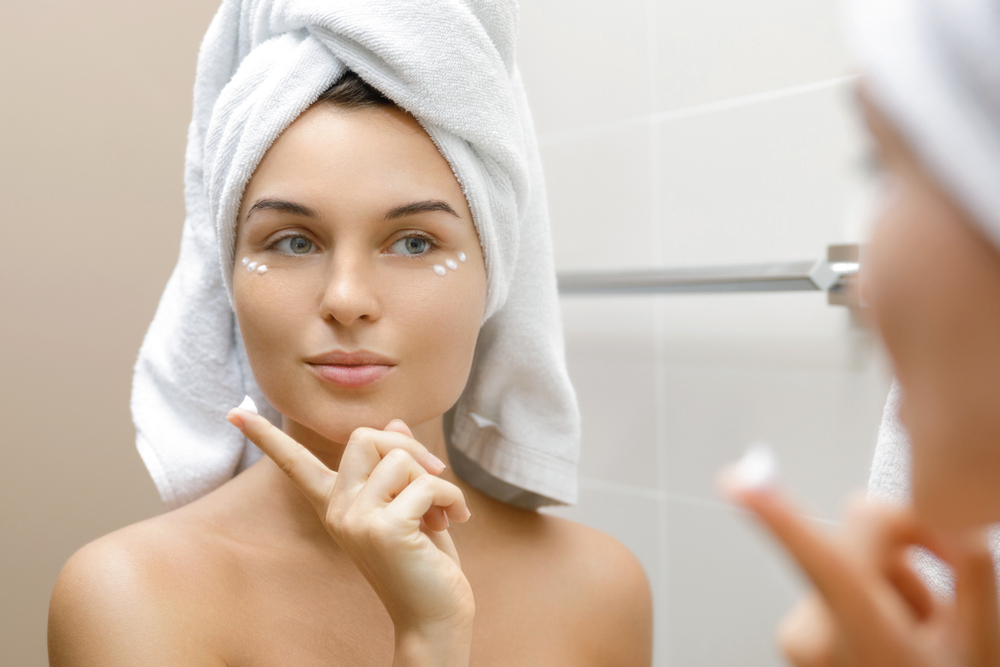 As you get older, you might have noticed that your eyes are the first part of your body to give your age away. Crow's feet, fine, lines, dark circles, and puffiness are all common signs of aging that you'd normally experience on the skin around your eyes. This is why eye care is a pivotal part of a good skincare routine. When you use products specifically designed for the delicate skin around your eyes, it can make all the difference in the world!
Bionyx is a brand that highlights all the rich properties of colloidal platinum in our skincare formulations. We're confident that our curated eye care products will help you reduce the visible signs of aging skin around your eyes. We're here with a proper eye care routine that can help you get your youthful glow back and reignite your inner beauty! 
An Eye Care Routine: The Bionyx Way!
You can't expect to benefit from your eye care products unless you're using them correctly. So, here is a proper skincare routine with Bionyx:
Cleansing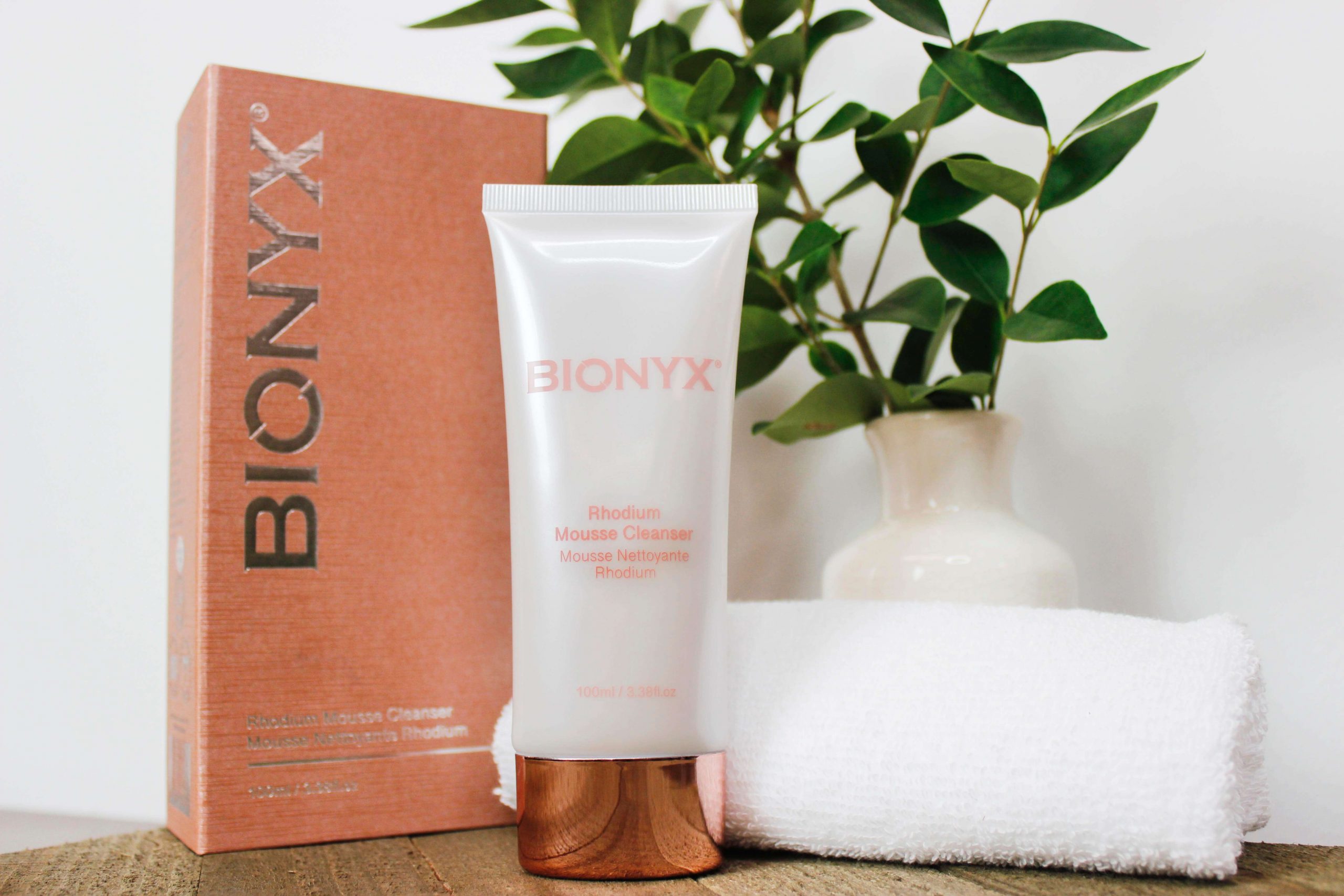 The first step is always to get your favorite cleanser and hop into the bathroom! And we've got the perfect solution for you — our creamy Rhodium Mousse Cleanser. You can't go wrong with this advanced formula that's designed to clear away dirt, sebum, makeup, and all sorts of debris from your skin. It features hydrating ingredients, plant-derived amino acids, and colloidal platinum to pamper your skin.
The formula infuses glycerin — a powerful humectant — that hydrates the top layer of your skin by drawing moisture from your environment and the deeper layers of your skin. The cleanser also incorporates skin-loving acids — citric acid and amino acids — to enhance the tone and texture of your complexion. Citric acid is a popular BHA that can fade the look of age spots, discoloration, and dullness. The amino acid blend of sodium cocoyl and potassium olivoyl helps free your skin of contaminants and impurities while maintaining its soft and supple feel.
To apply the Rhodium Mousse Cleanser, take a small, dime-sized amount and apply it onto damp skin. Remember to use slightly warm water to wet your skin. Massage gently in circular motions until you notice a satisfying lather start to form. Do this for roughly 20 seconds and then rinse with warm water to reveal skin that appears fresh, balanced, and deeply moisturized.
Toning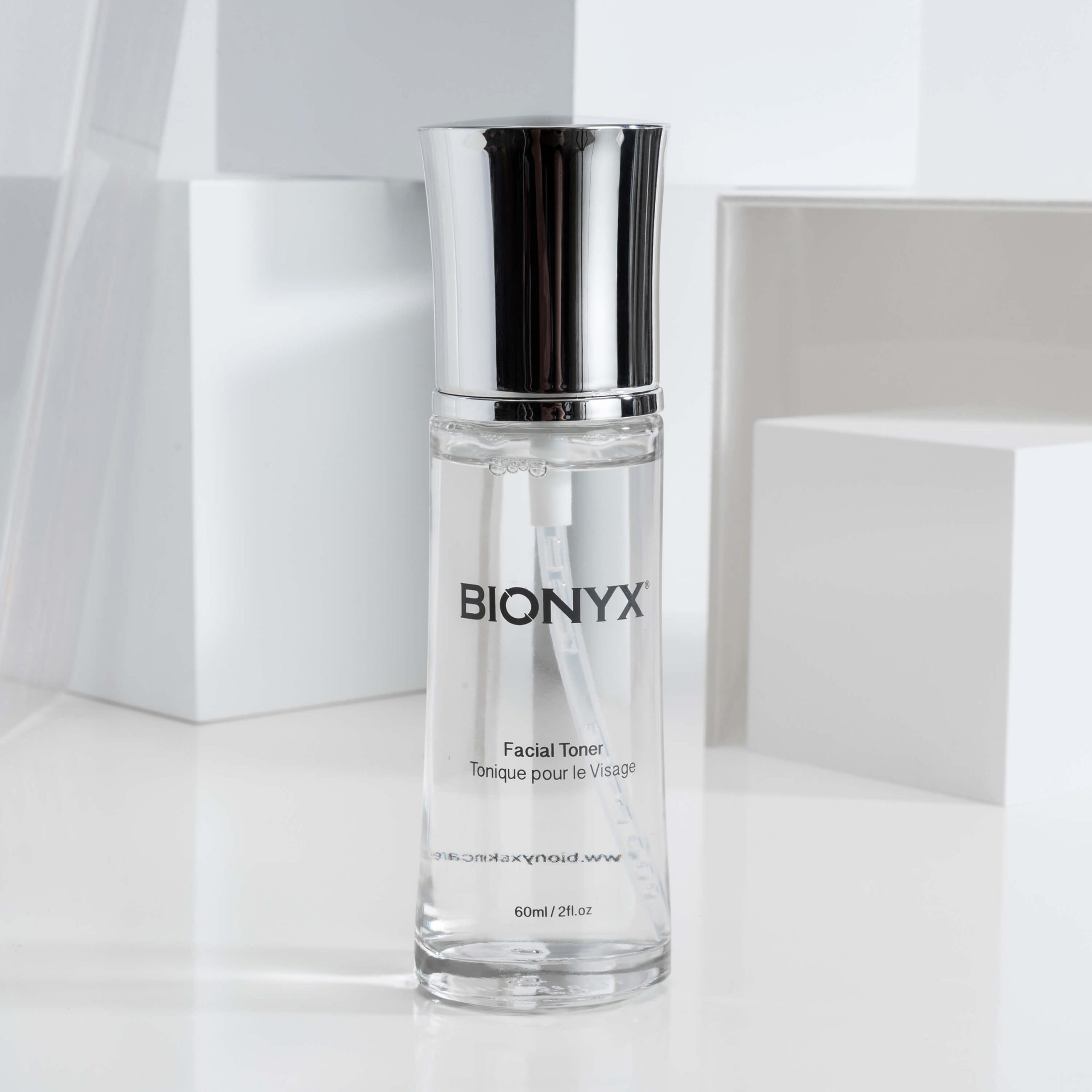 After cleansing, toning your skin is a must. But why is that? Facial toners help to balance your skin's pH after cleansing, making it appear fresh. These formulas are designed to help rid your skin of any leftover impurities and give it a final, clarified look.
You might want to check out our Rhodium Facial Toner to get the results you need. The formula is infused with rich hydrating and skin-enhancing ingredients to gently balance the feel of your skin. This cooling tonic combines sodium hyaluronate, hydrogenated castor oil, and glycerin to deeply moisturize your skin, giving it a healthy and rejuvenated appearance. Sodium hyaluronate is highly effective for minimizing the appearance of aging skin as it can fade the look of wrinkles and fine lines. Similarly, castor oil can help in keeping your skin looking healthy due to its strong emollient properties.
Our Rhodium Facial Toner is also infused with niacinamide (vitamin B3) and colloidal platinum to give you exceptional results. Niacinamide helps to diminish the appearance of pores, retains moisture, and enhances your complexion's texture. Colloidal platinum has exceptional properties to make your skin appear lifted and firm, giving you a stunning, youthful glow!
Experience a renewed, plumper look by making the Rhodium Facial Toner a part of your daily skincare routine. To apply, take a small amount to a cotton pad and gently smooth it over your freshly-cleansed skin until it's properly absorbed.
Eye Serum/Eye Cream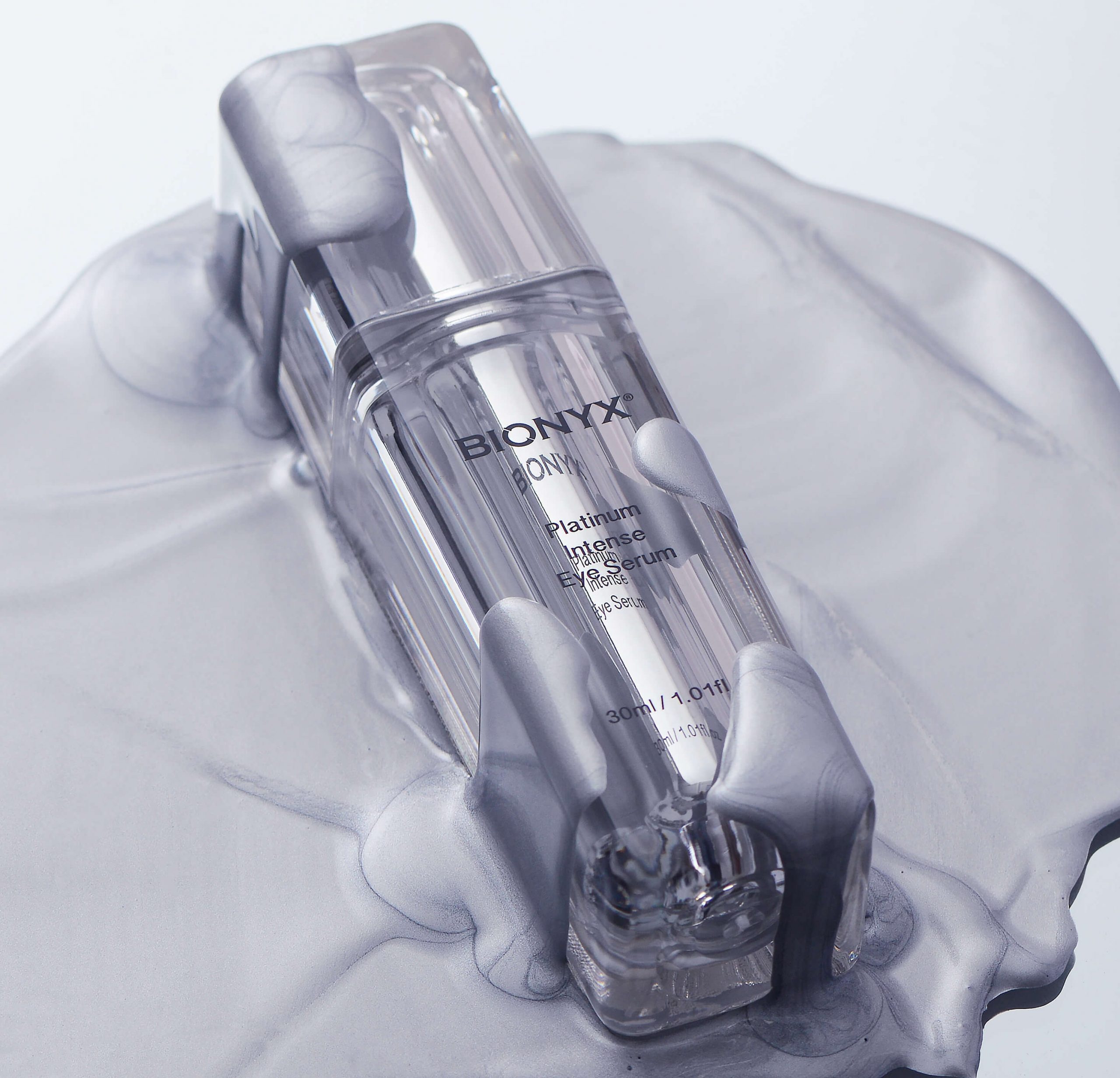 Now that you've cleansed and toned, the skin around your eyes is prepared for an eye serum or cream to be applied. But first, let's talk about the signs of maturing skin in this area.
Symptoms of Aging Skin Around Eyes
With age, your face naturally becomes drier, wrinkly, and loose. But you might have noticed that the skin around your eyes is already much drier than the rest of your face. Why is that so?
Your skin stays moisturized because of the presence of sebaceous glands — your natural oil-producing glands. These glands also keep your skin waterproof, thus protecting it from friction and retaining moisture. But these glands are not present in a sufficient amount around your eyes, making this area especially dry.
Similarly, you might also experience swollen eyes as a result of natural aging. The tissues in your eyelids weaken as you age. This causes the upper eyelid fat to come down to your lower eyelid.
Dark circles are also a common symptom of mature skin under your eyes. This area of your skin has many capillaries to hold fluid inside. With age, it starts to loosen and becomes much thinner than it already is. This makes the vessels more prominent underneath your eyes, causing dark, puffy bags to appear (AKA dark circles).
So, what can you use to help fade the appearance of these issues?
Platinum Intense Eye Serum
To help deeply moisturize your skin and make it appear younger, our Platinum Intense Eye Serum is just the eye care formula you need! If you have trouble with tired, weary eyes, this product can help you rekindle your youthful glow.
The serum is designed to reduce the appearance of fine lines and wrinkles around your eyes. It's infused with botanical extracts, peptides, and colloidal platinum to give your eyes a well-rested and radiant look. It combines sodium hyaluronate, allantoin, and glycerin to alleviate dryness around your eyes. These ingredients work to improve the appearance of rough, flaky, and itchy skin.
Our advanced eye care formula includes trehalose, which is known to diminish the signs of damage on your skin caused by UVB rays. It also infuses caffeine. This compound has shown a high potential to help alleviate the appearance of dark circles and puffy eyes. Just like it works inside your body to give you a jump start on your day, it can help awaken the look of your eyes!
The Ultimate Eye Care Device: The Photonix-2 Jade Eye Wand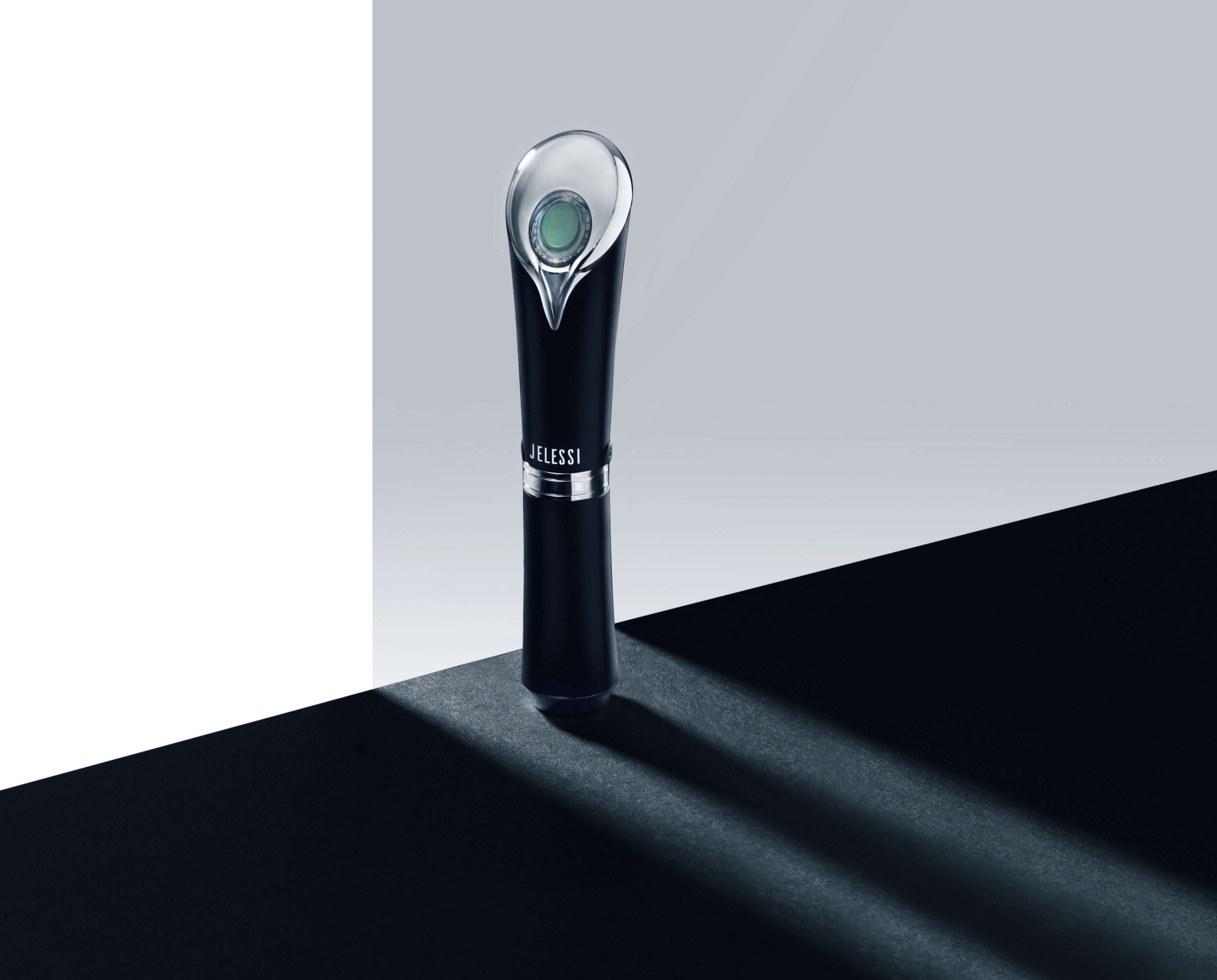 To get the best results from our Platinum Intense Eye Serum, pair it with our advanced Jelessi Photonix-2 Jade Eye Wand! This eye care device employs the latest technology in the skincare world to help diminish the appearance of fine lines and crow's feet around your eyes. It's carefully designed to treat the delicate, thin skin around your eyes gently but effectively.
It comes with two built-in modes to fade the look of tired eyes and promote a youthful appearance.
Mode 1: Fading the Look of Aging
Press the left button; you should see the red light indicating mode 1.

Choose the desired combination and wait a minute till the metal head heats up to 107°F.

Apply the Platinum Intense Eye Serum to the metal head and gently massage around your eyes for about 5 to 7 minutes.
Mode 2 — Fading the Visibility of Puffiness
Press the right button; you should see a blue light indicating mode 2.

Choose the desired combination.

Massage the skin around your eyes for 5 to 7 minutes.
When you're done, turn off the Photonix-2 Jade Eye Wand and clean it with a cloth. Do not use soap or other disinfectants directly on this eye care device. We recommend using it 2 to 3 times a week for the best results!
A Targeted Eye Care Solution (Special Occasions)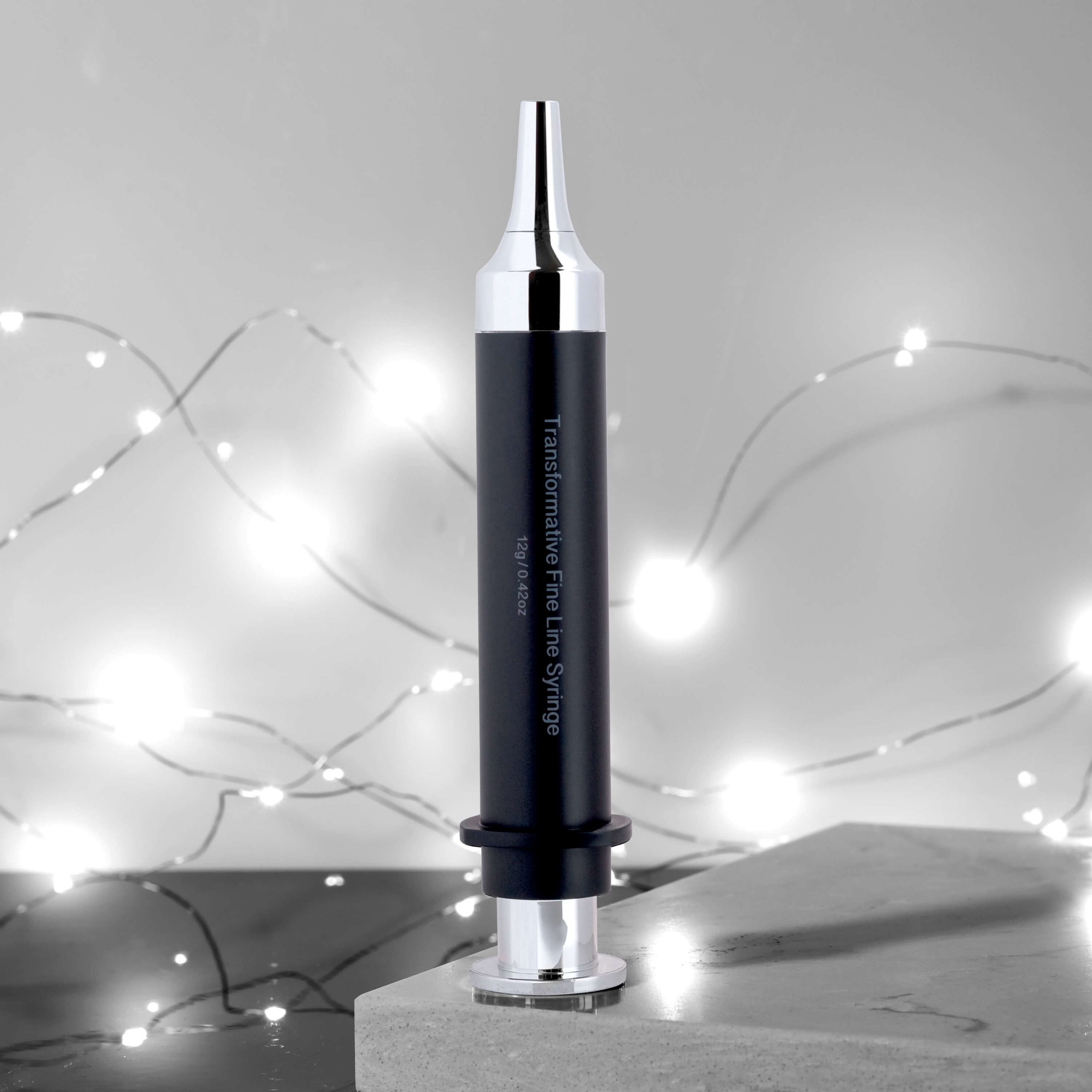 Did you know that the thinner your skin is, the more it is vulnerable to natural aging? Thin skin means more susceptibility to damage from environmental aggressors, including harsh UV rays and pollution. In addition, your eyes tend to always be in motion or under stress. Blinking, squinting, frowning, rubbing — they're only ever at ease when you sleep.
So, it makes sense to show your eye area some extra TLC in your skincare regimen to keep it looking healthy.
We've got another great Bionyx eye care product to incorporate into your routine — the Transformative Fine Line Syringe. The formula diminishes the appearance of wrinkles and creases around your eyes with its blend of vitamins, peptides, and organic botanicals.
The solution includes several skin-loving botanicals, including avocado oil and cucumber fruit extract. The latter serves as a rich source of vitamin C. It's proven highly effective in helping to ease the look of wrinkles. Blended with a combination of acetyl hexapeptide-8 and sodium hyaluronate, the Transformative Fine Line Syringe provides a sensational blend for rejuvenating the look of your eye area.
With powerful vitamins like retinyl palmitate (vitamin A) and tocopheryl acetate (vitamin E) at play, the formula promises to leave your skin feeling smoother and looking much more youthful than ever before! This gentle yet effective solution is proven to be suitable for all skin types.
Moisturizing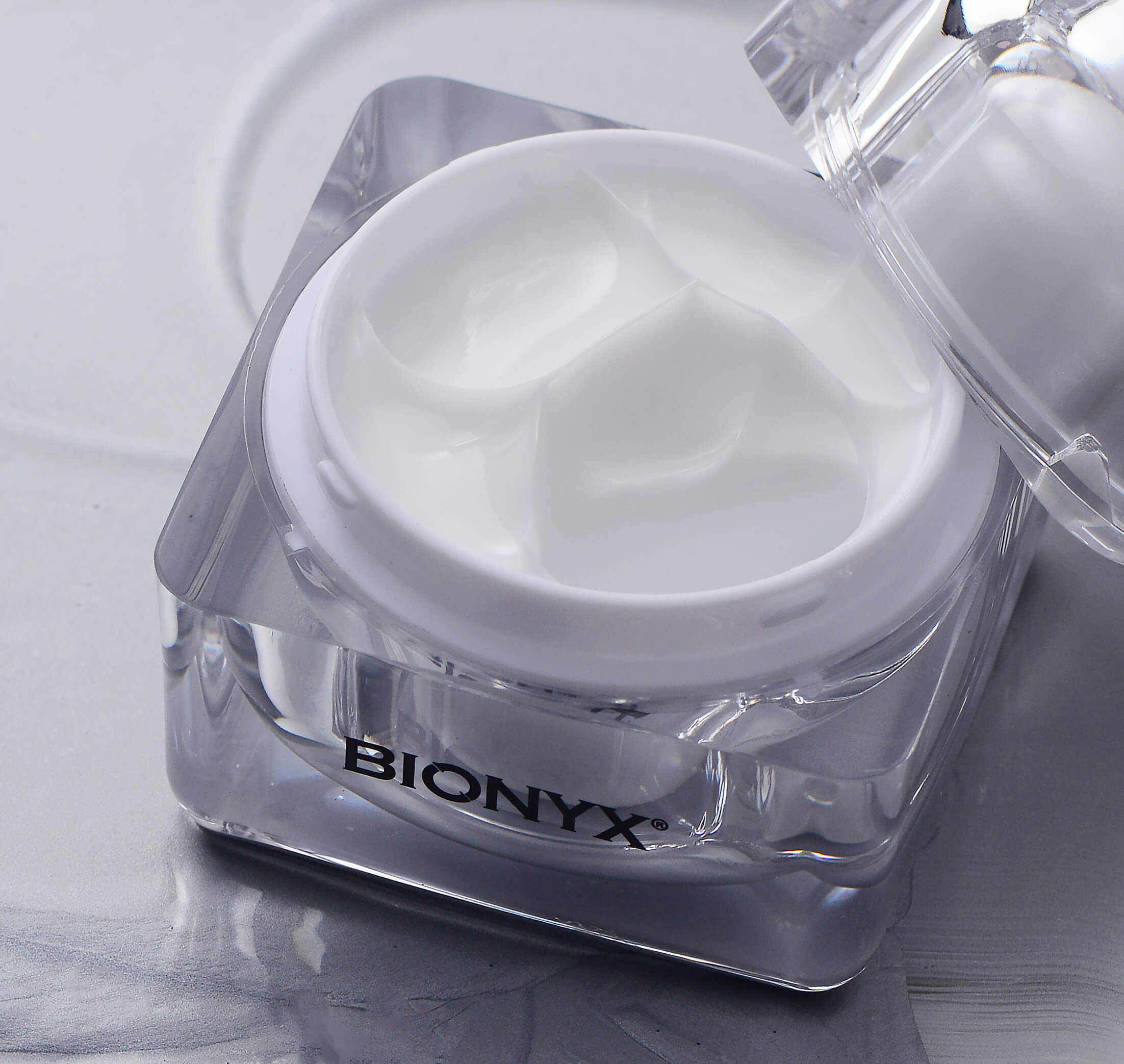 To provide a covering layer to your eye care solutions and promote their absorption, it's good practice to use a facial moisturizer. Our Platinum Transformative Cream is formulated with decadent ingredients, like colloidal platinum and sodium hyaluronate, to alleviate the look of dryness and irritation. 
The formula contains peptides and rich botanicals, including green tea, licorice root, witch hazel, seaweed, and sunflower seed wax. These ingredients enhance your complexion's tone and texture by keeping it deeply moisturized.
Jojoba esters and lactic acid in the mix keep your skin looking healthy and youthful, reducing the appearance of fatigue and fine lines. Vitamins E and B5 in the formula help alleviate the look of puffy, irritated skin and age spots on your face. Experience a renewed sense of self with this advanced moisturizing cream that leaves you with a lasting glow!
To use the cream, scoop out a coin-sized amount from the jar with your clean fingertips. Massage it over your face and neck in gentle upward, outward strokes until it's absorbed.
Mask Up!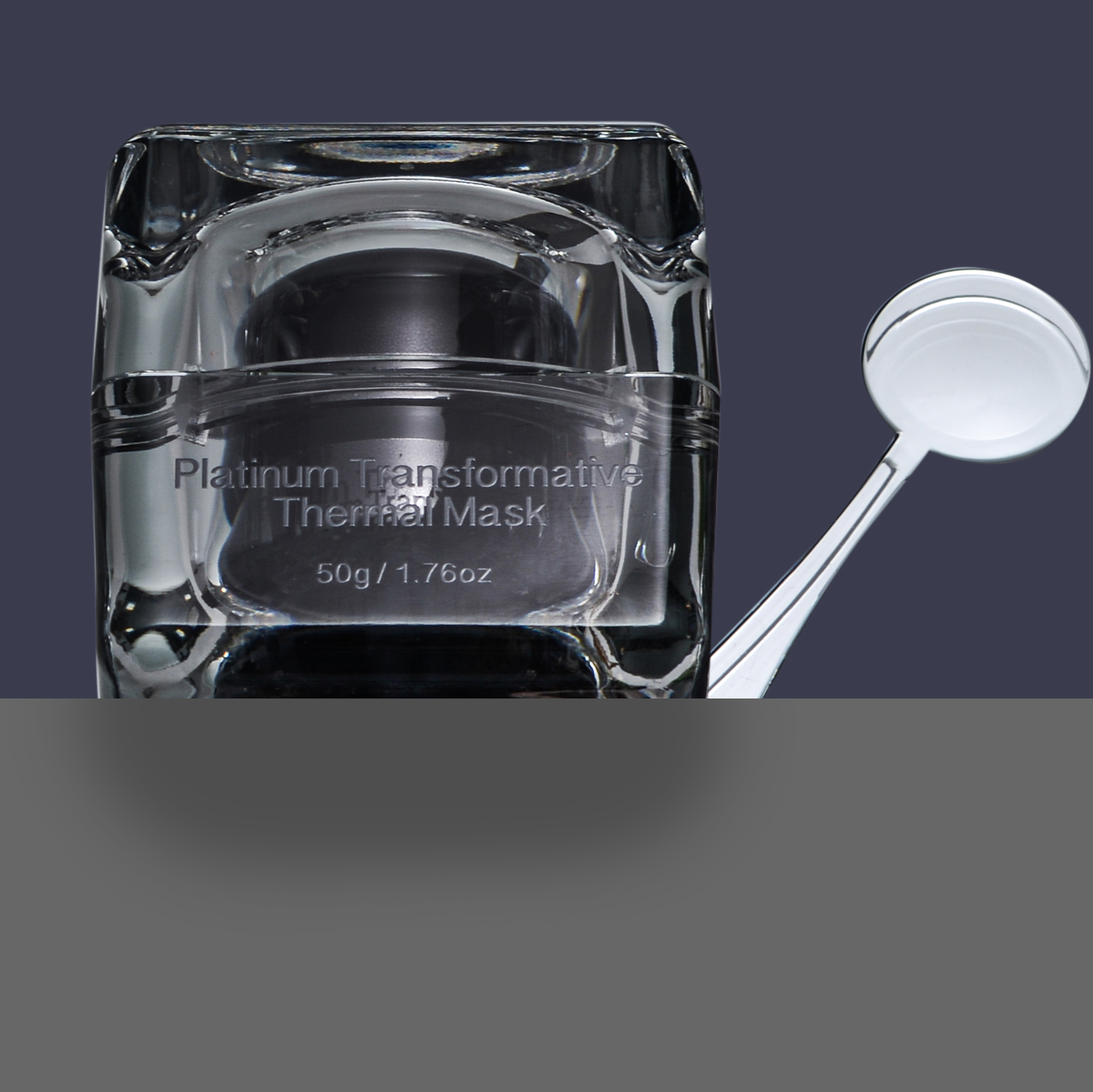 For those special at-home spa days, you can treat your skin to our Platinum Transformative Thermal Mask. It promises an extravagant experience for your skin.
The mask infuses zeolite and kaolin to absorb dirt and sebum from your skin. It also includes vitamins A, C, and E to enhance the texture and tone of your complexion. Powerful fruit extracts, like coffee, sweet almond, and lemon, refine the appearance of fine lines and wrinkles. Witness a lustrous glow after every use!
To apply, scoop out a small amount with your fingertips and spread a thin layer over your face and neck. When the mask slowly heats up, allow it to set for 10 to 15 mins. Rinse thoroughly with cool water. Use once a week for great results!
Up Your Eye Care Game with Bionyx!
With the Bionyx eye care routine in motion, you can prepare to say hello to the new you! Our eye care formulas have been prepared after extensive research to incorporate the best ingredients for this delicate area. Try these out and we're confident you'll love what you see!
Click here to browse more bestselling skincare products from Bionyx.