Published: August 30, 2022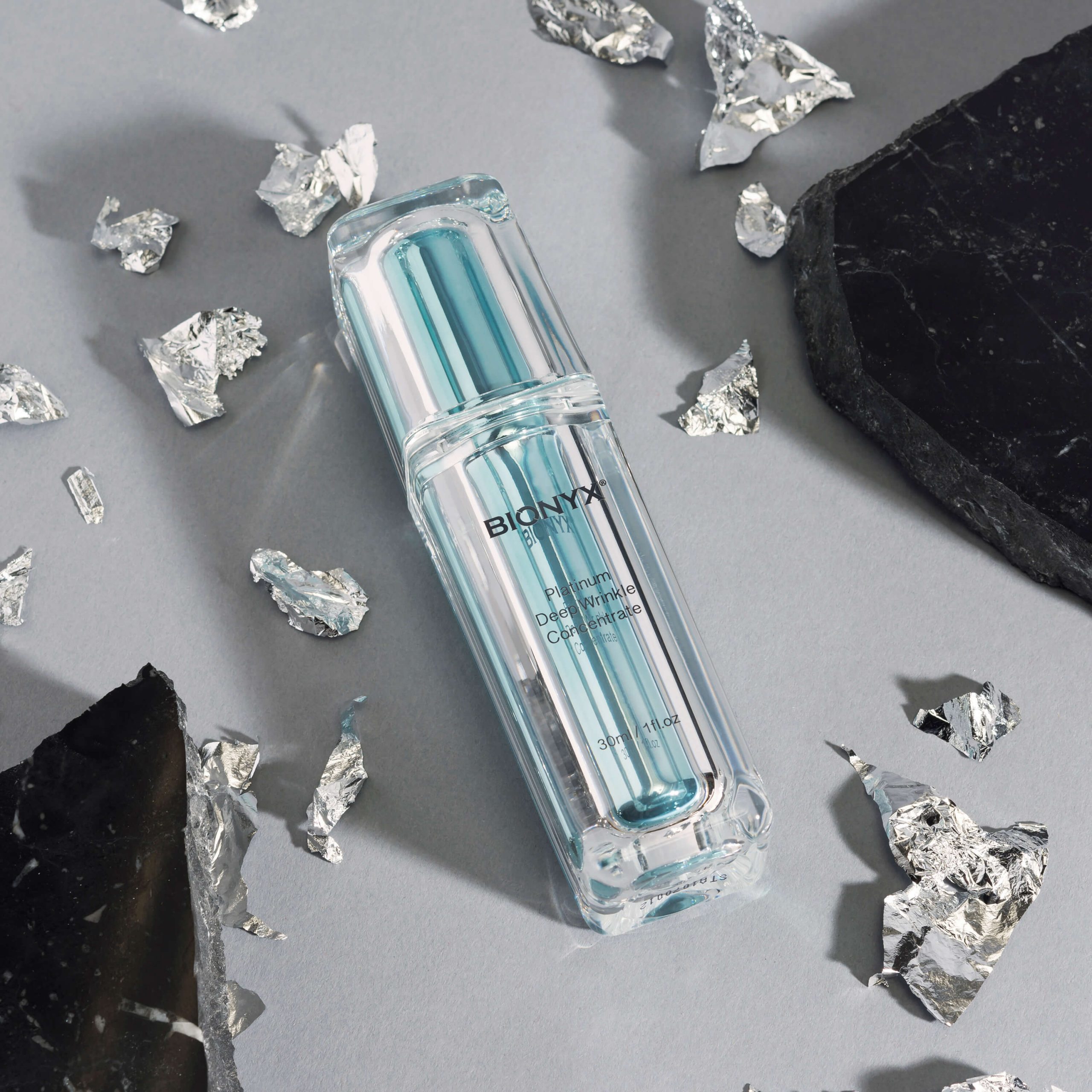 Fine lines, wrinkles, folds in the skin…these may be an inevitable part of the aging process, but that doesn't mean that we want to see them. Even worse, with the chronic stress, unnatural postures, heavy air pollution, and hectic schedules that modern day life has bestowed upon us, premature aging is more prevalent than ever, meaning that those wrinkles are likely to start creeping up on your face sooner than they should be.
So, what can you do to prevent and reduce the appearance of wrinkles?
You're likely more than aware of the huge amount of choice out there when it comes to skincare products that promise to minimize the visibility of lines and creases. And, here at Bionyx, we've thrown our own offering into the mix; the BioLift Platinum Deep Wrinkle Concentrate.
What makes this serum so special? And can it actually give you younger-looking skin? Read on to find out!
What Exactly is the BioLift Platinum Deep Wrinkle Concentrate?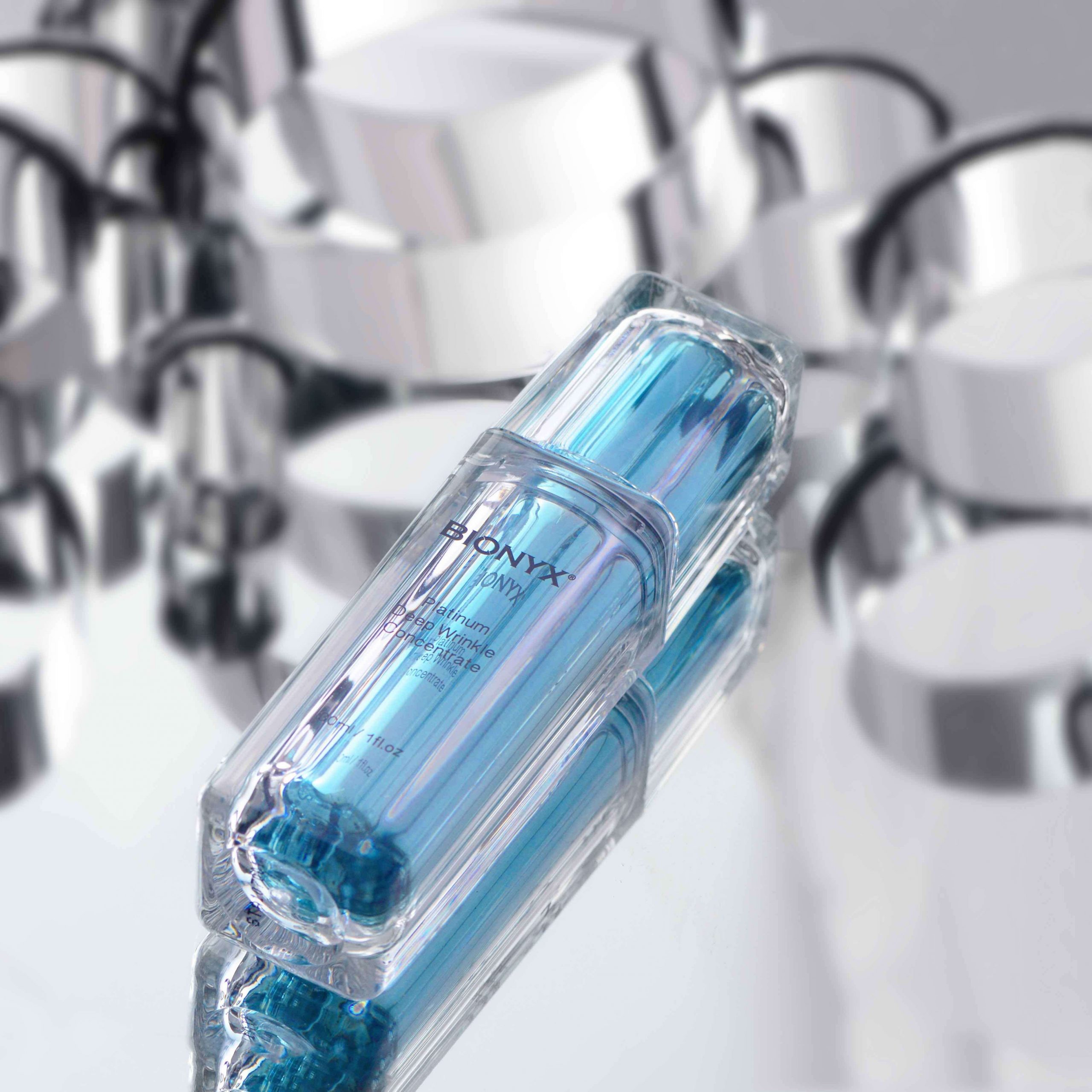 The BioLift Platinum Deep Wrinkle Concentrate from Bionyx is a silky, lightweight serum. Designed to reduce the appearance of fine lines and wrinkles, this serum works to boost the look of volume and elasticity in the skin.
Regular use of this serum leaves the complexion with a firmer, fuller, and smoother finish. Wrinkles become less visible and the skin feels tighter and bouncier. It's everything that you could want, plus so much more, from a serum!
What's in the BioLift Platinum Deep Wrinkle Concentrate?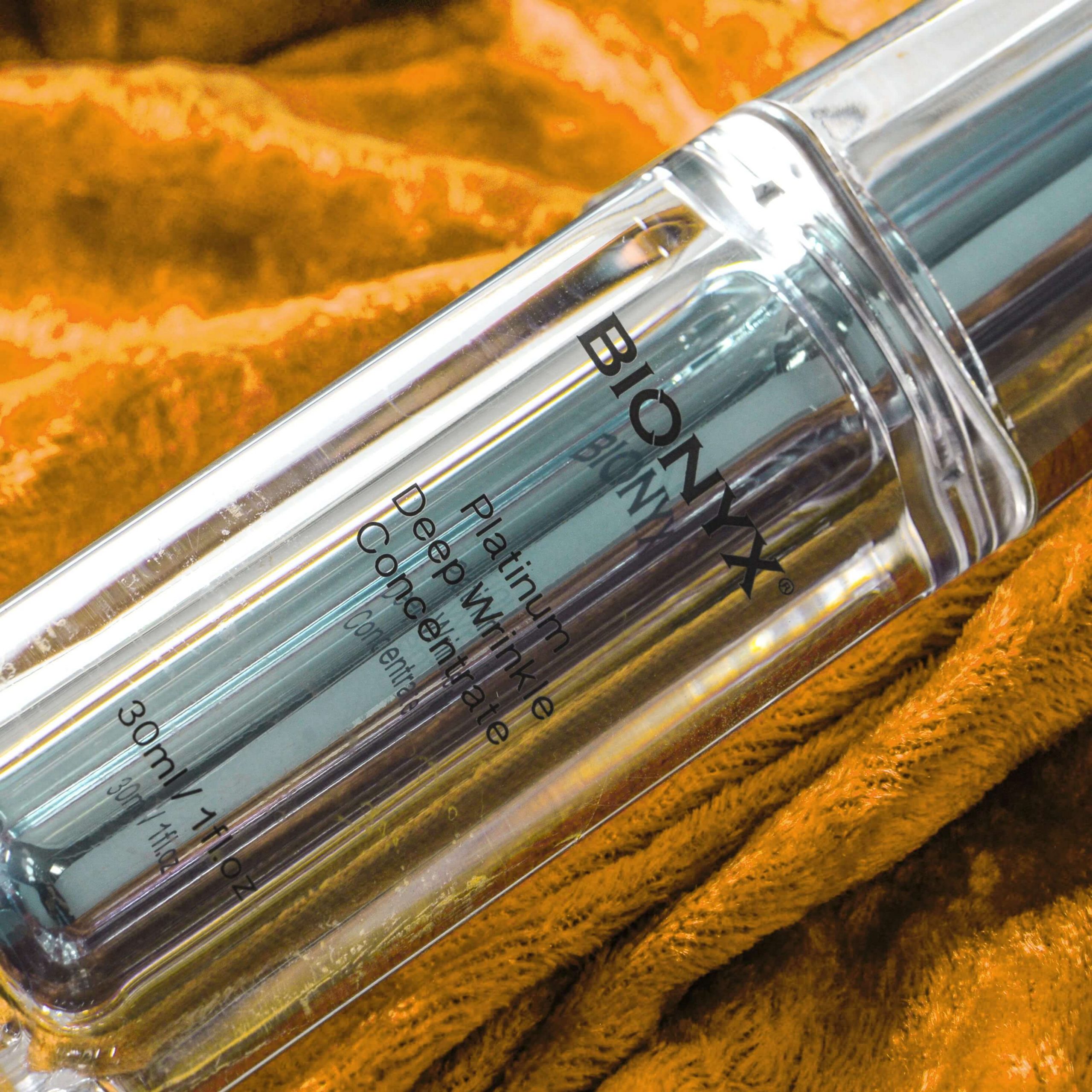 In order to truly understand how this serum is able to do what it does, you'll need to learn more about the high-quality ingredients that we've blended into this formula. Let's take a closer look at some of this serum's most potent actives:
Vitamin A (Retinyl Palmitate)
When it comes to reducing the appearance of wrinkles, even those deep set creases, vitamin A is an ingredient that you definitely want in your skincare routine. It's a powerhouse at giving the complexion a firmer and tighter finish.
There are several forms of vitamin A out there, but we went with retinyl palmitate. It may not be the most potent, but it's also the form that's least likely to cause side effects. We wanted this to be a serum that people of all skin types could use daily, without having to worry about their skin feeling irritated afterward.
Plus, it produces the same range of skin-loving benefits as the other forms of vitamin A out there – it just takes a little longer to work.
Vitamin C (3-0 Ethyl Ascorbic Acid)
Vitamin C is another must-have for anyone seeking younger-looking skin. Not only is it an antioxidant, but it's a dermatologist-recommended ingredient for a brighter and tighter complexion.
Just like with vitamin A, you'll encounter a variety of forms of vitamin C. In the BioLift Platinum Deep Wrinkle Concentrate, you'll find 3-0 ethyl ascorbic acid. This is one of the most stable forms of vitamin C available. It's also both oil- and water-soluble, which means that your skin will be able to soak it up without any problems.
Vitamin E (Tocopheryl Acetate)
Vitamin E completes the trifecta of skin-loving vitamins in the BioLift Platinum Deep Wrinkle Concentrate. It works beautifully in conjunction with vitamins A and C, with all three maximizing each other's visible effects.
Tocopheryl acetate is a highly effective form of vitamin E. Proven to reduce the look and feel of inflammation and redness while keeping the skin moisturized, its long-term benefits make it worth the commitment.
Colloidal Platinum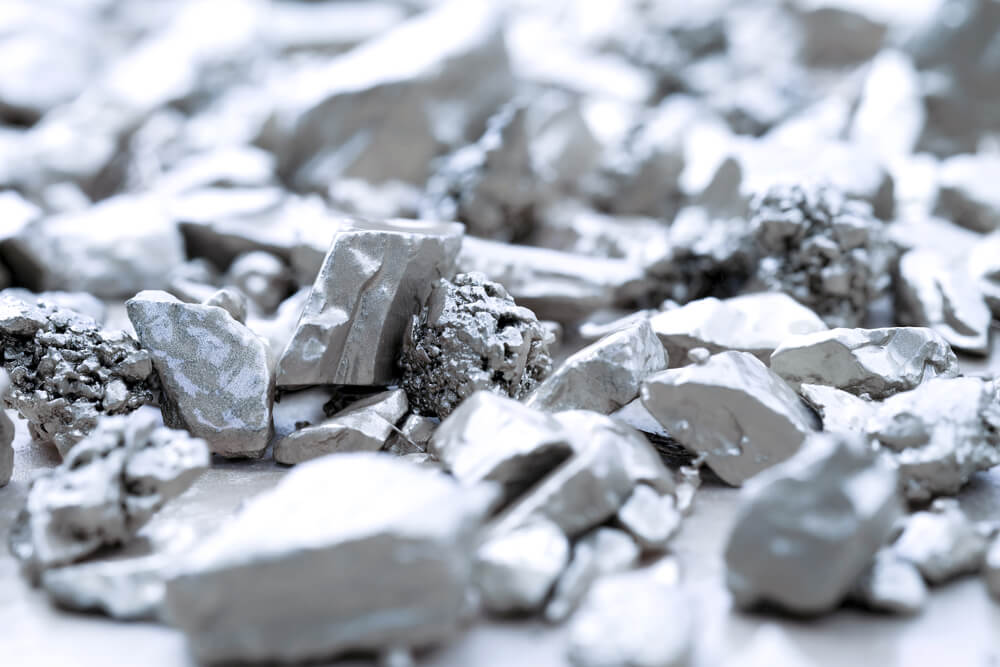 Colloidal platinum may not be an ingredient that you'd expect to see in a face serum, but it's our signature ingredient here at Bionyx.
It's another great ingredient for reducing the look of inflammation, which will give you younger-looking skin in the long run. It also enhances the look of strength and vitality in the skin, giving the complexion a lit-from-within glow.
Sodium Hyaluronate
You've probably heard of hyaluronic acid before. This humectant has earned cult status because of how effective it is at hydrating the skin. Well, now it's time to meet sodium hyaluronate – the salt form of hyaluronic acid.
With a smaller molecular size, sodium hyaluronate is able to dive deeper into the skin, bringing its moisture-binding properties to the cells that really need it. The result? Skin that immediately looks plumper, brighter, and softer.
Take Note of the Packaging…
Encased in a sleek blue bottle, there's no denying that the BioLift Platinum Deep Wrinkle Concentrate will look pretty snazzy on your dresser. However, packaging isn't only about aesthetics…
You'll likely own many serums that come in transparent glass bottles. This isn't ideal, since exposure to light can quickly degrade many active ingredients. Not only does this mean that they won't transform your appearance in the way that they should, but some ingredients can be downright dangerous once they have oxidized.
That's why we went with an opaque container for our BioLift Platinum Deep Wrinkle Concentrate. It keeps the potent ingredients within safe from light, while the lid's seal prevents air from seeping in.
Even better, the packaging that we've used for this serum, as well as for all other Bionyx products, is recyclable. Gone are the days of adding your skincare packaging to landfills if you choose Bionyx!
How to Use the BioLift Platinum Deep Wrinkle Concentrate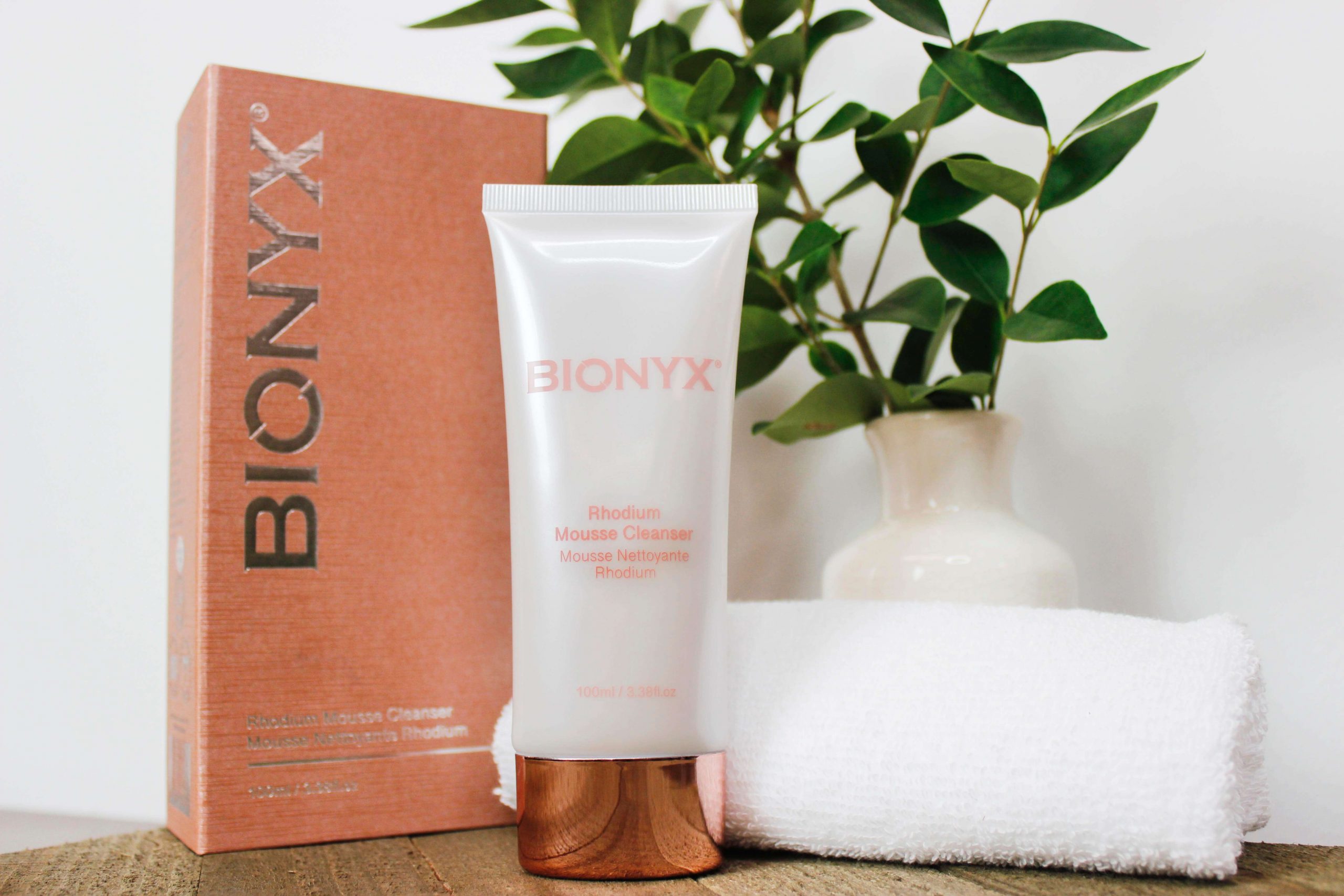 So, how exactly do you use the BioLift Platinum Deep Wrinkle Concentrate? And where exactly does it fit into a skincare routine?
Well, as always, cleansing needs to be your very first step. There's no point applying such a potent serum if the surface of your skin is clogged with gunk and debris. So, clear all of this away with the creamy and ultra-decadent Rhodium Mousse Cleanser. Infused with amino acids, this cleanser will form a rich but gentle lather that will leave your skin feeling perfectly refreshed and rejuvenated.
Once you're done cleansing, dab on some of the Rhodium Facial Toner. Although not as essential a step in your routine as cleansing, it's still a great way to give your skin some extra TLC. Your complexion will feel balanced and beautifully prepped for the BioLift Platinum Deep Wrinkle Concentrate.
That's right, you're now ready to apply your BioLift serum. Press down on the dispenser to release one to two pumps onto your fingertips. Then, either massage or pat this into your skin, focusing on the areas that have the most wrinkles.
Once you're done, it's time to lock all of that goodness in with a moisturizer. We have several creams that'll help to diminish the visibility of your wrinkles, such as the Platinum Transformative Cream.
What Else is in the Bionyx BioLift Collection?
If you'd like to enhance your skincare routine even further with another addition from the BioLift Collection, feast your eyes on the BioLift Platinum Elasticity Mask.
Designed to be used weekly, this mask also contains vitamins A and E. This doubles up on the visible benefits that you'll be experiencing from your BioLift serum. However, in addition to vitamins, this mask also contains a mix of clays that will leave your skin feeling detoxified and renewed.
However, don't worry, this clay mask won't leave your skin feeling dry. We've also infused it with select plant oils to give the skin a hydrated glow.
Simply spread an even layer of the mask over your face and neck. It's important not to forget about the neck – this area often develops the appearance of wrinkles even sooner than the skin on the face. Then, sit back and relax for 10-15 minutes before rinsing the mask off. Follow up with your favorite Bionyx moisturizer!
Looking for Faster Results?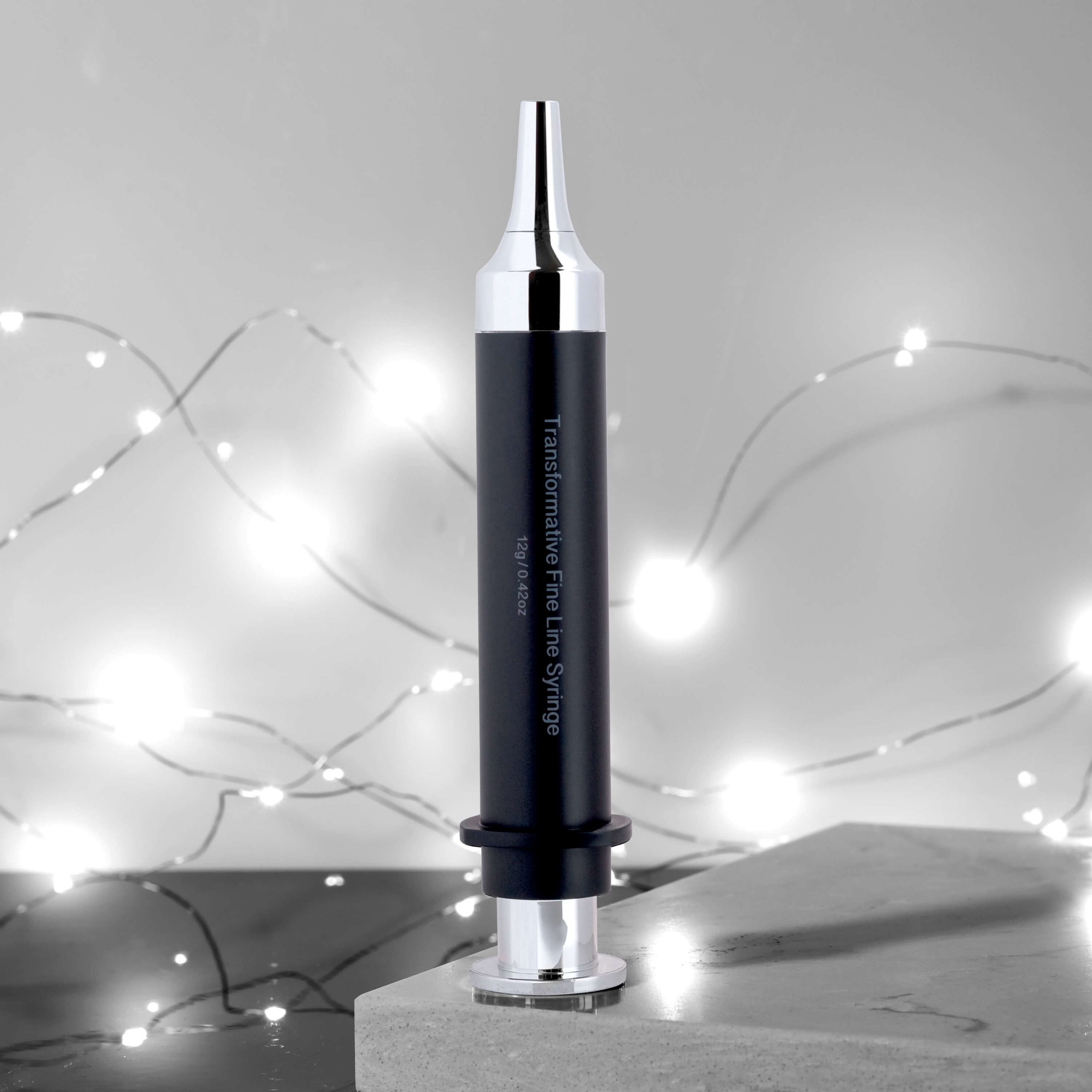 Although both of the BioLift products that we've featured above will give your complexion an instant glow, they do take a little time to work when it comes to reducing the appearance of fine lines and wrinkles. After all, your skin needs time to produce those visible changes.
However, don't despair. Here at Bionyx, we understand that the waiting game can be difficult. This is why we created the bestselling Transformative Fine Line Syringe.
Designed to immediately mask the look of fine lines and wrinkles, this product is ideal for those seeking instant gratification.
Even better, it's completely non-invasive. It may look like a syringe, but it's a topical serum. Simply point the applicator directly over the top of each wrinkle and then press down on the dispenser to release the product. As it soaks into your skin, you'll notice that the wrinkle you targeted now looks less visible!
How does it work?
It all comes down to its special ingredient blend. You'll find a combination of DMAE, acetyl hexapeptide-8, and sodium hyaluronate in this blend. It also contains our signature ingredient, colloidal platinum, plus a number of other skin-loving compounds. You won't find unnecessary fillers in this formula, which is what makes it so powerful.
Other Bionyx Products That Diminish the Look of Wrinkles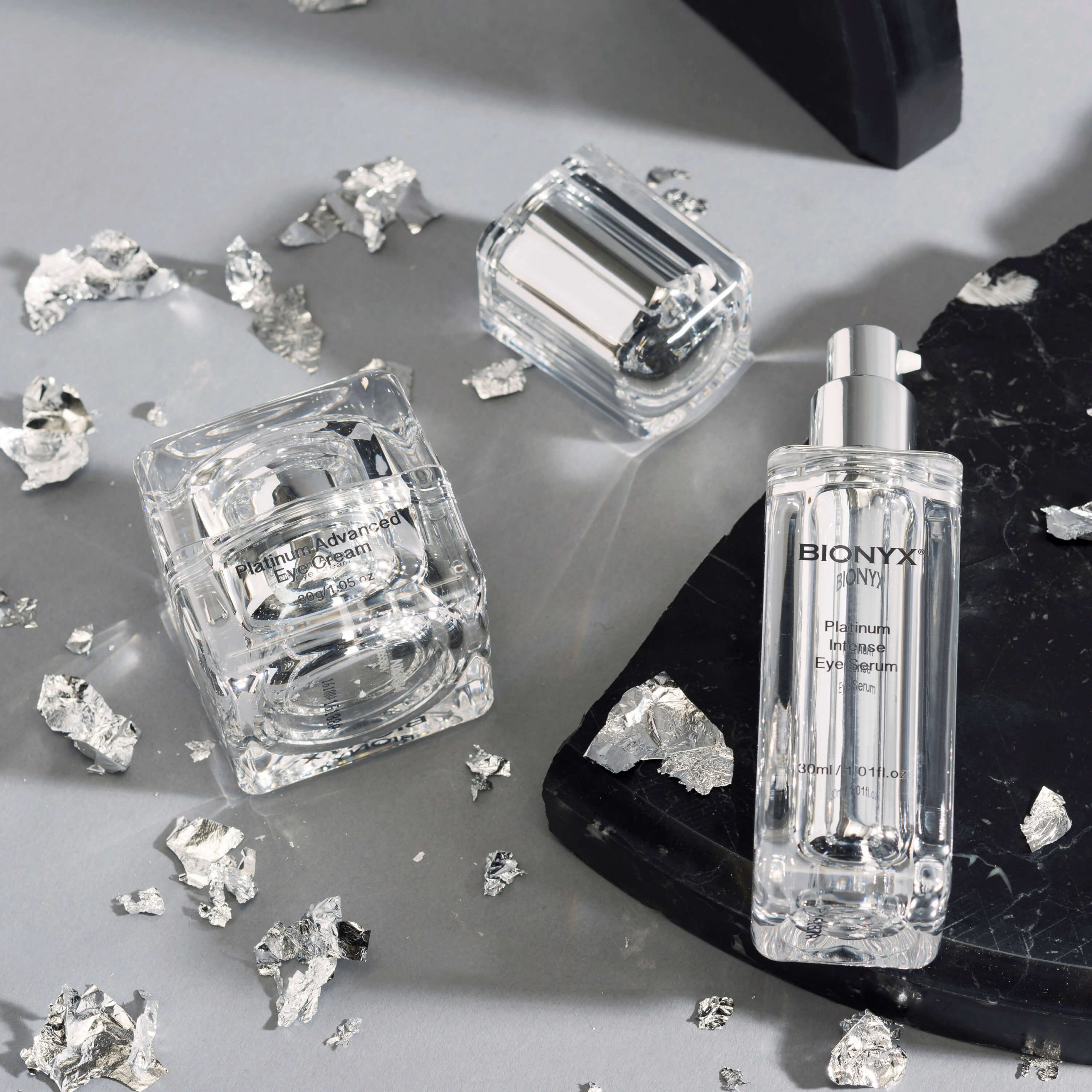 You'll find several other products from Bionyx that are geared towards diminishing the look of wrinkles.
In addition to our cleanser and toner, we would recommend adding two or three serums into your routine. The BioLift Platinum Deep Wrinkle Concentrate is one, so consider some of the other serums from Bionyx too.
The Alloy Platinum Synergizing Serum will give your face a more lifted appearance, while the Platinum Intense Eye Serum hones in on the delicate skin around your eyes.
Try to keep a few different moisturizers in your skincare rotation. A separate day and night cream can be really beneficial, which, again, you'll find at Bionyx.
If you'd like to take things even further, then consider investing in a skincare device. At Bionyx, we sell two, and both use LED lights to reduce the visibility of wrinkles. One focuses on the eyes, and the other targets the neck area. Both eye skin and neck skin is extremely fragile, which is why they're often the first areas to start wrinkling.
Enjoy a Wrinkle-Free Complexion With Bionyx
Ready to embrace a youthfully firm and rejuvenated appearance? That's exactly what we at Bionyx can help you to do. Not only will our BioLift Platinum Deep Wrinkle Concentrate enable you to smooth away the visibility of those wrinkles, but use the other Bionyx products mentioned above to form a complete skincare regimen and your skin will soon start to look better than ever!