Published: October 15, 2023
You're probably familiar with how a good skin day can give your confidence a big boost. This isn't just a coincidence – numerous studies confirm that the state of a person's skin has a direct impact on their mental health. The better your skin looks and feels, the higher your self-esteem will be.
So, if you're looking for a way to inject some extra happiness and confidence into your life, start with your skin. How? Read on as Bionyx explains how to put together the perfect skincare routine to achieve a radiant complexion that's capable of giving your mental health a massive boost.
Find a Cleanser That's Suitable For Your Skin Type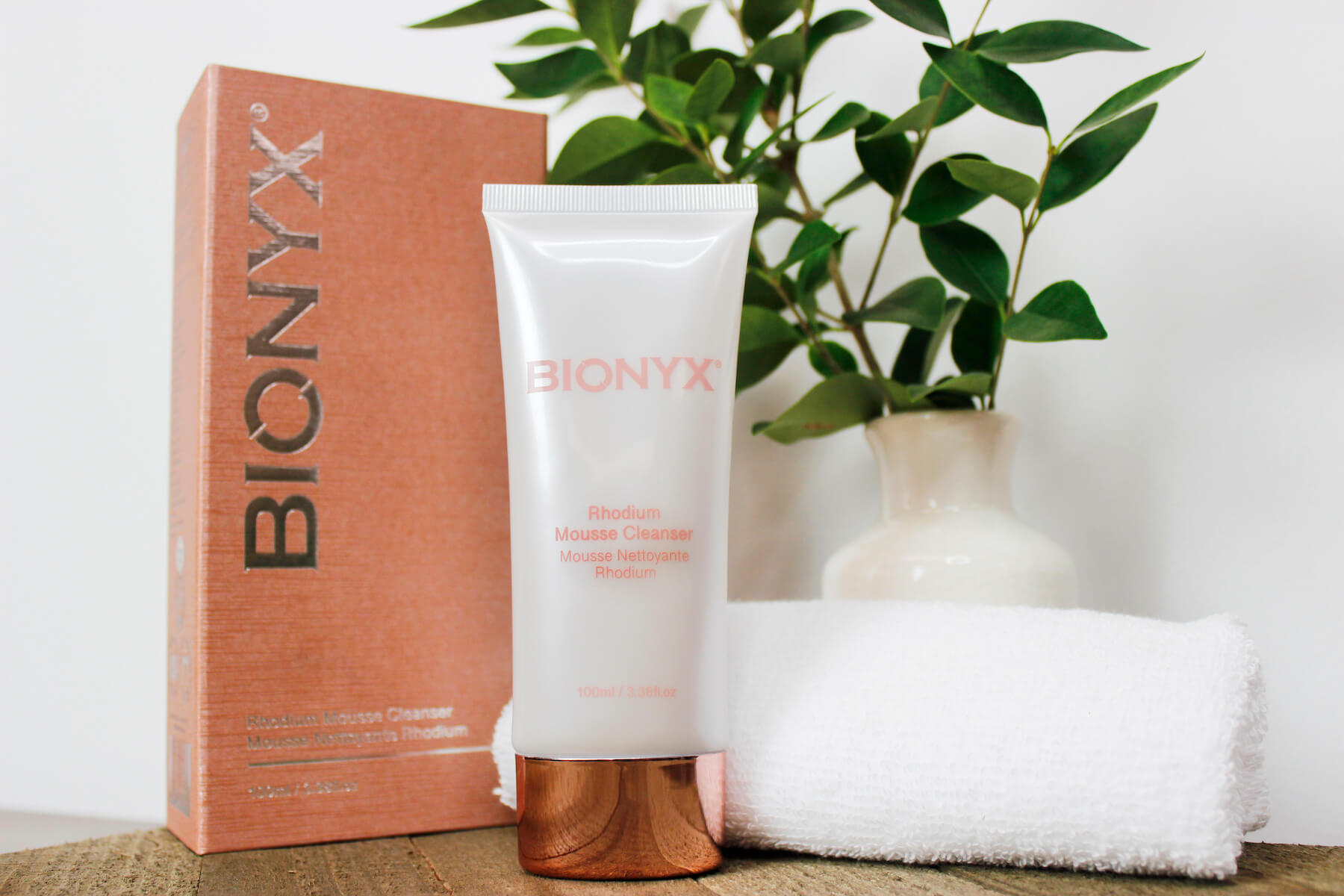 Every product in your skincare routine should be suitable for your skin type, and this begins with your cleanser. This is the first product that you should always use. If you start with something else, that product will struggle to access your skin cells since there'll be a layer of dirt, sebum, pollutants, and other impurities blocking the way.
So, how do you pick the right cleanser for your skin type?
Those with oily skin do well with foaming cleansers while people with dry skin need creamier formulas. With that said, if you would like to keep things simple, go with a mousse cleanser. This type of cleanser works beautifully with all skin types. Just like a foaming cleanser, it creates a rich lather that effectively removes excess sebum. However, unlike a foaming cleanser, mousse cleansers also contain moisturizing ingredients, which is why those with dry skin can use them too.
Give the Bionyx Rhodium Mousse Cleanser a try and you'll see exactly what we mean. Its coconut-derived surfactants cleanse and moisturize at the same time while the amino acids in this blend leave the skin feeling stronger and smoother. Just like all other Bionyx products, this one contains colloidal platinum too. It's our signature ingredient because of how it gives the skin a bright and radiant glow.
Exfoliate 1-3 Times a Week
Although exfoliation doesn't need to be a part of your daily skincare routine, it's still something that you should be doing regularly. How regularly? That depends on your skin type…
If you have dry skin, then this means that your skin barrier has been damaged in some way. Exfoliation is still important but you need to make sure that you don't cause any more harm to that precious barrier. Exfoliating once a week should be enough to prevent dead skin cells from building up on your skin without stripping away more of your skin barrier.
Meanwhile, if you have oily skin, your skin will be able to tolerate being exfoliated more often. You'll also need to exfoliate more often in order to prevent the extra sebum your skin is producing from clogging up your pores. So, exfoliate twice, or maybe even three times, a week.
What should you use to exfoliate? 
Just like when choosing a cleanser, pick an exfoliant that's suitable for your skin type. Alternatively, go with a formula that works with all skin types, like the Bionyx Rhodium Complex Facial Peeling. Gentle yet very efficient, this exfoliator will smooth, buff, and polish your complexion to leave it looking brighter and bouncier. 
Follow Your Cleanser or Exfoliator With a Toner
If you're trying to keep your skincare routine super simple, then feel free to skip this step. However, keep in mind that applying a toner only takes a few seconds yet provides some serious benefits!
To start with, a toner helps to keep the skin's pH level feeling balanced. This is something that cleansing (and exfoliating) often throws off and, in the long run, it can cause a number of skin issues. Applying a toner after cleansing counters this, ensuring that your complexion feels beautifully healthy.
Another reason to use a toner? This is such a great way to hydrate your skin. Since your toner is applied directly to freshly cleansed skin, it's able to easily and quickly access your skin cells, leaving even the deeper layers of your skin feeling quenched.
Some toners, such as the Bionyx Rhodium Facial Toner, provide additional benefits too. Not only will this formula balance and hydrate your complexion but it also contains niacinamide. Otherwise known as vitamin B3, studies show that this ingredient is capable of minimizing the look of pores while also evening out the skin tone.
Use Serums to Target Your Main Visible Skin Concerns
When it comes to tackling your main visible skin concerns, serums are one of the best tools to have in your corner. These lightweight formulas may not look like much but they actually carry a high concentration of active ingredients. This gives them the power to bring about significant transformations in the complexion.
In order for your skincare routine to reach perfect status, you'll need to pick your serums carefully. Go with high-quality formulas and don't feel that you need to limit yourself to just one. It can sometimes be more beneficial to layer multiple serums onto your skin. Start with the lightest and work your way up to the thickest to ensure that each one is able to penetrate your skin.
Need some help picking some new serums?
If fine lines and wrinkles are your bane, consider the Bionyx BioLift Platinum Deep Wrinkle Serum. It contains a number of ingredients that will help to reduce the look of skin aging. From vitamins A, C, and E to sunflower seed oil and sodium hyaluronate, this formula will quickly give your skin a smoother and more crease-free finish.
Another serum that's incredible at firming and lifting the complexion is the Bionyx Alloy Platinum Synergizing Serum. Again, this formula features a range of vitamins but it's also packed with peptides to keep your skin barrier feeling supported.
Pamper Your Eye Area
Many people include their eye area when they're carrying out their regular skincare routine, and there's nothing wrong with this. However, it's also worth keeping in mind that the skin around your eyes is different from the skin everywhere else on your face. How? It's thinner and contains fewer sebaceous glands. This means that it's more prone to dryness, dehydration, and aging.
If you've started to notice visible skin concerns arising around your eyes, then the best way to deal with this would be to add some eye care products to your skincare routine. Unlike your facial skincare products, eye care products will be formulated specifically for the delicate skin around the eyes. This means that you'll see much better results than if you were to use your facial skincare products in this area.
The Bionyx Rhodium Intensive Eye Serum, for example, is a superstar at tackling the appearance of crow's feet. With apple fiber, shiitake mushroom extract, and aloe vera leaf extract, it provides everything that your skin needs to look firmer, smoother, and plumper.
A single eye care product is often all that you'll need. However, if the skin around your eyes could do with even more TLC, layer an eye cream over your eye serum.
The Bionyx Rhodium Advanced Eye Cream would be a great choice. It will lock in your eye serum to enhance its effects while also helping with the appearance of puffiness and dark circles. Together, these products will leave your eye area looking flawlessly radiant!
Apply a Cream to Lock Your Products in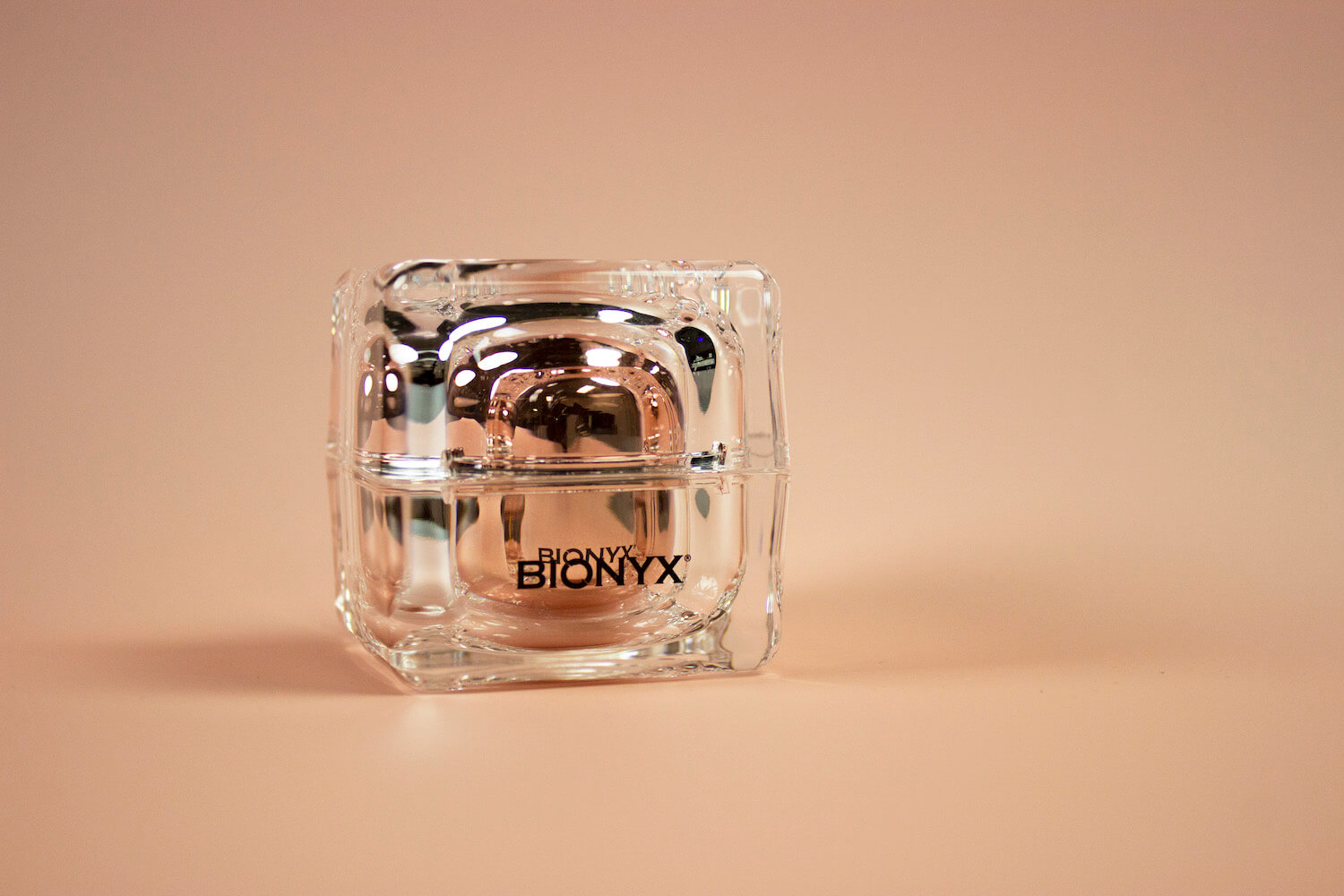 Now that you've applied all of those amazing products to your skin, it's time to lock them in with a moisturizer. If you don't, the majority of those products will end up evaporating into the air before they're able to soak into your skin. Sealing them in with a face cream will give them more time to work their magic, meaning better results from your skincare routine.
Of course, let's not forget that a good face cream will also give your skin an additional boost of moisture. Moisture is everything when it comes to healthy-looking skin, so an extra layer of this will always be beneficial!
Since your skin's needs differ during the day vs. at night, it can be advantageous to have separate day and night creams. For example, the Bionyx Rhodium Essential Day Cream has been designed to leave the skin feeling protected against the environmental aggressors that your skin will come into contact with over the course of the day. It's also lightweight enough for makeup to easily be applied over the top.
Meanwhile, the Bionyx Rhodium Night Recovery Cream boasts a slightly thicker formula. It's perfect for keeping your skin moisturized while you sleep. This is when moisture loss is at its highest, making a good night cream vital if you want to wake up to a soft and supple complexion. 
Protect With SPF During the Day
If you're creating a nighttime skincare routine, then SPF won't be needed. However, if you're following this skincare routine during the day, then the final step to carry out is to apply a sunscreen.
This is something that you should never even consider skipping. The sun causes so much damage to the complexion and SPF is one of the best ways to prevent this. Not only will it lower your chances of developing skin cancer but it will also shield your skin from the aging effects of UV rays. If you don't want to deal with wrinkles, sagging skin, and discoloration earlier on in life than you need to, then SPF is crucial.
To make sure that your skin is sufficiently protected, go with a broad-spectrum sunscreen. Look for a minimum SPF of 30 and make sure that you reapply it every couple of hours. This may seem like a chore but it's the only way to ensure that your skin remains fully shielded. When it comes to achieving radiant skin, SPF really is everything so give it the attention that it deserves.
Craft the Perfect Skincare Routine With Bionyx
If your skin concerns have been getting you down, it's time to reassess your skincare routine. Work on crafting a new and improved regimen, taking the tips above into account so that you're giving your skin all that it needs to truly thrive. Be consistent with your skincare routine and it won't be long before you're able to gain some control over your visible skin concerns while enjoying a complexion that looks smoother, softer, and infinitely healthier.
Click here to elevate your skincare routine with even more bestselling products from Bionyx.